Microsoft Inspire 2021: Key Highlights from the Largest Partner Event of the Year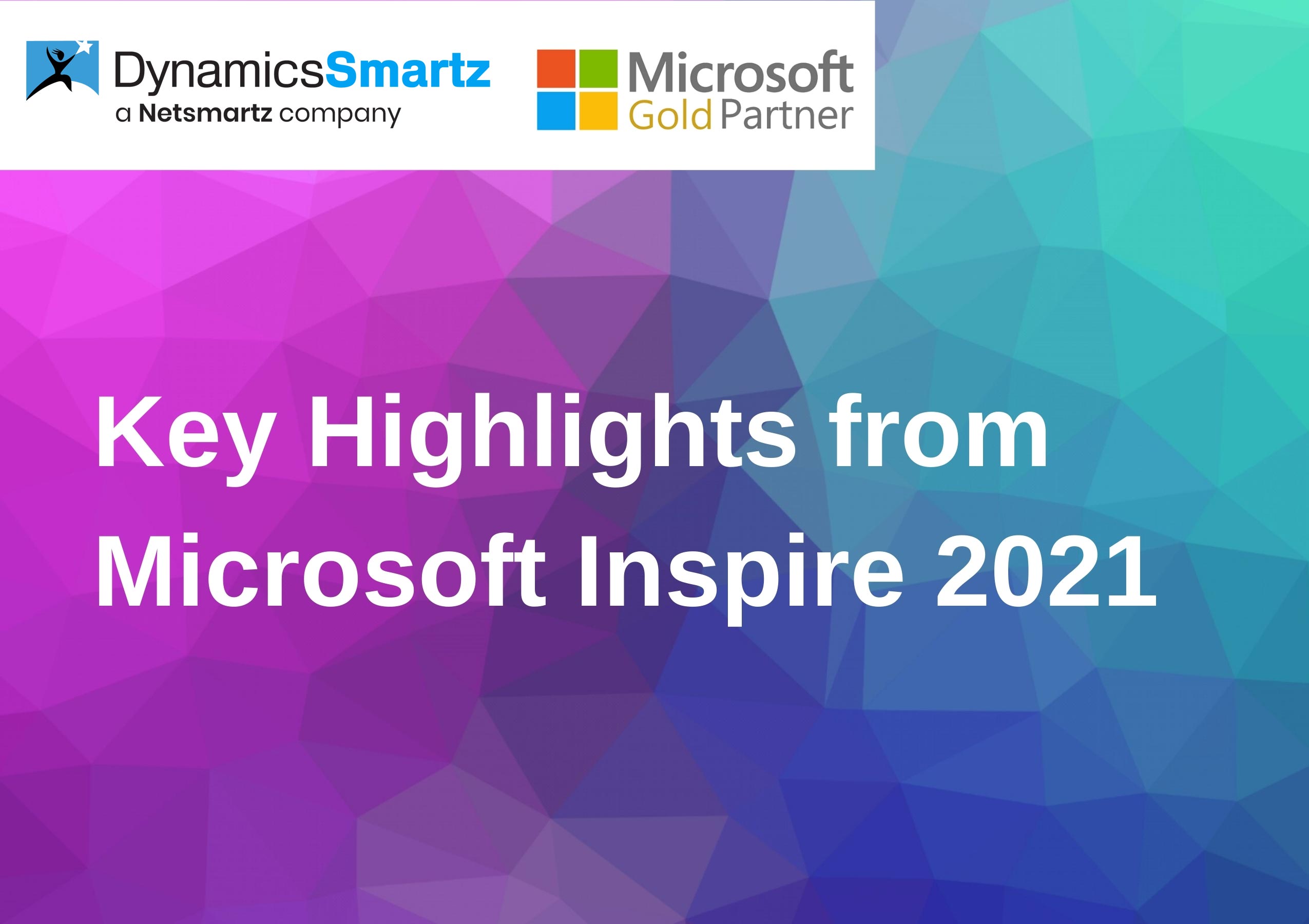 Microsoft Inspire 2021, which is Microsoft's largest annual partner conference began this week as an entirely virtual affair, featuring a slew of new developments, big and small.
On Wednesday, Microsoft CEO Satya Nadella began Inspire 2021 by thanking the company's 400,000 partners, calling them "the core of who we are and what we do as a company."
There is no going back to digital adoption levels from two years ago following the pandemic; we're only moving forward. Microsoft Cloud is the future.
Satya Nadella's keynote speech at Microsoft Ignite 2021 centred on this sentiment. Microsoft's goal, he stated repeatedly, is to foster creativity and innovation by giving teams around the world the tools they need to get the job done.
Microsoft is clearly investing more in the cloud than it has in the past, and this was evident during the keynote. The cloud is here to assist and improve time to value, reduce cost, and increase agility, whether it is about how the Microsoft cloud allows customers to build digital capability with independence and sovereignty, utilize core integration across the technological stack, or take advantage of advancements in AI.
AI and Cultivating a Data Culture
Every business must become digitally self-sufficient in terms of its data. The amount of data generated in the next three years will exceed that generated in the previous 30 years.
Every company has the ability to ensure that their data is used to their advantage. Nadella stressed that the Microsoft cloud is the only one that allows you to take control of your own data and client interactions. The core of this is Azure Synapse:
With Synapse Link, you can connect your operational data stores to your analytics stack in real time.
You can use Azure Machine Learning to create advanced AI models that can identify trends and anticipate outcomes.
With Power BI, a whole new level of SaaS operations is being born.
When combined with Synapse, Dynamics 365 Customer Insights gives you a 360-degree perspective of your customers and the power to put insights into action in real time.
Power Platform
Nadella then discussed Microsoft Power Platform, touted as a next-gen business process automation and productivity suite with over 16 million monthly active customers. Power Platform has been utilized to create apps and workflows for a variety of purposes, including COVID-19 screenings and product quality control.
Microsoft Teams
Customers who use Microsoft Teams, regardless of whether or not they have a Dynamics 365 licence, will now be able to see and edit Microsoft Dynamics 365 data on Teams for no additional charge. The availability of no-cost data access allows businesses to choose when and how they want to buy Dynamics 365.
The addition of Dynamics 365 access to the customer workflow will eliminate a roadblock to productivity. Any employee with a Teams licence can now view Dynamics 365 records in Teams. Permissions and access rules can be set up to guarantee that only the right people have access to customer information. Dynamics 365 can be purchased by customers who require enhanced features or analytics.
Hybrid Work
When it comes to structural change, hybrid work marks the most significant shift since the 9-5 workweek was established over a century ago. Hybridization necessitates a new operating paradigm, and productivity must be redefined to include cooperation, learning, and well-being. It's all about being adaptable in terms of where people work, when they work, and how they work.
Microsoft Teams, of course, plays a significant role in this. Teams now has 145 million daily active users, roughly double the number it had a year ago, according to Satya Nadella. They've added over 300 new features to the platform in the last 18 months, ranging from new presenter modes for more intuitive presentations to new meeting layouts that make it feel like everyone is in the same room.
Windows 365
Then came the unveiling of Windows 365, which was possibly the most exciting of the entire conference. Windows will be available on any device via the cloud with this operating system. Users will be able to create a "cloud PC" and stream the entire Windows experience from Microsoft's cloud to a personal or business device. The idea is to give employees more flexibility and empower them to be more productive and engaged, regardless of where they work.
Microsoft Cloud For Sustainability
Every industry is accelerating its digital adoption. Today, we talk about remote learning, sales, and manufacturing, but in the future, learning, sales, and manufacturing will all be referred to as is. Microsoft has launched industry clouds for financial services, healthcare, manufacturing, charities, and retail over the last year. Nadella used the beginning of Microsoft Inspire to launch a new cloud: Microsoft Cloud for Sustainability.
This new cloud will be applicable to all industries, and it was developed in response to ongoing requests for better accountability and faster progress on carbon reduction measures. Microsoft is combining capabilities from across their cloud to create a new business process category that will assist every enterprise in addressing this critical need.
Independent Software Vendors
Independent software suppliers (ISVs) who wish to design and promote Modern Work apps for Microsoft Teams and Microsoft Viva now have new benefits. Eligible ISVs will gain access to Microsoft technology, customized training, one-on-one consultations, and marketing resources to help them reach the 145 million people who collaborate on Teams every day. ISVs interested in developing Teams or Viva apps for B2B scenarios are eligible. It is applicable to members of the Microsoft Partner Network.
Microsoft AppSource
For every transactable application published, Nadella announced a drop in fees for Microsoft's commercial marketplaces – AppSource for business solutions and Azure Marketplace for IT solutions – to 3% from a "industry-standard" 20%.
Over and over, Nadella reinforced the thought that Microsoft Cloud is the most complete and reliable cloud available. 'No other cloud compares to our depth and width. The Microsoft cloud enables every organization's digital potential while preserving its autonomy and control. This is something that no other cloud provides. And the Microsoft cloud is predicated on trust and security: confidence in the technology, trust in the alignment of business models. And the Microsoft Cloud provides the finest integration across the technological stack, with openness at every tier, resulting in faster time to value, lower costs, and increased agility.'
That concludes the highlights of this year's Microsoft Inspire keynote. Microsoft is clearly all-in on the cloud, unleashing rapid enhancements and continuing to innovate at an astonishing rate. Give the full session a watch if you want to see the entire keynote or pick up additional details from the book of news.