Why DynamicsSmartz has the best Microsoft Dynamics Partner Program?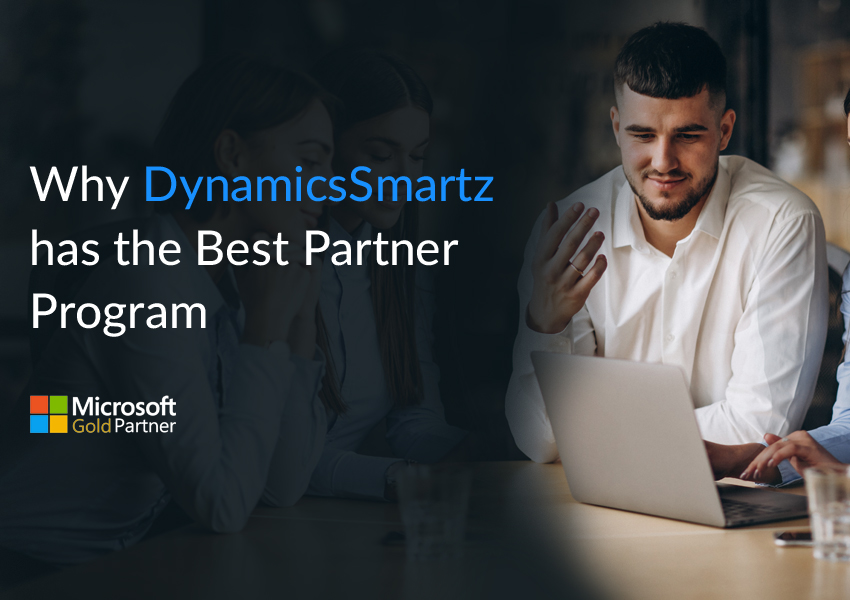 At DynamicsSmartz, we help partners succeed by assisting them with business strategies, cloud services, go-to-market expertise, and a variety of other benefits.
Our key priorities are to provide excellent customer service, strengthen relationships, and continually seek out innovative ways to meet partner needs. DynamicsSmartz collaborates with Managed Service Providers (MSPs) as an extension of their team to help them develop, diversify their offerings, and maximize their value for clients.
Cloud Solutions
Our ultimate goal with our Partner Program is to make business growth as easy as possible for MSPs. We vet and select the best cloud products and services for creating successful offers so that our partners don't have to.
Our partners can be certain that they are adding value to their business by providing customers with the best business-critical solutions for digital transformation and modern enterprise.
Strategic Planning
MSPs can't expand their business without long-term planning, attainable goals, and an understanding of the opportunities available to them. DynamicsSmartz partners have the ability to build and implement roadmaps, strategic plans, and marketing campaigns thanks to specialized training and resources, as well as a partner success team to assist with implementation.
Operational Effectiveness
If MSPs' internal processes aren't streamlined for efficiency, it's impossible for them to be truly lucrative. We enable our partners to streamline their processes. We also offer migration, deployment, and other professional services to relieve them of manual and technical responsibilities.
Cloud Competency
DynamicsSmartz acts as an extension of each of its partners' teams. Partners can leverage in-house expertise for pre-sales, marketing, technical support, account management, and other areas to cover knowledge and skill gaps.
DynamicsSmartz also provides a wealth of learning and instructional tools to help partners improve their product knowledge as well as ready-to-use assets for marketing, user adoption, and change management.
Flexible Partnership Offerings
DynamicsSmartz takes great pride in its partner-first approach. The success of our Microsoft Dynamics Partner Program is due to the flexibility it provides. You can gain access to our gold-level competency and leverage our relationship with Microsoft.
We have a partner model that can help your organization scale quickly, whether you're an existing Dynamics partner, MSP, or a consulting firm. With our MS Dynamics Partner Program, you can become totally full-stack at a fraction of the cost.
MPN Consultation Services
We assist Microsoft Dynamics Partners in expanding their product lines outside their current core expertise through channel consulting. Our main goal is to work together as a team to achieve the desired product depth for the Microsoft stack.
DynamicsSmartz experts advise MSPs on how to navigate the Microsoft ecosystem and take advantage of incentives and competencies.
Value-added Services
At DynamicsSmartz, we understand the needs of a rapidly evolving business environment, and therefore, we are committed to improving the partner experience and are constantly expanding and adapting our program to keep partners interested and satisfied.
What sets DynamicsSmartz Partner Program apart?
There are several key reasons why we are convinced that the DynamicsSmartz Partner Program is the best partner offering in the Microsoft channel. The first is our commitment to education and skill development; we provide partners with proven training and resources to help them succeed. The second is our desire to make life easier for our partners by streamlining their back-end processes. Third, we continue to develop Dynamics-powered applications and services for partners to add to their offerings.
There are several benefits of the Dynamics 365 Partner-to-Partner (P2P) Program. By establishing a mutually collaborative environment, we enable Dynamics 365 partners to fully realize the potential of Microsoft's Cloud ERP and CRM services. When you partner with us, you get access to:
Extensive Experience
For over 20 years, DynamicsSmartz has been aiding partners in creating effective Dynamics practices. The DynamicsSmartz Microsoft Dynamics Partner Program enables partners from a variety of industries to achieve gold-level competency and broaden their capabilities throughout the complete spectrum of ERP, CRM, and BI solutions.
Flexibility and scalability
You do not want inexperienced teams. We put together the best teams and seasoned specialists in the industry, with far more combined experience than our competitors.
We empower partners to scale Microsoft business units up and down on demand. To win business outside of your core skill, you can use resources, pre-sales, and marketing at a fraction of the cost. We can assist you in establishing a new practice with seasoned professionals who will blend in seamlessly with your existing brand.
Business Growth
At DynamicsSmartz, we value the Microsoft partnerships we've created over time. Our partner approach is built on effectively growing our partner network's growth trajectory, allowing us to assist you in increasing profits, lowering expenses, improving relationships, increasing customer loyalty, and scaling your business on-demand. Our partnership program has one end goal: to assist you in growing your business.
Conclusion
The DynamicsSmartz Partner Program was designed to assist partners in the Microsoft Ecosystem in collaborating on joint go-to-market initiatives in order to shorten time to market, enhance sales, and increase joint revenue. For more information about our partner offering, drop us a line.