What does it mean to Partner with DynamicsSmartz?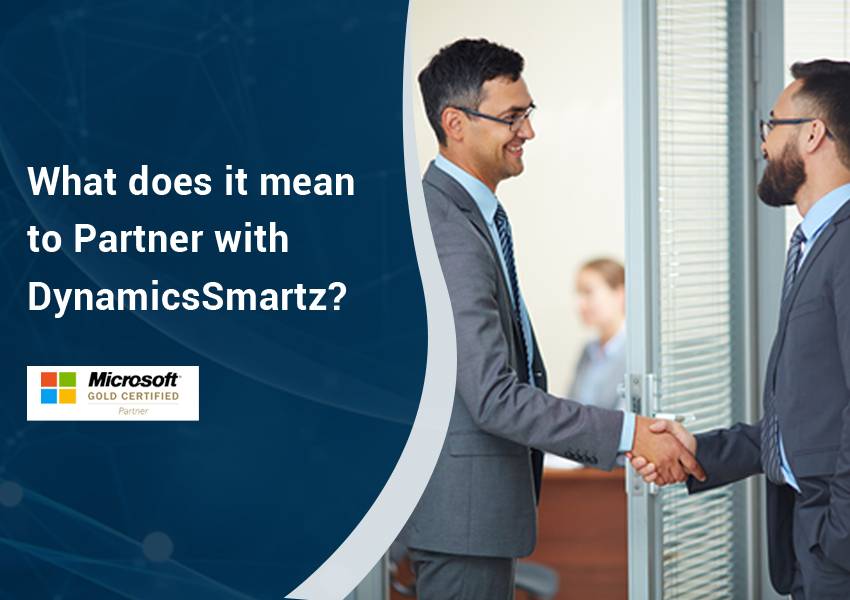 DynamicsSmartz offers access to a global network of outstanding Microsoft Partners and independent software vendors (ISVs) with a proven track record throughout the Dynamics product line. We believe in collaborating with partners and leveraging unique competitive advantages to achieve exceptional growth and success.
At DynamicsSmartz, we are continuously looking for new ways to collaborate with other partners that have unique ISV and service offerings. Fostering partner to partner relationships is essential for business growth. The full potential of the Microsoft Partner ecosystem can only be realized when ISV Partners and Managed Service Providers (MSPs) combine their own competitive advantages to meet ever-evolving customer needs.
Thanks to access to a Microsoft global partner network, individual partners can devote their time to developing the solutions and offerings that they are most passionate about. DynamicsSmartz is a full-service provider focusing on Microsoft consulting for a variety of products, with an emphasis on ERP and CRM.
We provide wonderful service offerings to both existing Microsoft resellers and new Dynamics 365 Partners because of our deep roots in the market. We have extensive market experience as well as a comprehensive understanding of the Microsoft product line.
Our mission is to make sure that our Microsoft partners are successful and well-informed. We can provide you with the necessary and relevant information at the right time which is essential for you to make vital business decisions and maintain your position as a leading IT partner.
A Partner to Help you Scale
At DynamicsSmartz, we believe partner synergy is critical to success. We understand that successful companies don't do it all alone. That's why we welcome partners who can assist us in rounding out, improving, delivering, and integrating our solutions. In return, we offer our innovation and collaboration- so it's a win-win situation for everyone.
Supporting Your Business Growth
We offer a variety of initiatives to help you grow your business. Our Partner Program is a one-of-a-kind program, ideal for partners that already have a practice but require more than just staffing and are looking to expand. With the Partner Channel, our goal is to meet your specific business needs and help you improve your bottom line right away.
The DynamicsSmartz Partner Program can help you maximize the potential of indirect sales across the Microsoft channel by allowing you to service more clients and products.
DynamicsSmartz provides programs to help partners establish practices based on Dynamics or Dynamics 365. We've created strategic technological alliances in addition to our MS Dynamics Partner Program to ensure we're always providing the greatest solutions.
We help our partners grow and scale rapidly. Our Dynamics 365 partners are pleasantly pleased by how we help them expand their practice and delight their clients with new service offerings.
Here are some of our core business ideals:
a. Quality
We put our expertise to work for our partners and are committed to providing them with the best service possible.
b. Ownership
To ensure long-term success, we take responsibility for our performance and treat our partners' initiatives like our own.
c. Integrity
We aspire to be a reliable partner with integrity and openness as our core values, never sacrificing long-term value for short-term gains.
d. Adaptability
We adapt to our partners' businesses and KPIs, always looking for innovative ways to meet their requirements.
Top Reasons to Partner with Us
We are your trusted business partner with over 20+ years of experience. We assure you'll be entirely delighted if you partner with us; here are the top reasons why:
Depth of Experience
DynamicsSmartz has been assisting partners in developing successful Dynamics practices for over 20 years. The DynamicsSmartz Partner Program enables partners from different industries to gain gold-level competency and expand their capabilities across the complete spectrum of ERP and CRM solutions.
Whether you are an existing Dynamics partner, MSP, or a consulting firm, we have a partner model that can help your organization scale rapidly. With our MS Dynamics Partner Program, you can become truly full-stack at a fraction of the cost.
Scalability and Flexibility
You don't want inexperienced teams. We put together the best teams and seasoned experts, with significantly more combined experience than our competitors.
At DynamicsSmartz, we empower partners to scale Microsoft business units up and down on demand. You can leverage resources, pre-sales, and marketing to win business outside of your core competency. Our program allows you to become truly full-stack at a fraction of the cost. We can help you start a new practice with seasoned experts who blend seamlessly into your existing brand.
Business Growth
We value the Microsoft partnerships we've built over time at DynamicsSmartz. Our partner strategy is based on effectively building a growth trajectory for our partner network, allowing us to help you increase profits, lower expenditures, improve relationships, increase customer loyalty, and scale your business on-demand. Our partnership program has one goal: to help you expand your business.
Conclusion
The DynamicsSmartz Partner Program is designed to help partners in the Microsoft Ecosystem collaborate on combined go-to-market efforts in order to reduce time to market, improve sales, and grow joint revenue.
Explore collaborative marketing opportunities, build and foster business relationships, and provide fully integrated, end-to-end solutions to your customers. For more information on our Partner offering, drop us a line.