What is Microsoft Dynamics 365 Business Central's new Modern Lifecycle Policy?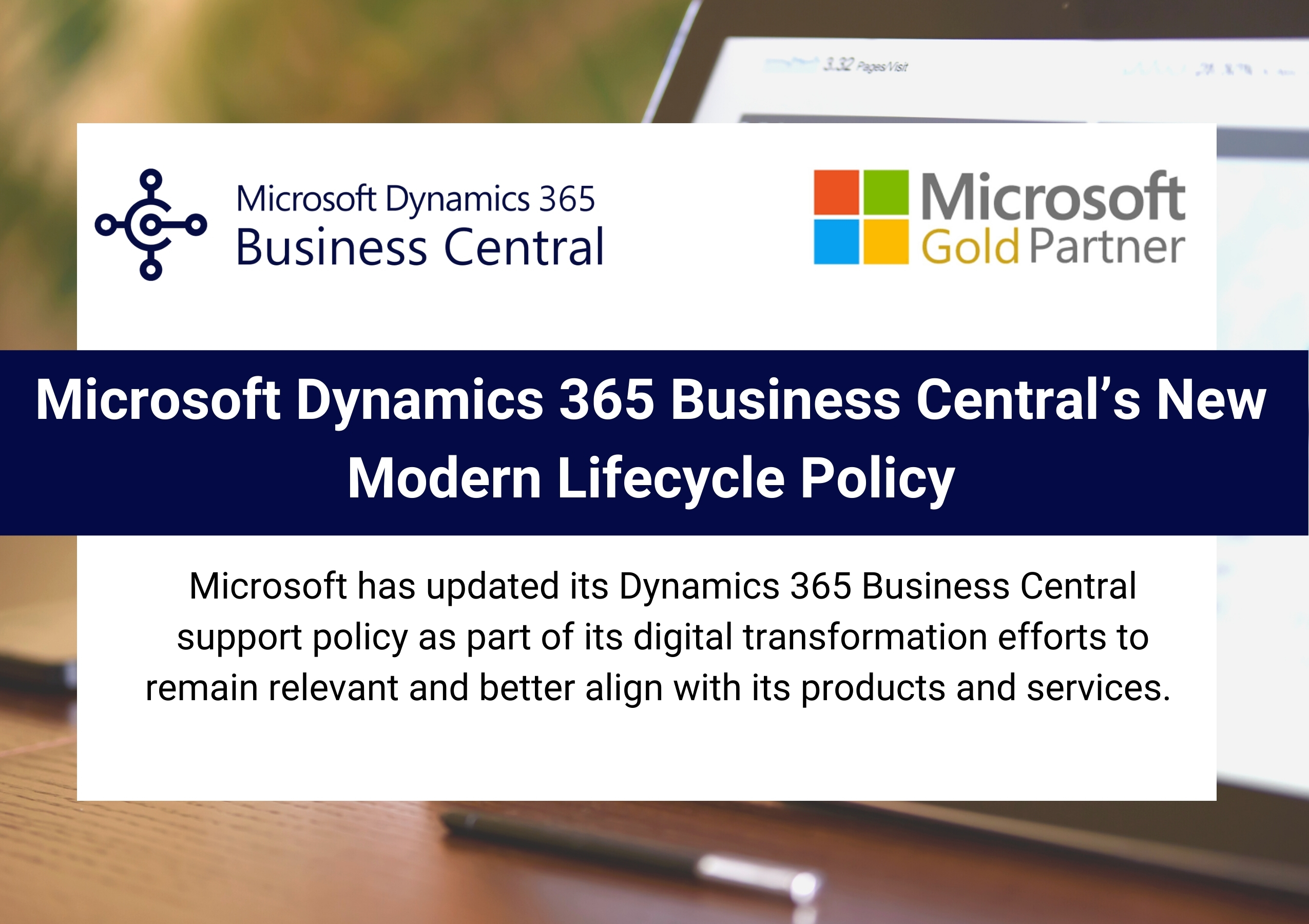 Microsoft has updated its Dynamics 365 Business Central support policy as part of its digital transformation efforts to remain relevant and better align with its products and services.
It's important for businesses that use Microsoft Dynamics software—or any software for that matter—to stay up to date on the latest releases of the products they depend on to run their businesses.
If you're using Business Central SaaS, you're good to go since updates are taken care of for you. However, if you're using Business Central on-premises, you're in charge of staying up to date. This blog outlines Microsoft's Lifecycle Policies and what you should know about them.
What is the Old Lifecycle Policy?
Dynamics 365 Business Central versions 14x (April 2019) and earlier followed the Fixed Lifecycle Policy, which provided a minimum of 5 years of "Mainstream Support" and an additional 5 years of "Extended Support" for a total of 10 years of support.
This support policy worked well with previous NAV and Business Central deployments since solutions were often purchased on a permanent basis and companies used the same version for several years.
Updates are now available and can be easily implemented, suggesting that the new Modern Lifecycle Policy aligns more closely with the solution, considering Microsoft's strong emphasis on digital transformation and the growing prevalence of cloud deployments.
Modern Lifecycle Policy Microsoft Dynamics 365
Microsoft Modern Lifecycle Policies address updates to Microsoft products with shorter innovation cycles, such as Business Central. For products covered by the Modern Lifecycle Policy, if no successor product or service is offered, Microsoft must inform customers of the imminent end of support a minimum of 12 months prior to the end date.
Modern Lifecycle Policy Microsoft Dynamics 365 Requirements
Mentioned below are the Business Central Modern Lifecycle Policy Requirements by Microsoft:
Customers must remain current as per the servicing and licensing requirements published for their product or service. What is important to note here, Microsoft's concept of "staying current" means: To stay current, a customer must accept all servicing updates and apply them within a specific timeframe, per the licensing and service requirements for the product or service."
Furthermore:
The customer has complete control over their on-premises deployments and is required to adhere to this policy. In its on-premises settings, the consumer has complete control over updating. Microsoft will support the Dynamics 365 Business Central (on-premises) software as stated on the Microsoft Lifecycle Policy, but only if the customer follows this policy and keeps the deployed software up to date. You'll get access to the most up-to-date features and bug fixes if you stay current.
Customers must have the rights to use the product or service
Microsoft must currently offer support for the product or service
How does the Modern Lifecycle Policy Impact Business Central On-Premise Customers
Microsoft started implementing an 18-month lifecycle with Business Central version 15. This means that a new update is released every six months and at the end of two years after the release comes out, Microsoft no longer supports that version.
This is of central importance to those that are still running Business Central Version 15. As you can see in the image, Microsoft launched Version 15 in April 2019, which means support will end in April 2021. If you have been keeping up with the new releases, you are in good shape; however, if you haven't, you won't be supported and won't have access to fixes after April 2021.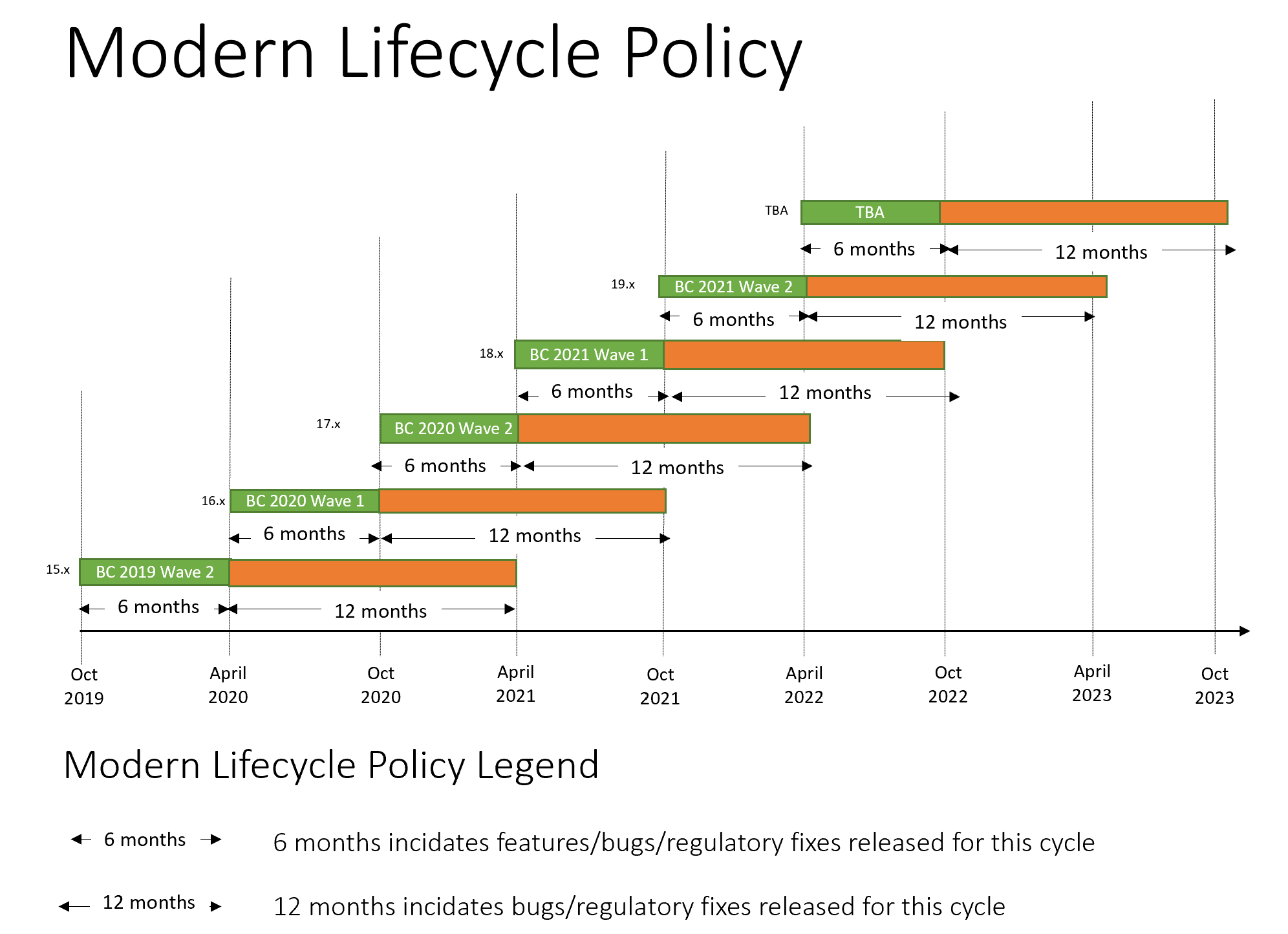 From Version 15 onwards, the same scenario applies to all releases of Business Central. Microsoft support for Version 16 will end in October 2021, for Version 17 in April 2022, and so on.
What are the next steps for current Business Central users?
Stay current! If you use Business Central on-premise, make sure you're up to date on the new releases every six months. This way you won't have to think twice about your version losing support.
Even better, now is a wonderful time to switch to Business Central in the cloud. With a switch to Business Central SaaS, you'll never have to worry about staying current again, in addition to all the other advantages of moving to the cloud.
If you're interested in deploying Dynamics 365 Business Central, or if you need any additional Business Central support from DynamicsSmartz, we're happy to help. Call us for a quick consultation today!