How Dynamics 365 Is Your True Companion For Achieving Liquidity Goals During The Pandemic?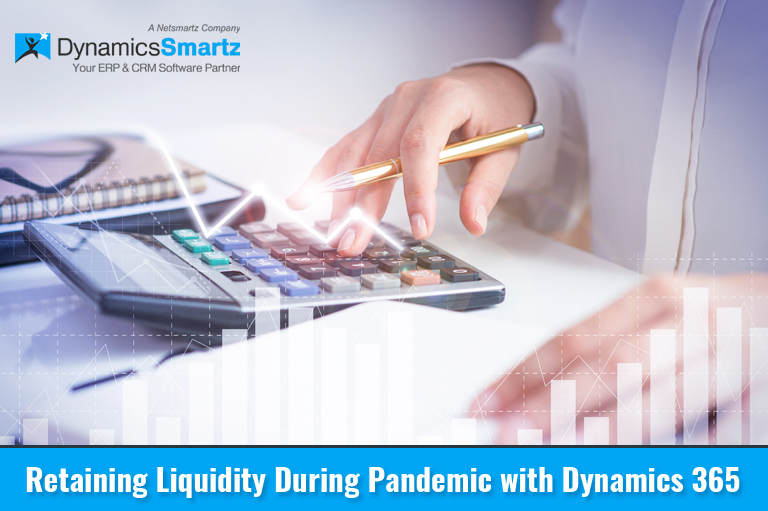 When it comes to concerns and priorities of a company, improved cash flow and liquidity are at the top of the list. It is critical for survival to ensure your business has enough funds to maintain the smooth running of existing projects as well as those of prospective clients.
Aside from this, the upheaval initiated with the spread of COVID-19 has resulted in a sudden decline in sales and therefore, it has become necessary to work on customer requirements while keeping control of liquidity.
For this reason, most of the industry enthusiasts have started to look for intelligent solutions such as Dynamics 365 to manage their needs related to liquidity retention as well as customer management.
Thus, to help with this business focused and customer-centric approach, here are a few things that you can do with Dynamics 365 solutions to ensure smooth navigation through the crisis:
Client's Payment Behavior
The first things that can help you maintain liquidity in business are keeping a check over your client's behavior with payments. Make sure you are always perceptive of any discrepancies made with the payments to check on impending bankruptcy.
In most cases, payment delays are made by clients to maintain liquidity on their end. Therefore, it becomes crucial for service providers to keep a watch on the payment methods selected by clients as it can help improve financial efficiency.
To work on such goals, you can simply switch to Business Intelligence tools like Microsoft's Power BI that can help evaluate the outstanding dues with respect to the items that customers have purchased from your firm. Also, it can help you to have a detailed view of costs and payments. Moreover, you can even use analysis options to check on data attributes based on various factors such as date, region, etc.
Preventing Risks Using Accelerated Payments
Understanding the behavior of customer payments can give significant insights to the credit statement of the clients. Dynamics 365 even lets its users track Days Sales Outstanding indicator where the user can track the time elapsed from the moment invoice is processed. This allows the service provider to ensure rapid payment processing by switching to advanced reimbursement practices:
Improve the dunning procedure
Plan discount terms on cash payments
More payment options, and
Monthly subscription models for services
Following these practices can help with quicker payments giving greater control to outstanding dues and ensure liquidity.
Upgrading The Purchasing Process
Last but not least, if you need to improve the process on the accounts payable side, you can simply sit on the invoices you have issued to your suppliers. Though this idea is not suitable for the service providers who have an intact supply chain and stable relationship with clients, this can help you to get key figures related to the optimization needs.
However, the information that you receive with the software can help you to overcome purchasing and accounting issues while identifying any chances of overpayment or scope for discounts. Also, you can explore the cash dashboards to ensure liquidity with international currencies to avoid unnecessary loss on conversions.
The Crux
When it comes to improving liquidity with business, Microsoft Dynamics 365 provides you all data necessary for optimizing cash management. It is designed in a manner to help process the information for immediate analysis and help with business decisions.
However, taking advantage of such features needs an expert's helping hand. DynamicsSmartz helps you to get closer to all finance related data on system dashboards for intelligent decision making. This will assist your users in tracking liquidity while also keeping a check on time consumption, resources, and ultimately, revenue.
All the best!
Looking for an expert to help you with your finance and ERP management needs? Microsoft Dynamics solutions can turn to be the true companion you need to drive productivity while taking control of liquidity and cash flow.
Schedule a call with our experts at DynamicsSmartz to get a customized business solution for your finance and cash flow management needs.