Top Field Service Challenges and How Dynamics Field Service can tackles them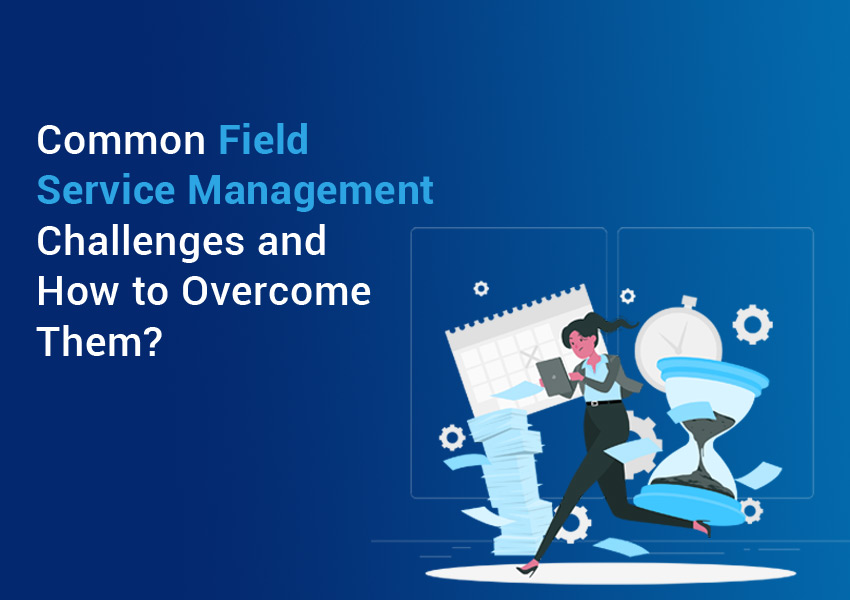 In today's fast-paced business landscape, it is important to pay attention to the quality and efficiency of your field service operations. It helps with overall customer service because how quickly you respond and resolve issues has a direct impact on customer satisfaction. However, there are other factors to consider, such as managing your field personnel, ensuring schedules are aligned, and keeping track of and maintaining equipment.
Poorly planned routes, delays, miscommunication, a lack of resources, and the wrong people for a given service are all challenges that field service organizations face on a daily basis. All of these have an impact on customer service quality. Dynamics 365 Field Service brings together a number of tools to improve service delivery and streamline the process.
Dynamics 365 Field Service is a standalone Dynamics 365 module that simplifies management (including calendars) and allows managers complete access to check-in, check-out, and technical data.
In this blog, we'll look at some of the most common issues faced by Field Service operations, as well as some of the most significant benefits that Dynamics Field Service can provide.
Is your business facing these Field Service challenges?
The field service industry faces a number of challenges in today's day and age, including:
Adherence to Schedules: Customers expect your firm to deliver the products and services they pay for, and your company relies on its employees to deliver on that promise. That means it's critical for field workers to stick to their allotted schedules even when they're not in the office.
Fix Rate: Rework, or having to return to a customer's location owing to a lack of information, is one of the most costly expenses for field service firms. Any business will suffer if the wrong personnel is sent to the wrong location with the wrong tools at the wrong time.
Performance Management: Every firm requires precise and clear data in order to compare performance to goals and make business decisions. Reports are an excellent tool to gauge product demand and track client growth.
Clear Communication: Customers want to know exactly what is going on with their service calls. It helps to have a procedure in place that extends visibility to the customer if your truck is late, if you have to cancel, or if you have to order a part and return on a different day.
Reactive Readiness: The ability to recognize a technological shift and implement a more proactive service management style is another challenge that field service organizations face.
Predictive maintenance is aided by technologies such as Artificial Intelligence (AI) and the Internet of Things (IoT), which enable field service organizations to prevent equipment downtime.
The good news is that with the correct technology solutions, all of these problems can be solved.
What are the benefits of using Dynamics 365 Field Service for service delivery?
All Dynamics 365 modules are supported by Microsoft cloud technology and are all the top choices for hundreds of companies in the field service business, with the Field Service module being the most obvious choice, designed especially for businesses with a field service component to their operations.
Dynamics Field Service is easy to set up and customize. It's more of a matter of configuration than personalization as an out-of-the-box tool. The core of Dynamics 365 Field Service is front-office service delivery, but it can also be readily coupled with Microsoft Dynamics ERP, back-office technologies, Dynamics Business Central, BI, and much more.
Recently, Microsoft announced the Dynamics 365 Release wave 2, with enhanced capabilities and a slew of new features. In the Dynamics Field Service Release Wave 2, the goal is to provide easy customer engagement and increased user productivity.
Dynamics 365 Field Service comes with a vast range of capabilities and here's everything you need to know about the solution.
Microsoft Dynamics 365 for the Field Service Industry
Dynamics 365 Field Service is a remarkable addition to the Microsoft Dynamics 365 family that offers incredible field service management capabilities. Here are a handful of the features that address the industry's most pressing issues:
Get the Best Technician: Matches the technician's skill set to the work order's criteria.
Balanced Workloads: Identifies and arranges available resources by category to intelligently balance workloads and resources.
Optimized Schedules: Reduces driving time between tasks by planning ahead of time, taking into account location, client preferences, availability, and SLAs.
Timely Appointment: It makes sure that technicians arrive on time.
Service Contracts: CRM service contracts allow you to keep track of warranty and entitlement information throughout your whole enterprise.
Work Order Management: Creates work orders from a case, customer portal, email, or your CRM, and tracks them against SLAs, entitlements, and billing. It also enables the technician to take images of the job that has been accomplished, obtain customer approval, and even collect payments.
Case History: Provides a 360-degree view of a customer's preferences and orders. For customer records, you may achieve perfect organizational alignment with Sales, Marketing, Customer Service, and Field Service teams.
Asset and Equipment Management: Maintains complete visibility into warranty and service agreements, total revenue and related expenditures, and audit history for all equipment components.
Analytics: Key statistics and KPIs are at your fingertips for proactive decision-making with one central repository of data.
IoT: IoT improves operational efficiency by proactively identifying, troubleshooting, and resolving issues, allowing a technician to be dispatched only when necessary.
Conclusion
Every sector has its own set of challenges, but the right solutions can help you overcome them and boost your productivity. Dynamics 365 Field Service is a robust solution that enhances your field service delivery by improving resource logistics, schedule control, people management, thereby increasing customer satisfaction. To know more about Dynamics Field Service, reach out to our seasoned Dynamics Consultants.