Microsoft Dynamics 365 Field Service: Everything You Need to Know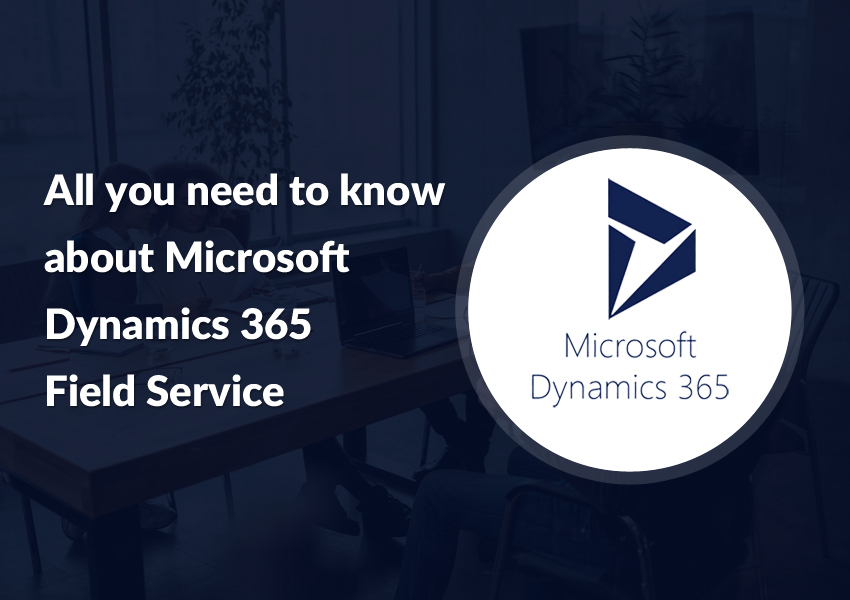 Field Service organizations face a number of challenges on a day-to-day basis. Poorly planned routes, miscommunication, delays, lack of resources, or wrong staff for a given service are some of the issues that field service companies confront regularly. All of these factors have a detrimental impact on the quality of customer service. Microsoft Dynamics 365 Field Service brings together an array of tools to help you improve service delivery and streamline the process.
Microsoft Dynamics 365 for Field Service is a full-featured, end-to-end field service management system that includes scheduling, asset management, and billing. To optimize the value of the resources available, the system connects the best qualified and most available resources with scheduling needs. It also provides technicians a 360-degree view of the client relationship and real-time guidance while on the job.
Customer service is bolstered by proactive updates that can be tailored to specific processes, as well as the possibility for customers to self-serve through web portals. It also integrates with Microsoft 365 (previously Office 365), allowing users to access and track any externally executed conversations and activities within the Dynamics 365 for Field Service system. And it's all done automatically, with tools they're already familiar with.
Dynamics 365 for Field Service is a standalone product from the Microsoft Dynamics 365 CRM suite (also known as CE). However, the compatibility of these products and their core systems is the reason for their market leadership. The Field Service system's strength is magnified not only when used in conjunction with sister products like Dynamics 365 for Sales, but also when it's used in tandem with Microsoft 365's communication platforms and business tools.
Because all of these solutions are built on Microsoft Dataverse, they offer a "mix-and-match" approach to tools, features, and functionality, empowering businesses to leverage only the capabilities that they require.
Dynamics 365 Field Service is a robust and scalable module that not only streamlines administration( including calendars) but also provides managers extensive access to check-in, check-out, and technical data.
In this blog, we'll examine what is field service management and discuss some of the most significant benefits that Dynamics 365 may provide to your field service operations.
Dynamics 365 Field Service Capabilities
Work orders, scheduling and dispatch tools, and invoicing are all handled by Dynamics 365 for Field Service, which is similar to what you'd find in a core solution. Predictive service, smart resource scheduling, and tracking, integrated communication tools as well as using the capabilities of linked applications like Microsoft 365, are where the true strength of Dynamics 365 Field Service lies.
Dynamics 365 for Field Service excels in the following aspects, aside from an easy mobile interface and sophisticated service tools:
Improving the rate of first-time fixes.
Managing follow-up work and taking advantage of upselling and cross-selling opportunities.
Empowering technicians to complete more service calls each week.
Organizing and tracking customer issue resolution.
Providing consumers with a precise arrival time.
Customers are updated about the progress of their service call and when it is completed.
Scheduling onsite visits at the customer's convenience.
Assuring that onsite technicians follow all applicable safety and health rules.
Preventative maintenance reduces equipment downtime.
What are the benefits of using Dynamics 365 Field Service for Service Delivery?
The Field Service module, powered by Microsoft cloud technology is an ideal choice, created specifically for organizations having a field service component to their operations.
It's simple to set up and configure Dynamics 365 Field Service. In fact, it's more about configuration than personalization as an out-of-the-box tool.
Key Dynamics 365 Field Service Management Features
1. Shift Optimizations
Dynamics 365 Field Service includes a smart, dynamic routing system that aids in the optimization of travel and the achievement of visit goals. It's a sophisticated, automated route engine that boosts the number of services provided per agent each week while lowering fuel and vehicle maintenance costs.
2. Managing Technicians
If a repair or maintenance job necessitates technician-specific abilities, the Dynamics 365 system can identify who possesses those skills and assists you in directing that person to the job.
3. Management of Resources
You can provide your employees the resources they need to finish jobs with Dynamics 365's Field Service module, resulting in a higher rate of first-time repairs.
4. Consistent Schedules
Dynamics 365 Field Service provides a centralized, routing-connected scheduling system that allows you to set business hours that are convenient for your customers, allocate jobs to the appropriate service agents, and keep customers updated on their arrival times. All of this is updated in real-time.
5. Customers get access to Real-time Information
With a 360-degree view of client objectives and records, you can provide your service workers with complete customer information and even enable team communication throughout the process. Each stage of the service is communicated to the customer through text messages and phone calls.
What sets Dynamics 365 Field Service apart?
To begin with, when it comes to Microsoft Dynamics 365, integration is a clear advantage.
Field Service additionally provides customer service 24 hours a day, seven days a week to effectively minimize contact traffic and move reliance to an internal knowledge base powered by Dynamics 365.
The customer service module in Dynamics 365 can also handle preventative maintenance using automation tools. Seamless integration with the call center ensures that tickets that do not require escalation to field service are managed by the customer service module, avoiding unnecessary visits.
How Microsoft Dynamics 365 is transforming Field Service Delivery?
The Total Economic Impact of Microsoft Dynamics 365 For Field Service research, commissioned by Microsoft, spoke with companies using the platform across the world, and the results are impressive.
Maintenance and repair services were invoiced for 60% less time.
Field dispatch has been reduced by 10%.
Time spent commuting has been cut in half.
There are 20% fewer service calls.
Payback takes 6 months on average.
The goal of Dynamics 365 Field Service is to improve your field service delivery by improving resource logistics, people management, and scheduling control, among other things. Of course, all of this leads to increased customer satisfaction.
Winding Up!
As a Microsoft Gold Partner, we can assist you not only in finding the proper licensing and system requirements but also help you build a technological plan to manage and expand your system after it's deployed.
We're committed to offering long-term field service solutions while also ensuring that our customers know how to help themselves and get the most out of their investment. To learn more about how Microsoft Business Solutions may help you expand your business, reach out to our seasoned Dynamics Consultants.