What's new in 2021 Dynamics 365 Release Wave 2?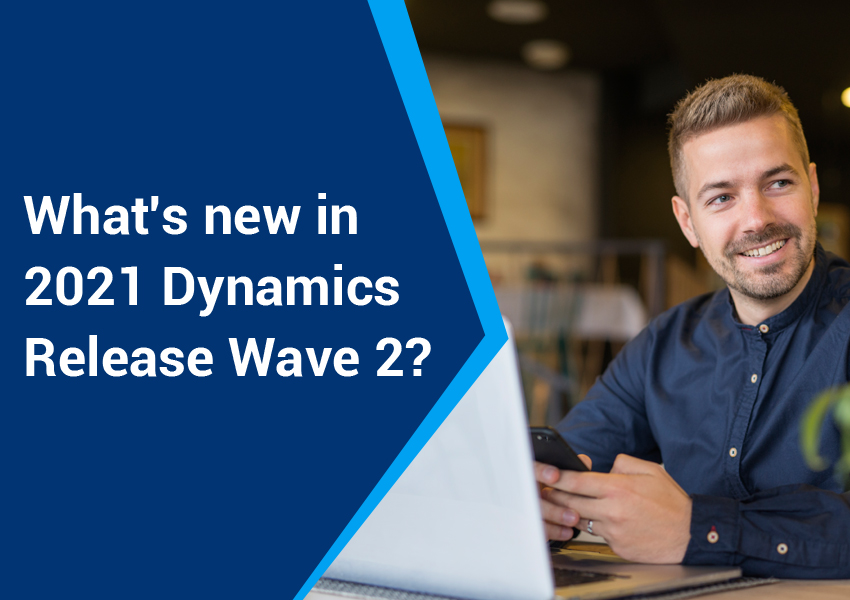 Microsoft has announced released plans for its second major wave of cloud improvements for 2021 covering Dynamics 365.
Between October 2021 and March 2022, the 2021 Dynamics 365 Release Wave 2 will roll out, providing additional capabilities to the platform and across various products. In this blog, we have compiled a list of the most recent announcements for Dynamics 365, with a focus on customer engagement and CRM modules.
The theme running across this Dynamics 365 wave 2 is enhancements to the integration between Microsoft Teams and Dynamics 365. The major announcement is Microsoft's promise to allow anyone in an organization to see and work on Dynamics 365 records via Teams for no additional cost. Users who do not have a Dynamics 365 license will have "Team Member" level access to Dynamics data through the Teams UI.
There's no denying that this release will accelerate your digital transformation.
Here's what you can expect from the new capabilities that will be released between October 2021 and March 2022.
A whole new experience for Dynamics 365 and Microsoft Teams
Let's take a moment to discuss the new Dynamics 365 and Microsoft Teams experience, which was one of the key highlights of the Microsoft Inspire 2021 conference.
Anyone in a company can now examine and contribute to Dynamics 365 records while working in Teams, thanks to this enhanced experience. Other technology providers do not provide this level of connectivity and accessibility across an organization without the requirement to pay for several underlying software licenses. Microsoft, on the other hand, has addressed this and affirmed that this experience will be available to every user within Teams at no additional cost.
From within a Teams conversation or channel, Dynamics 365 users can invite anyone in the company to view and contribute to client records. As a result, the necessary actions can be taken without having to switch between numerous apps or data sources.
This involves exchanging information such as sales opportunity data, customer history, customer relationship health, critical contacts, and more with sales teams.
Sharing the client case record, locating troubleshooting steps, and tracking follow-up tasks are all possibilities for customer support agents.
Dynamics 365 for Sales
Understand your customers and their purchasing habits to increase your sales. Data, intelligence, and relevant customer experiences are the three essential elements to boost sales.
Teams Calling with Dynamics 365 has improved Teamwork
More telephone assistance from third parties, as well as essential business information for any conversation.
Microsoft Teams message extensions and actions now offer improved contact recommendations, better experience, as well as embedded Microsoft Teams collaboration.
While conducting a Teams meeting, you can see sales records and receive automated notifications from Dynamics 365.
The Dynamics 365 app for Teams now has improved setup and security.
Build Relationships on LinkedIn
For accounts, contacts, and leads, explore a new manager workspace.
Quick filters with hierarchy and date-based filters have been improved.
Visually update deals with the Kanban Control.
Improved Tools and Forecasting Updates
With Auto capture, you can capture more activities in less time.
Learn about new features that make it easier to share and view your forecasts.
Insights into attributes in order to improve the clarity of the predictive scoring model.
Admin controls for managing and deploying forecasts have been added.
New forecast views, such as weekly and yearly forecasts, are supported.
With Sales Accelerator, guided selling gets a boost.
Salespeople get more out of their mobile experience on the go.
Efficiently Manage Pipeline
Easy access to Sales Navigator
More LinkedIn integration enhancements are on the way.
Dynamics 365 For Customer Service
This update will substantially improve your agents' experiences and productivity, allowing you to solve issues faster. Through improved searchability, the power of AI will once again benefit your customer service.
Provide Exceptional Customer Service.
Empower your customers with self-service and assisted-service options.
Deliver outstanding customer service with an all-in-one contact center.
AI suggestions and analytics can help you improve knowledge authoring and management for your agents.
Transform the way calls are routed in contact centers.
Dynamics 365 for Field Service
In the Dynamics 365 wave 2 release of Field Service, the goal is to provide easy customer engagement and increased user productivity.
Increased Customer Interaction and Productivity
Take advantage of a streamlined onboarding process.
A new user interface has been added to the improved information architecture.
Boost the productivity of your field workers with features like mixed-reality calls and a better Field Service mobile experience.
Improve customer engagement with self-scheduling and an easy-to-navigate landing page.
New and updated features will help you to transform the scheduling experience.
Access the full Dynamics 365 Release Wave 2 Notes
Hopefully, this blog provided you with a solid overview of some of the key enhancements that will be included in the Dynamics 365 Release Wave 2 in 2021. At DynamicsSmartz, we are excited to see what these new features will mean for organizations; enabling them to better leverage technology to their advantage. You can find a detailed overview of the features here.
Drop us a line if you have any questions regarding the release or if you are using an older version of Dynamics 365 and want to upgrade to receive access to all of the new features.