Why do regular Dynamics 365 updates provide you with added business flexibility?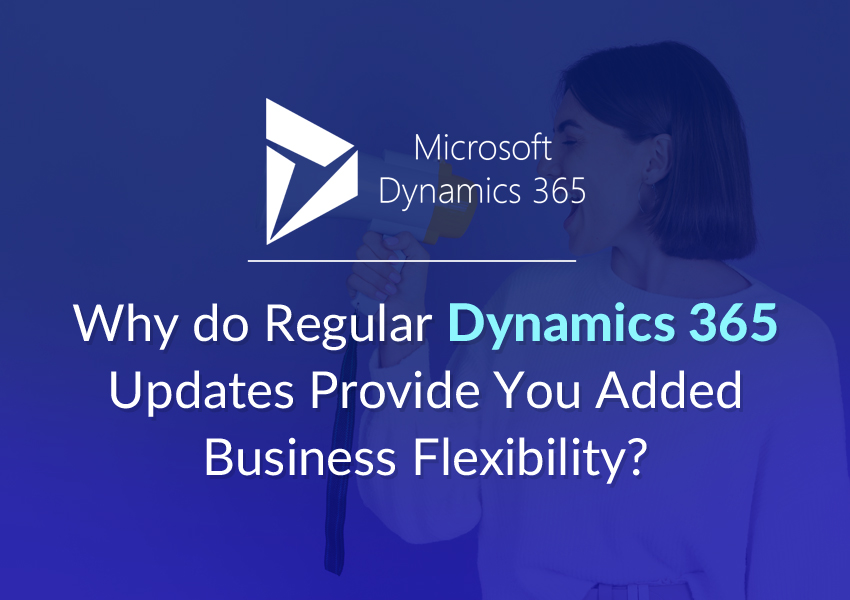 Automatic updates have become the norm in the cloud and Software as a Service (SaaS) era. There are numerous benefits for customers, whether it's adding or removing new features and functionality, boosting user experience, or bolstering security.
Furthermore, it represents a move from business applications being a one-time investment to becoming a lifelong 'journey,' allowing companies to get greater benefit from technology as it evolves and improves.
If you use Dynamics 365 as your ERP or CRM, you won't have to transition to a new system every 4-5 years. Instead, Microsoft will release updates on a regular basis to improve your system and keep it up to date with current technology and business trends. You may modify the system to your needs with the help of a qualified Dynamics partner, allowing you to meet long-term objectives.
It's no secret that the business world is fast changing. That's why, regardless of location or device, maintaining an overview and structure is more important than ever. After all, market and regulatory needs might shift dramatically on a daily basis.
However, because all key operations are governed centrally, many organizations with an outdated business system have no viable options.
The Role of the Cloud
The cloud brings freedom and transparency to the organization. It doesn't matter if there are adverse conditions, a global pandemic, or simply a need for field workers to access important data while on-site for organizations with a cloud-based solution. Employees and managers may easily get the information they require and continue to work despite changing circumstances.
The cloud makes it easier to adjust to changing demand, trading patterns, and priorities.
The importance of managing updates
Patches are released on a regular basis, which improves the application while also presenting new challenges. At DynamicsSmartz, we have noticed that it is way better for our D365 customers to be able to operate flexibly across all parameters than it is for companies using old, legacy ERP systems.
You may be content with your older on-premises ERP system, which continues to serve you well. Does it, however, provide you the flexibility, scalability, and accessibility that a modern organization requires to survive in a continually changing business environment?
D365 has a lot more to offer than the fact that it's hosted in the cloud and accessible from any device.
To begin with, the application is continually changing. Microsoft releases update rollups eight times a year to repair problems, improve security, and add new features. As a result, your business is always in the best position to evolve.
There are also a huge and growing number of features and modules from third-party developers to turn on or off in Microsoft's D365 platform.
This streamlines the application's operation, administration, and customization to a near-revolutionary degree. However, it adds additional demands on testing and governance.
This is due to two key factors:
D365's core code is quite complicated. This implies that if an update clashes with the company's database structure or a module you've selected, errors or performance difficulties may arise. Although it may not occur frequently, if it does, it can pose serious problems for your business.
It's quite simple to enable features. You can access this via the basic application's Feature Management panel, but it's not always easy to turn them off again. This can cause problems.
Microsoft Dynamics 365 is updated on a regular basis with new features to help organizations speed their digital transformation. Microsoft must do so to stay ahead of the competition as a leader and major player in the ERP and CRM market. However, if a company is not using the most recent version, it will not be able to benefit from upgrades.
In the past, Microsoft released two significant updates per year, one in April and the other in October. To keep within the product support requirements, a customer must update to the most recent Dynamics version when Microsoft releases a newer version.
Businesses should become familiar with Microsoft's new upgrade policy so that they are prepared when the upgrades are released. It's critical to stay on top of this if you want to get the most out of your Dynamics 365 investment.
Two big upgrades every year — In the spring and autumn of each year, there will be two 'major' updates. Release notes will be released eight weeks prior to these "major" versions, allowing Dynamics customers to properly prepare for any changes.
Microsoft will continue to release monthly performance and reliability upgrades throughout the year in addition to the two major updates. Microsoft is rolling deployments out over several weeks, according to best practices, and actively monitoring upgrades for any concerns.
If you use Dynamics 365 online, your system will be updated in accordance with Microsoft's perpetual updates policy. While there is no way to opt out of the entire update, any features that Microsoft considers to be potentially disruptive are disabled by default. The new functionalities can be enabled whenever you choose.
At DynamicsSmartz, we have a streamlined approach to help you with updates. Here's how we can help you:
Testing, validating, and implementing improvements – both technically and functionally – in a systematic, proven, and visible process. This includes scheduling service windows in such a way that business operations are not disrupted.
Full, tailored reporting for each client is included in the Release Notes Assessment. You can find an assessment of which specific bug fixes may be relevant to your company well in advance, as well as suggestions for which future or changed functionalities you should activate (or avoid) based on our understanding of the challenges and opportunities that Microsoft's annual updates provide.
We have a thorough understanding of how Dynamics 365 works for a variety of customers. We can assist you in determining where the solution can be improved and where care should be taken.
Conclusion
Microsoft has delivered a slew of critical updates to Dynamics 365 in the recent year. Managing this change can be quite difficult.
It's critical to be aware of what's changing, what the consequences will be, and have the time to plan and prepare for these changes. If you remain on top of things, you'll be able to leverage these updates to add value to your company. For example, a new update may simplify a process, allowing your staff to operate more efficiently and save time. At DynamicsSmartz, we are here to help customers on their Microsoft journey. To know more upgrades, drop us a line.