Dynamics 365 Customer Service and Field Service 2021 Release Wave 1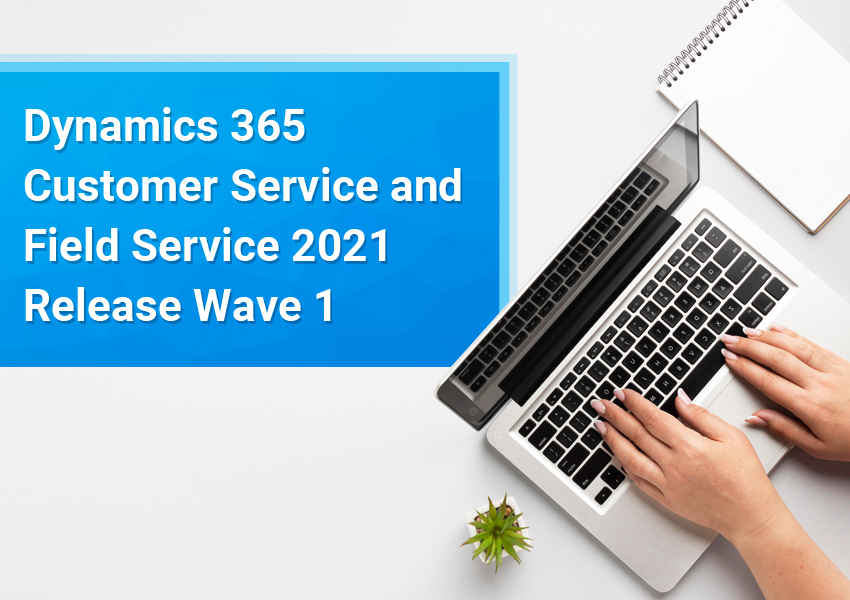 The Dynamics 365 Customer Engagement Release Wave 1 2021 has already been announced by Microsoft. This first release of 2021 includes a number of new features and functionality for each product under the Customer Engagement umbrella. One of the key reasons why so many firms are adopting Dynamics 365 is due to the continuous upgrades that unlock a range of capabilities.
There are numerous changes, updates, and improvements worth noting with any release. We looked at what's new in Dynamics 365 Sales in the most recent update last time. We'll go over the latest updates about Microsoft Dynamics 365 Customer Service and Field Service in this article.
Dynamics 365 Customer Service Wave 1
Dynamics 365 Customer Service empowers you with the tools you need to provide a flawless customer support experience and facilitate effective customer communication through efficient case routing and management. Dynamics 365 can assist with customer service and satisfaction, which are crucial to a company's long-term success.
The first set of modifications in Customer Service is designed to help customers get up and running quickly, providing an all-in-one contact center, and transform contact center routing. Some of the key updates are as follows:
Agent Experiences
Updates to the service scheduling board: Support for weekly and monthly views will be introduced to the new board to minimize switching between legacy and new boards.
Appointment data is included in service scheduling: To avoid scheduling conflicts, Outlook data is now included in service scheduling. This will provide a full view of resource availability by displaying appointments and bookings on a single schedule board.
Run Power Automate flows from macros: Service agents will be able to trigger automated processes, such as running a macro to authenticate a customer.
Navigation and graphic improvements have been made to multi-session apps, as well as a series of upgrades to help agents multi-task cases.
Case Management
Update resolved or canceled cases, using Power Automate flows, an API, or a plug-in. End-users will have read-only access to the case form.
Redesigned reports and insight cards with embedded Omnichannel Analytics.
Timeline
Usability improvements: In the next release wave, timeline control updates will include '@mention' capabilities in notes and the ability to filter records by status reason.
New Auto-Post Configuration: The traditional web client setup will no longer be required.
Designer Improvements: Default timeline filters and set command buttons for each record type have been added.
Knowledge
Federated Knowledge Search links external search providers to Dynamics knowledge search. Microsoft said it will offer SharePoint search connectors as well as search for Microsoft 365 apps.
Knowledge Search Analytics: A new dashboard will provide data encompassing all aspects of knowledge search. To discover content gaps, analytics will comprise engagement rate, search count, and a list of search terms without corresponding knowledge articles.
Set knowledge search filters based on status, visibility, last modified date, and language.
Unified Routing
Improved authoring experience by making it simple to build up routing rules for classification and work assignment.
Rule-based classification: To gather all of the necessary information about each work item before assigning it to numerous entity attributes. Work item attributes and skills can be updated manually or automatically using classification rules and machine learning.
Intelligent skill finder: AI Builder text classification can be used to assign skills to job items using machine learning-based classification rules. Inputs are sent to the model after it has been trained and the rule has been implemented, and the returned tags are linked to the work order as skills.
New assignment strategies specify how incoming work items will be assigned to available agents without having to write custom rules. Out-of-the-box strategies include 'highest capacity' and 'round-robin' incoming chat.
Omnichannel Voice
During this release wave, the Omnichannel Voice channel provided by Azure Communication Services, which is currently in public preview, will become broadly available. Making, receiving, distributing, and recording calls will all be possible. Real-time transcription, sentiment analysis, and translation, as well as receiving and sending SMS, will also be supported.
Dynamics 365 Field Service Wave 1 2021
Dynamics 365 Field Service gives you the tools you need to give your customers the finest on-site service experience. Field Services improves your technician's ability to execute services more quickly and effectively.
Dynamics 365 Field Service is beneficial to any organization that deploys staff to several places to complete work orders. This solution enables businesses to optimize processes, better route technicians or staff, and provide personnel with the information they need to execute work orders efficiently.
Some of the key updates of Field Service Wave 1 are as follows:
New view support in schedule board: The updated schedule board now supports map views as well as weekly and monthly views.
Knowledge management: Using the new Field Service mobile app, Articles can now be linked to work orders and accessed online or offline.
By default, Bing Maps features such as inline maps with driving directions and auto-geocoding addresses are turned on.
Simplify the worker setup process: A revised approach for better provisioning new technicians into D365 Field Service and the mobile app, with faster set-up for individual or bulk technicians.
Self-service scheduling allows you to schedule appointments on the go with a responsive user interface and suggested time slots based on resource availability.
Improved customer communication: Customers will receive automated reminders and timing changes via email and SMS. Notifications of estimated arrival times and arrival tracking will be included as well.
Dynamics 365 Customer and Field Service are robust solutions that help businesses focus on improving customer satisfaction and maximize efficiency and productivity. If you're not presently using one of these solutions but would like to learn more, drop us a line. Our Microsoft Dynamics Experts will get in touch with you shortly.