Microsoft Dynamics 365 Business Central To Empower SMBs In India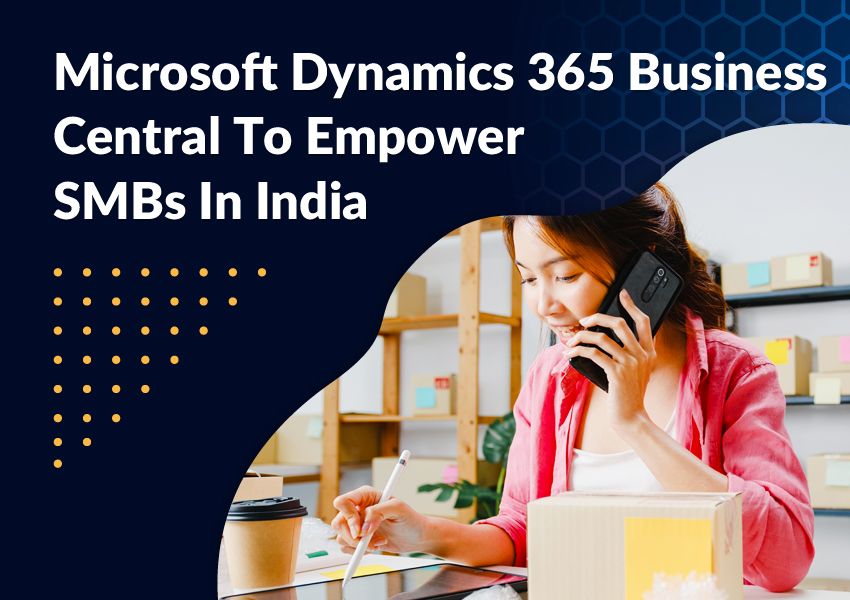 Microsoft India has announced the general availability of Dynamics 365 Business Central, a robust business management solution for small and medium-sized businesses (SMBs).
An all-in-one cloud solution, Dynamics 365 Business Central automates and streamlines business processes such as finance, manufacturing, distribution, project management, and empowers businesses to upgrade from their outdated accounting software and legacy ERP systems.
The availability of Dynamics 365 Business Central was announced at 'Building a Resilient Future', a summit organized to discuss building resilience among India's small and medium-sized business (SMBs).
SMBs today are on the lookout for solutions that are simple, productive, secure, cost-effective, and that can help them accelerate their digital transformation journey; something that is a prerequisite to become future-proof and future-ready.
Some of the major challenges that SMBs face include an unconnected set of on-premises ERP systems, manually upgrading and scaling existing ERP tools, and lack of data security. With new modules, Dynamics 365 Business Central aims to solve these issues. With new modular applications, expanded analytics, and technical enhancements based on Microsoft's secure and hybrid Azure platform, Dynamics 365 Business Central aims to solve these issues.
The solution is tailored for India and comes with built-in features that address local regulatory and market requirements for ease of doing business, including a tax engine with over 500 pre-configured use cases and business scenarios for GST, TDS, and tax collected at source (TCS).
"It brings the rich functionality and full flexibility of Microsoft Dynamics Navision, the company's enterprise resource planning (ERP) app, to deploy in the cloud or on-premises. It can be accessed from any mobile device to conduct business on-the-go," Microsoft added.
Dynamics 365 Business Central will enable SMEs to maintain business continuity by connecting sales, service, finance, and operations teams, allowing them to transform more rapidly and deliver better results.
Rajiv Sodhi, Chief Operating Officer, Microsoft India, said, "SMBs are the backbone of the Indian economy and are driving the country's digital transformation wave with rapid cloud adoption. With Dynamics 365 Business Central, we aim to empower and strengthen the SMB ecosystem in the country." "It offers customers affordable and easily manageable tools that simplify and expedite everyday business processes. We believe it will help small and medium-sized organizations move to the cloud confidently and be future proof," he added.
Dynamics 365 Business Central can be customized or expanded for specific industry needs using PowerApps, Microsoft Flow, and Power BI, and it integrates seamlessly with other Microsoft cloud services such as Microsoft 365. The solution can also be integrated with Microsoft Teams, allowing companies to exchange information more effectively with team members and respond to inquiries more quickly.
Business Central is a complete, end-to-end solution that enables
Organizations to unify its business processes and increase productivity with automated tasks and workflows – all incorporated within familiar Microsoft 365 tools.
Microsoft's leading intelligent technology can help businesses develop a holistic view of their business data, business intelligence, and actionable insights, allowing them to become more agile. It equips leaders and employees with the intelligence they need to respond rapidly to evolving business needs – from any location and on any device.
A business can start quickly, evolve at its own speed, and adapt in real time with a versatile platform that makes it easy to expand Dynamics 365 Business Central with evolving needs.
Microsoft Dynamics 365 Business Central is the perfect choice for growing businesses looking for an all-in-one Microsoft business management solutions that is versatile enough to support their unique needs and robust enough to handle complex processes. It is quick to implement, easy to customize, and simple to use.
Embedded with Power BI and closely integrated with Office 365, Business Central provides endless opportunities for growth and transformation, empowering businesses to take control of their finances, automate and secure the supply chain, manage processes, sell smarter, and enhance customer experiences.
Boost your ROI with a Microsoft Certified Gold Partner
Connect your people, processes, and data, and drive smart business decisions with Business Central. Leverage our Microsoft expertise and over two decades of industry experience to achieve the best configuration for your unique business needs. Contact us today!
Check out our blog on The Top Reasons why Dynamics 365 Business Central cloud-based model is the best option for SMEs.