7 Ways CRM Can Help Your Business during COVID-19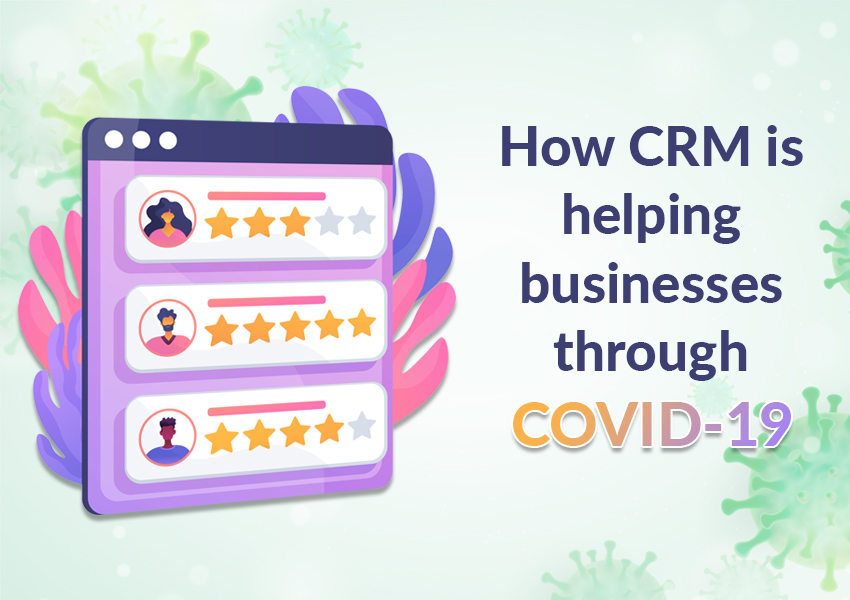 The Coronavirus has had a seismic impact on our way of life and how we do business. The pandemic has irreversibly transformed how businesses formulate their strategies, run their operations, and communicate with their customers. Despite the fact that COVID-19 sparked this transition, the change is here to stay; with even end-customers increasingly opting for digital routes not just for transactions and payments, but for a wide range of activities.
Customer Relationship Management during COVID-19 is not slowing down in the wake of the crisis; in fact, modern CRM solutions are playing a pivotal role in helping businesses navigate these unpredictable times.
Importance of CRM in COVID-19
A CRM solution helps in growing your business's profitability by streamlining administrative processes in your sales, marketing, and support divisions, allowing you to concentrate on building and sustaining relationships with your customers. It provides a centralized platform for collecting and storing customer data that can be easily accessed by employees.
Leading Customer Relationship Management technology, such as Microsoft Dynamics 365, helps companies remain afloat by equipping them with the workflows, processes, and artificial intelligence they need to adapt to this new normal at an unprecedented speed.
In this blog, we'll cover a few pointers on how to make the most of your CRM while working remotely:
1. Enhance Communication with Customers
A Customer Relationship Management solution is used to monitor and manage your organization's interactions with customers. As a result of the global pandemic, Consumers' tastes, preferences, and priorities have changed drastically.
It's crucial to leverage the power of CRM as you transition with your customers. Via automated and mass communication, and targeted segments, CRM encourages more interaction and enables you to sustain engagement with ease. With features like dashboards, you can easily track customers who have been out of contact and act accordingly.
2. Increased Diligence
In keeping with the theme of getting the most out of your CRM, it's important to be more diligent about the accuracy of client data and to spend the necessary time to ensure that you have the most reliable, up-to-date information in your system.
As you operate remotely, lean more heavily on your CRM solution and embrace the wealth of data that is stored centrally; better data management will help streamline business processes by reducing the need to reach out to others for more information.
3. Increased Productivity by Integration
Working remotely necessitates a number of considerations, including maintaining accountability and staying on track. CRM solutions can be combined with a variety of productivity-enhancing software and tools.
It's easy to forget details while working remotely. You can also find yourself sifting through multiple channels in search of relevant information. If you find yourself getting distracted when working from home, use your CRM solution's integration capabilities to boost your productivity.
There is no better time than now to start using your CRM to its maximum potential if you haven't already. Your CRM solution can be the key to keeping information flowing between various departments and individuals.
Integrations with collaborative workspaces like Microsoft Teams for Microsoft Dynamics 365 will help your teams feeling connected, collaborative, and aligned. With the many benefits of CRM to organizations, increase reliance on the capabilities and features to get the most out of it.
4. Web Form Optimization gathers vital Opportunity Data
Marketing automation technology can be linked with CRM systems like Microsoft Dynamics 365 to help teams develop workflows that process lead, customer, and prospect information directly into the right databases.
For salespeople, gathering this information is extremely beneficial. Now is a good time to review the data collected from your website forms over the last few months, particularly if things are slowing down, to see if opportunities exist or will exist soon.
Data provides a wealth of information about our accounts and their requirements. Responding to these needs is critical during COVID-19. Technology can help essential businesses build the most efficient workflows so they can concentrate on what they need to do, whether it's providing medical care, manufacturing, or distributing personal protective equipment.
5. Use Marketing Automation Campaigns to express care and provide tools to help
During these turbulent times, sending content links to useful resources is critical not just for your client's or lead's business health, but also for the health of the people they hire.
CRM can help significantly with crisis management. Email campaigns created in your marketing automation framework and integrated with your CRM technology can help you determine the current state of your account's business and assess the needs of their business.
Note that being authentic, caring, and transparent about your own company and theirs will make a huge difference in your email campaigns, and the more positive a difference you can make, the better.
6. Clean up CRM data to set yourselves up for success
If you're a salesperson, you might find yourself with more downtime than normal. We recommend that you take advantage of this opportunity to clean up your CRM data. Get rid of any old accounts that don't have any potential or opportunities.
With 'stay-at-home' orders, now is a good time to clean up your CRM data to set yourselves up for success.
7. Maintain and accelerate Customer Service
You won't miss a beat with CRM when it comes to customer service. In times of crisis, CRM can enable your customer service team to move from a call center to their home offices.
Microsoft Dynamics 365 Customer Service, for example, is an application developed specifically for this purpose. CRM is intended to strengthen customer relationships, and the customer support team is always at the forefront of building and sustaining these relationships.
CRM aids the customer service team in the following ways:
Improve the understanding of your customers.
Increase customer retention rates.
Customers may be segmented using account-based marketing strategies (ABM).
Improve customer service problem resolution.
Anticipate customer needs.
Enhance customer communications.
Winding Up!
Investing in a cloud CRM solution reduces business uncertainties by allowing the organization to react rapidly to changing circumstances. With a major percentage of the global workforce working from home, a cloud CRM solution can keep information flowing seamlessly across departments, better engage with customers, boost sales performance and bolster business continuity.
Drop us a line to know more about Microsoft Dynamics 365 CRM and how you can implement it without a hitch.