Cloud Transformation: Implementing Your Cloud Strategy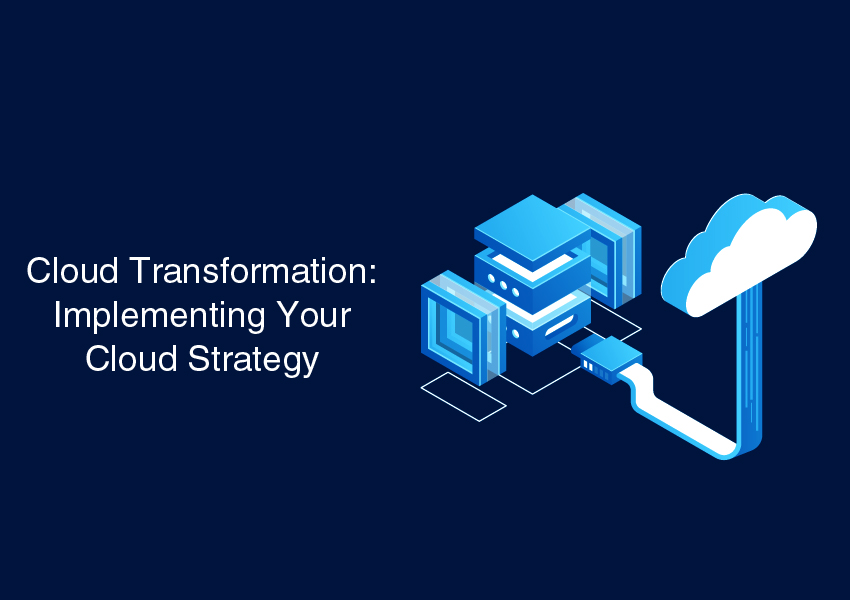 Almost all businesses across a wide range of industries are quickly migrating to secure cloud-based platforms, leaving their competitors to struggle with operational disruptions, rising IT costs, and higher economic risk.
Microsoft has embraced a cloud-first approach for its Dynamics 365 offerings. Moving to the cloud unlocks several benefits and improves business agility. As a result, customers are increasingly adopting cloud technologies and migrating on-premises systems to the cloud.
With cloud migration, Dynamics 365 gets a new level of mobility, agility, scalability, and flexibility. There are various reasons why you should move to Dynamics 365 in the cloud if you are currently using on-premises systems or are new to Dynamics.
As businesses grow and technological needs expand, SMEs and large-scale organizations are increasingly leveraging the power of the cloud.
The nature and scope of cloud migration may differ from one business to another. While some companies opt to migrate fully to the cloud, others might prefer to migrate in stages, with some processes staying on-premises.
Why Switch from On-Premises Dynamics to Dynamics 365 Cloud?
There are multiple reasons why migrating to the Dynamics 365 cloud is the smartest business decision you can make.
Let's look at some of the key features and benefits of migrating to the Dynamics 365 cloud:
Dynamics 365 Cloud Features
Efficiency
Effortless implementation without the need for additional hardware.
Consistent Software development.
Enhancements and upgrades, twice a year.
Remote access is possible.
Flexibility and scalability.
Security
There are five layers of data security and protection.
Disaster recovery services are automated.
Support available 24*7
Cost
Reduces the cost of maintaining a dedicated private server by lowering overhead costs.
Predictable monthly subscription.
No additional license fees.
No periodic licensing renewal costs.
Integration Possibilities
Approaches to Cloud Migration
You must be wondering what the migration process is like? It depends on how you go about it. You can choose from the following options:
You can use Rehost to quickly transfer your existing applications to Azure Cloud. All apps are moved in their current state, with no changes to the code.
Refactoring may necessitate modifications to the application's design, but it does not necessitate a complete rewrite of the code.
Rearchitect enables you to scale and optimize your application's codebase for the cloud by modifying or extending its codebase. You can utilize Azure to help you upgrade your software into a robust, highly scalable, and independently deployable architecture.
You must rebuild an application from the ground up utilizing cloud-native technologies in Rebuild. In this cloud migration strategy, you'll be in charge of the apps and services you create, while Azure will take care of the rest.
A well-thought-out strategy is required for a successful cloud migration. Planning is crucial to every project's success. When it comes to moving to the cloud, it's no different.
Steps that make up a good cloud migration strategy
1. Involve all key stakeholders
Migrating your data and operations to the cloud is a big step for most businesses, and it will take a lot of buy-in and support from the rest of the company. Your organization's key players must be totally committed to the initiative and willing to actively champion it.
Working collaboratively to assure the project's success, will lead to a smoother, faster cloud migration process that meets everyone's goals.
2. List down your physical and virtual servers
While your present management tools may give you a good notion of the applications your organization uses, you'll need an inventory system that can feed data into subsequent processes. You'll have a complete inventory of servers with metadata, including profile information and performance metrics, thanks to Azure's cloud migration assistant tools, that allow you to effectively plan your cloud migration strategy.
Using this knowledge, map your servers to represent your on-premises apps. This can aid in the discovery of server dependencies and communication, allowing you to incorporate all-important application components in your cloud migration strategy, lowering risks, and guaranteeing a smooth transition.
Then, logically categorize your servers to reflect the apps, and select the best cloud migration approach for each app based on its requirements and migration objectives.
3. Assess your on-premises systems
After you've mapped out your application groupings, decide how to migrate each on-premises application. By providing insight into your environment and dependencies, automated cloud migration solutions can assist you in developing your cloud migration strategy. Examine your current scenario to establish a template that relates to specific apps, regions, or divisions within your firm for future use.
Start with programs that have fewer dependencies to get your migration off to a quick start. The Azure Database Migration Guide by Microsoft walks you through the process step by step.
The cloud migration process can seem overwhelming, but our experts are here to help you. As a Microsoft Gold Certified Partner, we can either guide you through your inventory audit or do it for you.
Cloud Transformation: Realizing the many Benefits of Cloud
Moving to Dynamics 365 in the cloud unlocks a multitude of benefits:
Get a 360-Degree View of Your Business
All of your key business data can be accessed in one place with Dynamics 365 cloud. Data on-premises is housed in silos, making it difficult to access information when needed. You can combine your CRM and ERP data with the Dynamics 365 cloud to gain a 360-degree view of your business. In addition, familiar tools like Microsoft Office 365 and Microsoft Power BI make it simple to access your data and business insights.
Boost Productivity and Collaboration
Migrating to the cloud simultaneously reduces the demands on IT resources, giving them more time to focus on high-priority projects. Additionally, decreasing the complexity associated with system management and maintenance activities allows your team to be more flexible while also increasing overall productivity. The Dynamics 365 cloud also facilitates effective collaboration by allowing remote employees to access and share real-time data.
Consistent Product Updates
When you install Dynamics on-prem, you go through a lengthy and complex migration process every time a new version is released. Software upgrades are automatic and ongoing when you transition to Dynamics 365 in the cloud, with new features and capabilities provided on a regular basis. These automatic upgrades help you get the most out of your system by increasing the adoption rate of new features.
Power BI and Power Apps
One of the key benefits of moving to the Dynamics 365 cloud is easy access to Microsoft Power Apps and Power BI. Drag-and-drop feature in Power Apps allows you to design a bespoke display. Power Apps also have more complex capabilities including the ability to create an app, review invoices while on the go, and share data with your teams. Microsoft Power Apps come with a number of ready-to-use apps with which you can get started right away.
Winding Up!
A successful Dynamics cloud migration will help you save money, boost scalability, and reduce the risk of a cyber-attack significantly. To achieve a successful cloud migration, you'll need the right strategy, which entails effective planning and preparation. Developing the correct strategy is the most critical step in assuring the success of your cloud migration.
DynamicsSmartz Consultants can assist you in understanding, analyzing, and selecting the right strategy for successful cloud migration. Contact us to turn your cloud migration plans into a successful Dynamics 365 implementation.