Dynamics 365 Business Central 2022 Wave 1: What to expect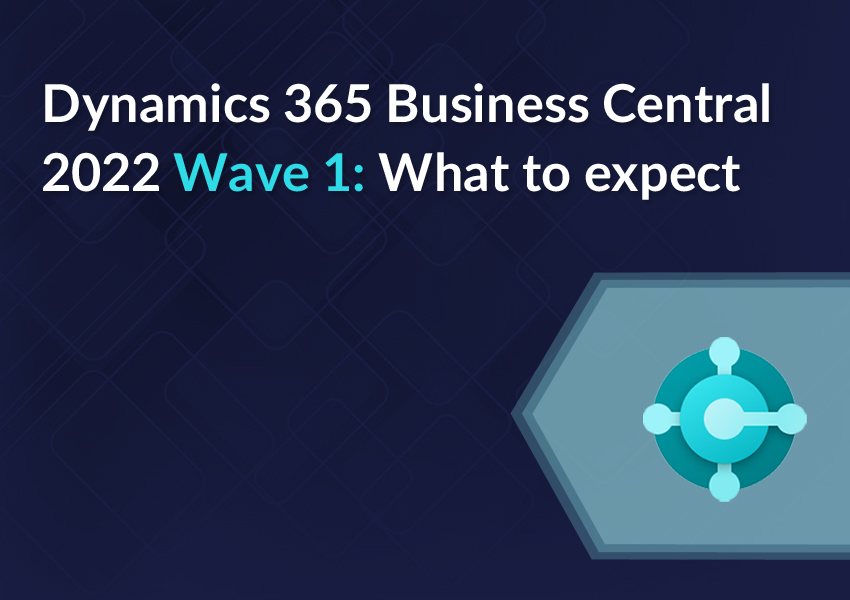 The 2022 Business Central Release Wave 1 plan includes all-new functionality that is planned to be delivered from April to September 2022. In this blog, you'll find the product overview and what's new and planned for Dynamics 365 Business Central.
Microsoft intends to make most of these features available in March for public preview, and general availability will follow in April (although Microsoft makes it very clear that delivery timelines can change, and some features may not be released).
Designed and optimized specifically for small and midsized organizations, Dynamics 365 Business Central is a comprehensive, robust business application solution. 
Some of the key enhancements that we can expect in 2022 Wave 1 are as follows:
Seamless service experience: Business users expect dependable services and platforms that can help them run their business seamlessly regardless of the business size or industry. 
Enhanced capabilities: With Business Central's improved finance and supply chain capabilities, users can now perform business processes more effectively.
Administration: In 2022 release wave 1, Business Central delivers features designed to make it easier for partners to manage tenants and administrators to manage licensing.
Better integration with Microsoft 365: Business Central 2022 release wave 1 has significantly improved the efficiency of collaborative business processes in Microsoft Teams, and Excel and Outlook add-in.
Seamless onboarding: New features in the 2022 release wave 1 will help customers get to productive usage faster.
Increasing country and regional availability: Business Central will be generally available in a greater number of countries and regions with the first wave of release.
Power Platform: Microsoft intends to improve the capabilities of Power Automate, which will make it easier to set up workflows for a specific organization.
Developer tools: Given the move to Visual Studio Code, Microsoft continues to invest in areas that enhance productivity for developers. Additionally, Microsoft will introduce GitHub Go for partners to set up CI/CD for their apps without prior knowledge of pipelines, Docker, or PowerShell.
Let's take a closer look at some of these enhancements: 
Microsoft Power Platform
In 2022 release wave 1, Microsoft improves the interaction with Microsoft Dataverse and Microsoft Power Platform to make it easier to use Power Apps, Power Automate, and Power BI with Business Central, allowing users to be more productive and self-sufficient. Triggering a Power Automate flow from a certain Business Central page is now simple and intuitive. For instance, this upgrade allows users to add more Power BI dashboards to their Home page, making it easier to access crucial business insights.
Administration and governance
Wave 1 of Business Central 2022 provides a collection of admin and governance features to better assist administrators and IT professionals in setting up, securing, managing, governing, and monitoring customer environments. 
Development
Microsoft is continuing to invest in a broad range of extensible tools capabilities for developers, including strengthening the AL language and giving developers a better experience.
Application
In the first wave of the 2022 release, Microsoft is set to deliver upgrades based on the most popular requests for enhancements. Enhanced reporting, better deferral posting control, and improved Dimensions capabilities by permitting default dimensions on locations, as well as other supply chain enhancements.
Modern clients
Wave 1 of the 2022 release cycle focuses on improving usability, accessibility, performance, and stability across the extensive portfolio of clients. 
Country and regional
More countries have been added, bringing the total number of countries where Business Central is available to over 70. Partner-led localization allows the company to expand into more countries and areas. Business Central can therefore service consumers in over 70 countries and regions throughout the world, thanks to the built-in language capabilities.
Better with Microsoft 365
Teams now has better support for collaborative business processes, allowing you to add Business Central pages to a Teams channel. Finally, the data from Business Central that we offer in Teams is enhanced.
Reporting
Many business users think about reporting as a way to gain insight into new growth opportunities and to share data as a foundation for business planning discussions. With Excel layouts, Microsoft will provide a superior experience. There will also be enhancements to the account scheduling feature. There will be enhancements to the Power BI analytics story by allowing more Power BI dashboards to be displayed on business users' Home pages.
Platform as well as service
Microsoft aims to enhance performance with each release wave. 2022 Release Wave 1 will enable an in-product performance adviser and in-client performance profiler to provide further information. They also aim to improve the client's rendering speed and data entering performance in times to come. 
Onboarding
Every release wave prioritizes onboarding. The goal is to speed up new customer onboarding as well as new user onboarding faster. Microsoft will be focusing on people-centric experiences in 2022 release wave 1, which will make onboarding to Dynamics 365 Business Central much simpler. Business Central now has the ability to give context-specific content with ease. The learning curve will be flattened and it will enable individual users to complete their business operations more efficiently.  Users will also be shown how to customize Business Central to meet their specific demands.
A new and modern Help pane, similar to that of other Microsoft offerings, will provide access to context-specific content. Users will be able to access Microsoft-hosted and partner-hosted context-specific content through the Help pane, making the Help pane the go-to site for getting unblocked.
Furthermore, page- and control-level teaching tips will be able to incorporate clickable links to the documentation or other in-app pages.
Check out the Dynamics 365 Business Central release plan below to learn more about the full range of capabilities that will be released during this release wave.
For Dynamics 365, check out the key highlights of what's planned and expected in Release Wave 1. To know more about these features and capabilities in detail, drop us a line. Our seasoned Dynamics Consultants can guide you on how to leverage the functionalities to your advantage.