What to expect from Microsoft Dynamics 365 2022 Release Wave 1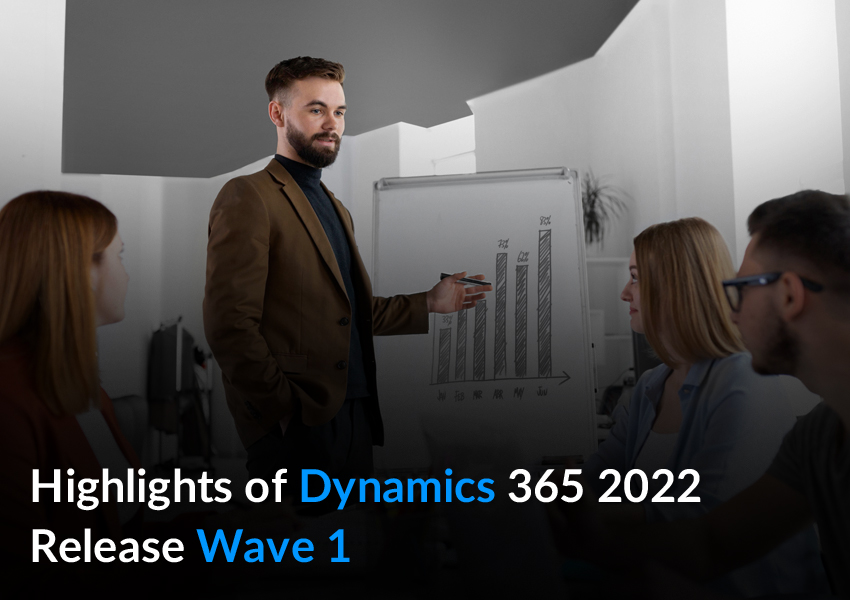 The release plans for Microsoft Dynamics 365 2022 Release Wave 1, the first significant update of the year, have now been published by Microsoft. This update will be available between April 2022 and September 2022, adding a number of new features to the applications.
Highlights of Dynamics 365 2022 Release Wave 1
The Dynamics 365 and industry cloud release wave 1 for 2022 introduces new features and capabilities that will help you transform your organization. Hundreds of new capabilities will be available across Marketing, Sales, Customer Service, Field Service, Finance, Supply Chain Management, Business Central, Customer Insights, and Customer Voice, among other Dynamics 365 applications. Regular updates from Microsoft help you stay current and provide added business flexibility.
Sales
Dynamics 365 Sales is designed to help salespeople harness the power of data and intelligence to forecast, compare annual estimates, and evaluate performance using predictive scoring. To speed up their pipeline, sellers can interact using Teams within Dynamics 365, while managers can track team performance and provide coaching to improve customer satisfaction. The purpose of D365 Sales is to assist the seller in closing more sales, faster, and more efficiently.
Service
With the new Customer Service admin center app and improvements to the agent inbox view, Dynamics 365 Customer Service focuses on the setup experience for administrators. Dynamics 365 data integration, AI-suggested contacts, and AI-generated conversation summaries for agents are just a few of the new features added to embedded Microsoft Teams.
The schedule board in Dynamics 365 Field Service has been enhanced with innovation and usability, allowing for more intuitive and faster use, as well as increased dispatcher productivity. The Field Service mobile application has been updated to improve technician productivity and is now fully compatible with Windows devices.
Application Enhancements: Microsoft Dynamics 365 Sales
1. Conversation Intelligence
Currently, Dynamics 365 Sales' conversation intelligence gives salespeople the tools they need to boost productivity and improve relationships. To take this to the next level, it's critical to provide the facts and insights gleaned from interactions at the correct moment and in the right context.
Conversation intelligence is now much easier to find, and salespeople can take advantage of the full potential of this brilliant tool thanks to strong new search capability.
Here are the feature highlights:
Discoverability
Increasing the discoverability of conversation intelligence within D365 and presenting key insights at the appropriate time in a salesperson's workflow.
Adding in-app notifications and emails to ensure that salesmen don't miss out on important information and can simply follow up on their commitments.
Breaking the Silos
Incorporating Sales Insights' strategic and coaching dashboards into Dynamics 365.
Collaboration
Enabling comments, mentions, and sharing of conversation intelligence artifacts will make it a regular part of the workday.
Powerful Search
A powerful search and filter toolkit combined with conversation intelligence and D365 rich data will assist salespeople in gaining even more important insights.
2. Capture mobile phone contacts as well as recent calls
This new feature will link your mobile users' contacts and recent conversations with a single click, allowing salespeople who call customers directly from their phone to instantly register the information into Dynamics 365 Sales.
3. Use the camera on your phone to log information
Microsoft has improved the way salespeople may record information from business cards and handwritten notes using their mobile phone camera in this release. The recorded data can then be linked to the appropriate record or activity.
Microsoft Dynamics 365 Customer Service
1. Making use of email templates
Email templates save time, ensure consistency, and maintain professionalism when sending frequent and recurrent emails to consumers. This new feature in Dynamics 365 Customer Service improves the email creation experience by adding a new insert template gallery with numerous views and search capabilities for composing messages using existing templates.
In addition, in this release wave, Microsoft will include a new email template creation experience.
2. Integration of relevant search for knowledge management in portals
Relevance search provides quick and thorough search results that are sorted by relevance. When searching for knowledge base content, portal visitors will have a consistent and seamless search experience.
Highlights of the feature:
Content access levels: Adds another layer of security to a portal's knowledge articles. This is not to be confused with web roles.
Filters: Knowledge articles can be filtered by product, rating, and last edited date.
3. AI-generated Conversation summary for Microsoft Teams chats
This new tool generates an AI-generated conversation summary of Microsoft Teams chats, which users can quickly share with others. This saves time reading large chat transcripts and composing summaries to be distributed among teams.
Highlights of the feature:
Agents can share the context of their service discussions with others via auto-generated summaries.
A summary format structure that offers information about the customer's problem and any solutions attempted by the agent.
Agents will be able to edit the summary that is automatically generated.
4. Analytics for Knowledge articles and search keywords
Managers will be able to analyze the usefulness of knowledge content and find chances for improving their knowledge bases thanks to new capabilities including a built-in, historical view of knowledge articles and other associated indicators.
5. Embedded Microsoft Teams for contextual collaboration
Using embedded Microsoft Teams, easily collaborate with anyone in the organization to fix client issues without having to leave the case or chat. Chats in Teams will be immediately linked to Customer Service records, allowing for a more contextual experience.
From within Dynamics 365, you may chat with contacts.
Get in touch with essential Customer Service personnel like supervisors, queue members, and help professionals.
Use AI-powered suggestions from agents who have dealt with similar issues.
Access the most recent Microsoft Teams chat lists.
Connect and disconnect chats from the case and discussion records as needed.
Access linked Microsoft Teams chats.
Users may readily see a chat participant's profile image and availability by viewing their message avatars and presence.
Microsoft Dynamics 365 Field Service
1. Support for Dynamics 365 Field Service mobile on Windows 10
Dynamics 365 Field Service mobile is a next-generation app with a clean and intuitive user interface developed on Microsoft Power Platform. This application, which is seamlessly connected with the rest of their Dynamics 365 applications, will allow technicians on Windows devices, such as Microsoft Surface tablets, to monitor their bookings, manage their work orders, and execute inspections.
The Windows Field Service app for the new Power Platform-based mobile app will have the following features:
Booking calendar in the manner of Outlook, with an attractive user interface for completing service tasks quickly and more.
Power Apps component framework provides tailored user experiences with hundreds of powerful controls right out of the box.
Access to the device's camera, which can be used to capture photos and read barcodes.
Support for Dynamics 365 Field Service via a deep link in the mobile app.
2. Enhancements to the mobile usability of Dynamics 365 Field Service
The Dynamics 365 Field Service mobile app has been enhanced for usability, ensuring that your frontline personnel has all the information they need at their fingertips. These features are designed to cut down on time spent on the app so that staff can focus on their work.
As part of this feature, the following usability improvements will be available:
Quick actions from the booking calendar control can be customized to provide users with useful shortcuts, such as navigating to a customer's location or updating the status of a booking.
Tablet layout optimizations.
Lookup controls have been improved. allowing for quick item selection from a list.
Within the booking form, highlight important asset details.
To know more about these features and capabilities in detail, drop us a line. Our seasoned Dynamics Consultants can guide you on how to leverage the functionalities to your advantage.