How to Build a Business Case for a New ERP Solution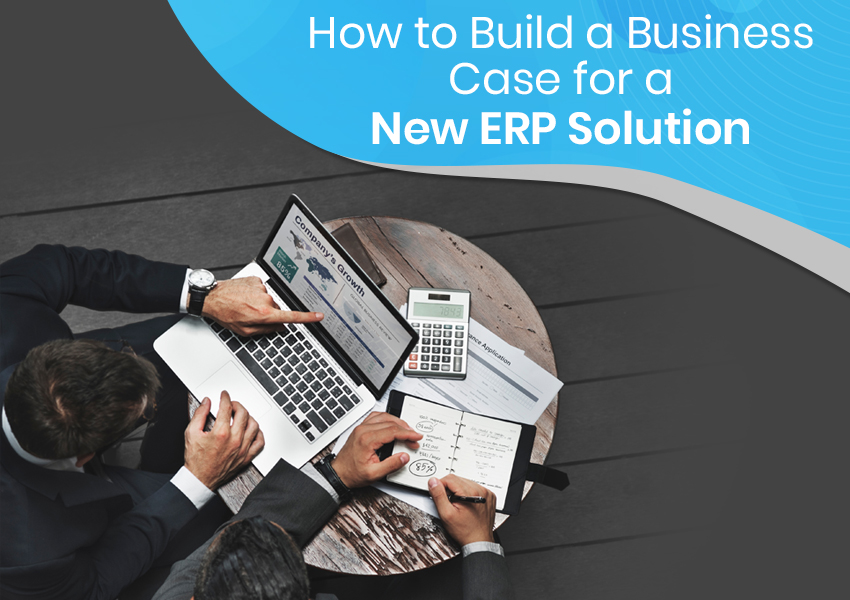 At the most basic level, the decision to implement a new ERP solution comes down to capabilities: Is your existing system capable of meeting your evolving business needs, both now and in the future?
It's no secret that a robust enterprise resource planning (ERP) system can help you streamline your business operations. It speeds up processes, improves teamwork, and centralizes data across the organization.
Clearly, ERP systems have many business benefits, but how do you get executives to agree with you?
If your organization is not enjoying the benefits of a modern ERP system, the first step is to build a business case that details the benefits, costs, opportunities, and risks associated with launching an implementation project.
No ERP project should move forward without a thorough assessment to ensure that the scope is well-defined, the budget is accurate and complete, and the project objectives are clearly aligned with the company's goals. And no approval should be given before the ROI and payback period have been calculated.
Despite this, many organizations fail to create a complete business case because they see it merely as a justification for technology investment. An ERP business case, on the other hand, adds value: it is a critical lesson in vision and goal-setting. Most importantly, it pushes you to create a comprehensive plan that establishes goals, guides your project, and accelerates your business transformation.
Building a business case for ERP helps in numerous ways. Once you've convinced the organization to invest, it'll serve as a single point of reference for everyone involved, ensuring that the ERP implementation stays on track for optimum performance.
Here's how to put together an ERP business case step by step:
1. Determine the Reasons for Change
You must first determine why such an organization-wide transition is needed. There can be many reasons, with the following being the most common:
Dwindling Productivity
Inaccuracies creeping into your business, costing you time and money
Outdated structures or processes hampering business growth
Most businesses will benefit from an ERP implementation by increasing efficiency, eliminating costly mistakes, and laying a stronger framework for future growth and success. But it's a big job that will necessitate everyone adhering to a straightforward and focused vision during the journey.
Understanding why you need to change is a crucial component of this process. So, speak to people all over the company to get a clear idea of where things aren't working effectively, as well as where there are insurmountable challenges ahead.
2. Identify Business Benefits
What benefits can process improvements bring to your organization?'
Determine what the right technology can do for your business. There are numerous advantages to successfully introducing a new ERP system, and it's critical to determine which ones are relevant to your business. If you work in manufacturing, you can save money by reducing inventory and having complete transparency over everything from raw materials to production status. If you work in sales, the right system can help you close more deals and drive top-line revenue growth for your organization.
Intangible advantages of implementing modern technologies include improved customer service and increased employee retention, as a result of increased clarity and simplicity across the organization.
3. Define your Business Goals
'What does your organization want to achieve?'
The next step is to determine which of the potential benefits are vital to achieving your organization's future state and are aligned with its transformational vision.
Your management team should identify the most important, long-term improvements for the organization. Functional managers must define specific process improvements that they want to accomplish. The organization must then translate this vision into detailed objectives.
Establishing SMART goals is the best technique (specific, measurable, achievable, realistic, and time-based). To put it another way, the words "better" and "more effective" are not SMART. However, "increase sales by 12%" and "reduce inventory costs by 8%" are.
4. Make a Cost Estimate
'What is an accurate cost estimate for the project?'
'What cost factors should be considered?'
A practical and credible business case requires an accurate estimation of the total cost of ownership for a new ERP solution.
The software system itself is the most obvious expense. This cost also varies depending on the number of users and whether the solution is on-premises, hosted, or deployed in the cloud.
We suggest providing objective cost benchmarks based on the scope of your project, the size of your business, and your industry. This allows you to see how the advantages of ERP outweigh the costs. In other words, what is the return on investment?
Similarly, reasonable timeframes help executives in determining when they should expect to recoup expenses and realize benefits. According to a study, businesses recoup costs on average seven months after go-live.
5. Analyze Returns on Investment
In deciding whether or not to proceed, the value of the expected business benefits must be weighed against the costs involved. The analysis should include both tangible and intangible benefits, such as reduced costs and higher sales, as well as non-tangible benefits like customer loyalty and satisfaction. The cost of the ERP solution should be compared to the operating costs of the systems it will replace in the ROI analysis.
In practice, studies report that businesses reap a broad range of quantifiable benefits from a successful ERP implementation.
6: Find an ERP Partner
According to a new study, only about 50 percent of businesses get what they expect from their ERP implementation. As a result, millions of dollars are wasted on poorly planned or implemented ERP programs that eventually fail to deliver.
The best way to achieve success is to find a professional ERP implementation partner who has previously worked in your industry. Since they've done it before for businesses similar to yours, they can assist you throughout your business transformation journey.
7. Acknowledge Risks and Devise a Mitigation Plan
Executives would most certainly foresee project risks and question whether the potential benefits outweigh the risk of failure. The best thing you can do in such a situation is to acknowledge the risks and define how you plan to mitigate them.
Organizational change management is one way to mitigate risks. If previous change management efforts at your company have failed, you should talk about the lessons learned and how you intend to adapt them to the next initiative.
8. Create a high-level implementation plan
'How will the solution be put into action?'
At this stage, a comprehensive implementation plan isn't needed. However, a proper assessment of the project's market value must include a big-picture picture of how it will proceed, as well as a projection of both the necessary resources and the implementation timeline.
Conclusion
In today's fast-paced environment, businesses must be able to react quickly and effectively to market trends in order to maintain or surpass consumer expectations. Your ability to compete effectively can be severely hampered if your current ERP system is outdated, unsupported, or a bad match for your business needs.
For these reasons, we suggest that you look into Microsoft Dynamics 365, a cloud-based business application suite. Our experts can work with you to understand your current and potential business objectives, determine the best solution to achieve those objectives, and explain how to maximize business value. We'll also assist you in building a Microsoft Dynamics 365 business case to present to other stakeholders in your organization.
A business case for implementing a new system is more than justification. It serves as due diligence, a vision document, a blueprint for your business transformation, and, eventually, the foundation for determining whether or not your organization realizes the anticipated benefits.
Do you need further assistance putting together a business case for ERP? Contact us today to set up a free ERP consultation where we'll discuss what's possible and how it can transform your business.