Microsoft Dynamics Influencer Insights
Consultant and MVP, Sean McDonough, discusses Microsoft 365 and Sharepoint
In the past decade, the workplace has undergone a significant transformation. Due to rapid technological advancement and social changes, business executives must constantly adjust to new ways to manage and support talent.
Microsoft keeps developing new product features to meet the growing demands of the digital workplace, offering businesses a more solid and organized foundation for workplace communication.
To fully embrace Microsoft 365 and its integrated capabilities as a platform rather than a mere collection of standalone products, it is imperative to understand how these features interact and relate to each other.
In our segment Influencer Insights, we invite industry leaders to discuss emerging technical developments, Microsoft Business Solutions, and partner-to-partner relationships. Today we will speak with Sean McDonough about leveraging the true power of Sharepoint and Microsoft 365.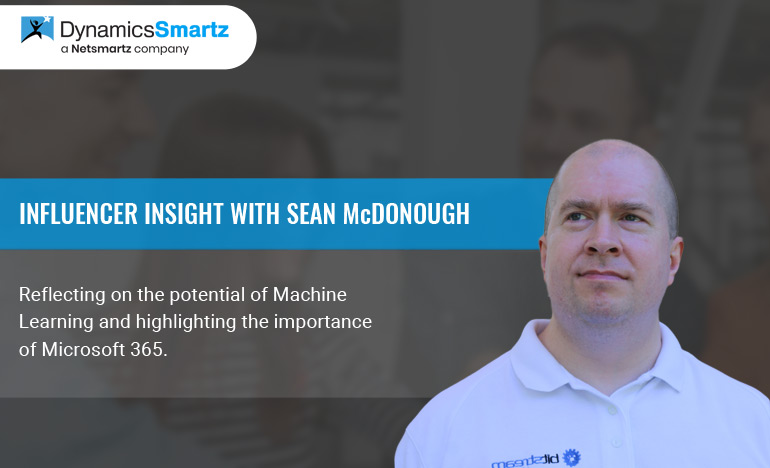 Who did we interview?
Sean McDonough is a consultant at a SharePoint solution, services, and consulting company headquartered in Ohio. In 2016, Microsoft recognized him as an MVP (most valuable professional). The SharePoint community is very important to him, and he regularly contributes to it through writing, speaking, blogging, and educating others.
Let Us Quickly Get To Our Expert's Point Of View.
Question 1- What according to you are some of the top Microsoft technology trends to watch out for in 2022?
I believe that one major trend we are beginning to really see blossom is that of machine learning (ML) and applied ML – typically through Azure Machine Learning Services. We use it in everything we do, and it's generally making our lives easier.
I work primarily within the Microsoft 365 (M365) space of cloud services, and there are several excellent examples of ML in M365 alone.
Have you noticed that when you're composing emails in Outlook or documents in Word that the applications attempt to complete words and even sentences for you? That's applied machine learning. We rarely give it much thought - even though it occurs everywhere. But based on what I write and algorithms that aren't entirely clear, applications are now suggesting words and phrases ahead of me typing them. Predicting – sometimes with creepy accuracy – what I'm about to say/type.
Another specific example that I find exciting is SharePoint Syntex. If you've not seen SharePoint Syntex in action, it is a way to guide the service to read, recognize, and extract meaningful information from documents and other content sources. Training SharePoint Syntex to process documents and identify important/relevant information enables the service to start processing documents on its own. This enables Syntex to crunch content, extract metadata, and create much richer content models – all through machine learning. We're essentially teaching machines how to do jobs once thought of as exclusively "human."
I've covered a few cases close to my heart, but this happens in every industry and in every corner of our connected world. I find it truly exciting!
Question 2: What are some opportunities you would be looking at this year?
Microsoft SharePoint has been my bread and butter for nearly two decades, and it remains my primary focus. I've been architecting Akumina-based intranets for several years now, and I suspect I'll continue to do so well into 2023 and beyond.
Employee intranets have been transforming over the years into "digital workplaces," and as a result, they have been growing beyond something that displays an organization's out-of-office calendar, lunch menu, and up-to-the-minute stock price. Intranets nowadays are gaining everyday relevance by sharing news and content that employees truly care about and can opt in or out of. They can customize it all – how much they get, how often they get it, where they receive it, and more. Modern intranets are much more capable than they were a decade ago, and quite a bit of work gets done within them. Intranets are no longer just "dumping grounds" for documents.
Question 3: Would you like to share some tips on Microsoft 365 implementation?
Sure! The first thing I would say is, "get some help." Microsoft 365 is a relatively large ecosystem of offerings and workloads. It can be confusing for someone trying to figure out how they should begin using it, what licensing they should choose, and how (or if) they should migrate content to the cloud, etc. My role as an independent consultant involves answering questions like these semi-regularly.
I have seen organizations try to adopt the cloud without help, and the degree of success achieved with such efforts is variable.
Microsoft 365 has been around long enough for consultants and partners to develop solid plans for helping companies migrate to the cloud. The best advice I can give is to say, "Use them." Often, the best results are achieved when you work with someone (an individual or group) who has already walked the path and learned what works and what doesn't.
Question 4: What is the potential for Microsoft Partners in the USA?
In my opinion, the potential remains high for partners in the USA. Since I started working with Microsoft 365 just after the BPOS (Business Productivity Online Suite) days, I figured there would be a point when migrations to M365, cloud adoptions, and related activities would drop off. But I haven't seen it happen yet. Every year, organizations are either moving more workloads to the cloud or dipping their toes in it for the first time.
Many organizations nowadays forego on-premises hardware altogether and choose instead to set up shop in the cloud exclusively. It's easy to understand why this is popular. You don't have to maintain the hardware and staff to "keep the lights on," and your workforce can spend their time solving actual business problems instead of keeping servers running.
Question 5: How can we leverage Microsoft 365 and Power Apps for improved collaboration?
With the introduction of the Power Platform, Microsoft has attempted to provide power users and other frontline workers with tools needed to craft business solutions on their own – without requiring those people to have degrees in computer science or information technology. Microsoft has made similar moves before, but the Power Platform (which includes PowerApps, PowerAutomate, PowerBI, and more) attempts to do quite a bit more than previous toolsets.
The users that Microsoft has targeted with these tools are termed "citizen developers," and what they can create with the tools – without formal IT knowledge – is pretty impressive in some cases. There is definitely "power" in the Power Platform, and the platform is very capable of building solutions to meet genuine business needs.
An area of opportunity concerning the PowerPlatform is ALM or Application Lifecycle Management. Out of the gate, solutions built with the Power Platform aren't easily managed by traditional ALM tools. I have begun to see tools like Encodian's Trigr pop-up to fill the need for different ALM-related needs, so I think the Power Platform's future is bright.
Get to Know Our Influencer
What is the best event that you attended recently? What were your key takeaways?
As someone who has worked from home for the last decade, it was nice to get back to some in-person events. COVID has naturally had everyone worried for a few years now, and the loss of in-person events was something I felt strongly about. Conferences and events were one of the only ways I got to see my friends from across the Microsoft ecosphere!
The best event I attended recently was 365 EduCon (formerly SharePoint Fest) in Dallas, Texas. I delivered several sessions at the event and caught up with many people I hadn't seen in several years. It was like a family reunion in many ways, and I'm so thankful to David Wilhelm, Jamie Mollo, and the rest of the 365 EduCon folks for making the event happen. They're fantastic people!
I don't have many takeaways from the event, but I know that people are ready to be social again. I don't think we'll rid ourselves of COVID and its offspring anytime soon, and most people seem to be coming to terms with our "new reality."
What's your success mantra?
That's a great question, and it's something I hadn't thought about before. Being married to a clinical psychologist, I would say that "my mantra" is something that involves the importance of communication.
Since I am typically brought in to architect solutions to address tough technical challenges, I need to have open channels of communication and dialog with everyone on the projects I engage in. I feel that my success depends on my ability to communicate clearly and in terms and concepts that are understood by the person with whom I'm interacting. I typically use a variety of metaphors and other concepts to reframe highly technical concepts and ideas in more familiar terms to convey key points. Even more important is listening actively and asking questions until I understand what someone is trying to tell me.
So, in a nutshell, I would say that communication is the core of my success mantra. We all need to talk a little less and listen a little more.