Microsoft 365 EduCon 2022: Key Takeaways from the Event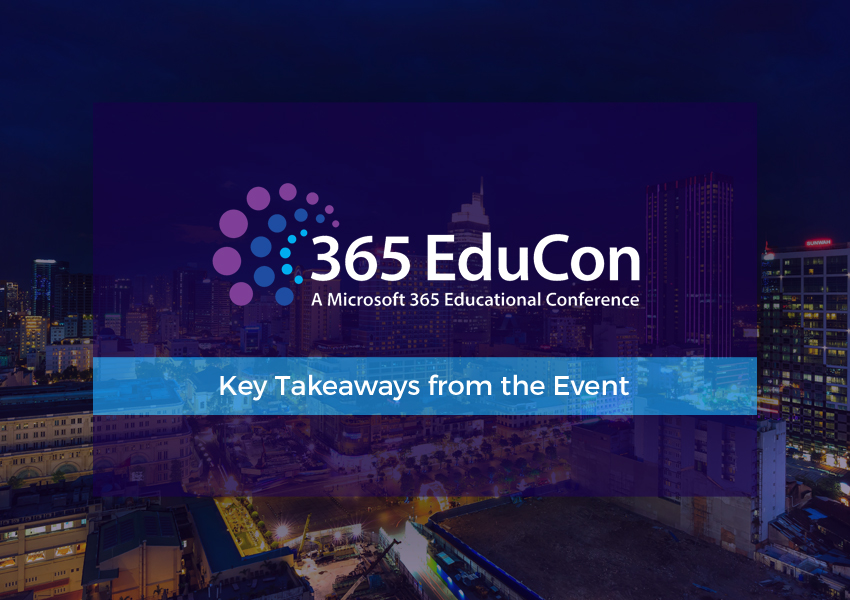 The 5-day 365 EduCon by SPFest took place in Dallas from the 8th to the 12th of August. These sessions brought together the world's leading experts in Microsoft 365, SharePoint, Office 365, Microsoft Teams, and Azure.
This conference was for the entire Microsoft community. Whether a person is new to Microsoft 365 and SharePoint or an experienced power user, admin, or developer, 365 EduCon has something for everyone. The conference was divided into workshops and sessions headed by Microsoft Certified Trainers, Microsoft MVPs, Microsoft Regional Directors, and Microsoft engineers.
Attendees at the 365 EduCon witnessed some of the best sessions and seminars for the Dynamics 365 community. Tracks were offered for a wide range of subjects from Microsoft 365, SharePoint, Azure / D365 Development, Microsoft Teams to OneDrive, Search, Content Management, Power Users, Business Value, Implementation/Administration, Flow/Workflow, Business Intelligence, SharePoint Development, and more.
Here are some key takeaways from this year's 365 EduCon Dallas conference:
1. Transforming the Hybrid Workplace
The conference began with a spotlight on the most discussed issue of post COVID world, the hybrid work culture, and how it presents new challenges for engaging, motivating, and growing a workforce. Chris McNulty and Mark Kashman showcased how Microsoft Viva, Syntex, SharePoint, Lists, Teams, and more put people at the center, connecting them to company information, communications, insights, knowledge, and learning.
The session also included a note from Shrini Arole, a senior manager from Toyota Motor North America, discussing how he and his team use Microsoft 365 to best support and promote asynchronous work for their employees.
2. Power Apps and Power Automate (Flow) for SharePoint Bootcamp
Scott Shearer and Wes Preston led a workshop on Power Apps and Power Automate for SharePoint Bootcamp. He focused on how Power Apps and Power Automate are the successors to InfoPath and Designer Workflows for SharePoint.
In this demo-rich workshop, the attendees learned how to customize their SharePoint list forms with Power Apps and automate processes with Power Automate. Power Apps can be used to make many of the customizations you may have used in InfoPath in the past.
3. Everything You Wanted to Know About Power BI (But Were Afraid to Ask!)
John White (MVP) and Jason Himmelstein (MVP) guided the attendees through building a complete analytical solution using all the features of Power BI. The session also focused on how to refresh data using the on-premises data gateway and the personal gateway to connect to existing on-premises data from various sources. The session ended with an overview of the many other features available in Power BI.
4. Getting started in Microsoft Patterns & Practices
The session by Don Kirkham focused on becoming an active contributor to the technologies that interest you most. It went on to explain how cutting-edge tools like the Microsoft 365 CLI, everything is available to the community, with plenty of help from the PnP Team to other community contributors.
5. Security Workshop
Adam Ochs's security workshop session on Microsoft Cloud and Office 365 was focused on how these two have never had a more robust, powerful security backbone than they do today provided some valuable insights to the attendees. The workshop went on for half day, where an entire comprehensive overview and practical demonstration of some of the most critical security features throughout the cloud was given to all.
6. The Ultimate Starter Kit for Microsoft 365
This full-day workshop by MVPs Vlad Catrinescu and Daniel Glenn aimed to demystify all the amazing products in Microsoft 365. They talked about Teams, SharePoint, OneDrive, Planner, To-Do, and Whiteboard, and gave a brief understanding of where each one of these Microsoft products fits in today's modern collaboration framework.
DynamicsSmartz had the opportunity to cover the event and bring some profound insights to our audience. 365 EduCon 2022 was highly successful and offered great insights into the latest developments within the Dynamics 365 ecosystem.