Microsoft Dynamics Influencer Insights
Business Strategy and People Consultant, Frank Vanhamel's take on the Power Platform
The partner ecosystem for Microsoft is enormous, strong, and diverse. It has been delivering cloud-to-edge solutions, services, and technology to businesses for decades now. It now serves as a key driving force for enterprise transformation and enhancing overall profitability.
Several industries faced economic and geopolitical difficulties as a result of the pandemic. However, customers have received support from Microsoft Partners in adapting to changes and building resilience.
Our primary emphasis at DynamicsSmartz has been to partner with the right companies across a variety of industry verticals and promote partner enablement.
In our segment Influencer Insights, we invite top industry experts to talk about new technological trends, Microsoft Business Solutions, and P2P relationships. In today's chapter, we will speak with Frank Vanhamel on how to leverage the true potential of the Microsoft Power Platform.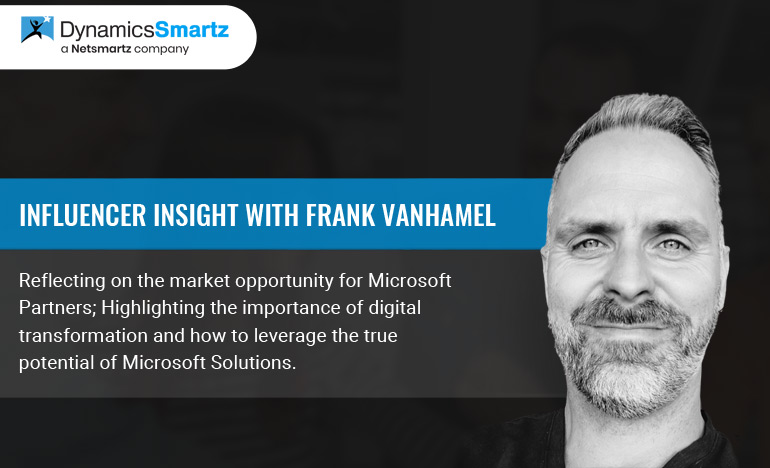 Who did we interview?
Frank Vanhamel is the Business Strategy and People Consultant at Wortell. He assists people and teams in their agile ways of working, enforcing this with a proactive organization culture approach. Frank has a diverse industry background and a strong passion for Microsoft platforms, services, and ecosystems.
Let Us Quickly Get To Our Expert's Point Of View.
Question 1: What according to you are some of the top Microsoft technology trends to watch out for in 2022?
It is 'Platform Thinking' in my opinion, where several applications are integrated to create best-of-breed platform solutions. Power Platform can identify a number of strategic outcomes, including data-driven decisions made possible by data centricity, which is greatly facilitated by Power BI and Dataverse.
Consumption-based services, like MS Azure AI Services like AI Form Recognizer, are simple to access and adapt; constructing your own AI model and receiving billing based on consumption. I believe in a business and customer model where both can be somewhat flexible with their own (data) models and have an agile mindset. Giving back the power to the business and having implementation partners take on a bigger mentoring and reskilling role for individuals with a specific strategic emphasis.
Question 2: What are some opportunities you would be looking at this year?
Giving the power back to the business will enable it to become self-sufficient to a certain extent. Assisting individuals in acquiring the required competencies and, through a hybrid style of working, connecting them through organisational cultures. An approach that supports and guides rather than a full implementation business model.
Question 3: Would you like to share some tips on Dynamics 365 implementation/migration?
Start with a strategic perspective and the purpose behind carrying out the implementation. Technology implementation should be used to provide value to the company, rather than solely for its own sake. This is consistent with the organization's mission and strategic goals.
Question 4: What is the potential for Microsoft Partners in Belgium?
Embrace platform thinking and eliminate application limitations. In order to inspire on the full potential of the platform and to up- or reskill partners and customers on the platform, we take a Willy Wonka chocolate company approach, using technology as the engine of innovation.
Question 5: A piece of advice that you'd like to share with our readers?
Think out-of-the-box and venture outside of your comfort zone. Technology is evolving very quickly, therefore it's important to uncover your own strengths and passions and pursue lifelong learning. A quest to find your true passions is exactly what we aim to do.
Get to Know Our Influencer
What is the best event that you attended recently? What were your key takeaways?
I was a speaker at the Scottish Summit in Glasgow and the Days of Knowledge in Denmark. The key takeaways is that it's all about connecting and sharing knowledge. Strategically assisting one another and, whenever possible, adopting a co-creation approach.
What's your success mantra?
Be yourself and connect in an authentic way. In the end, it's all about people and connecting on a human level.