5 Reasons to Upgrade Dynamics NAV to Business Central in 2022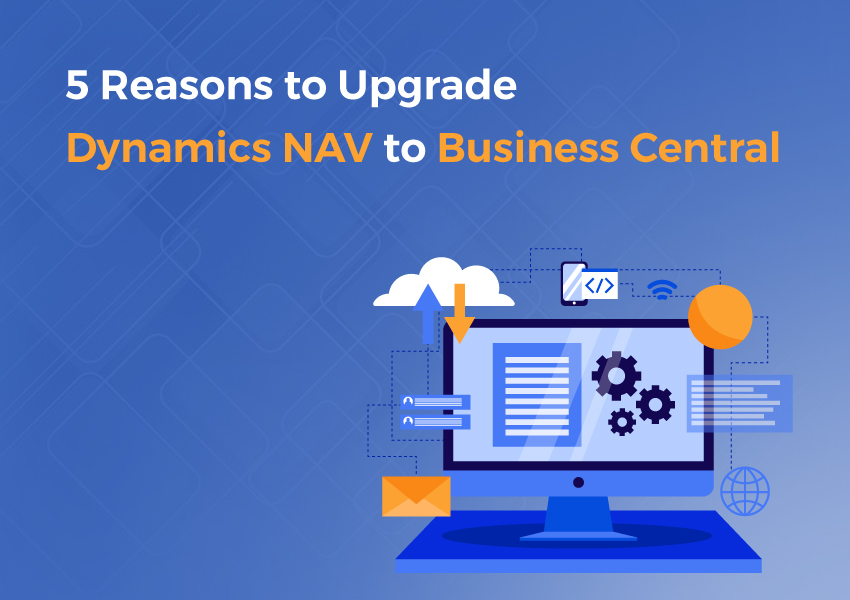 We recognize that it can be particularly challenging for organizations to alter long-standing operational practices, but it is essential to keep up with the rapid pace of technological advancement. In today's dynamic corporate world, agility is essential to survival.
You can improve business processes and gain a significant competitive edge by budgeting for an upgrade from Dynamics NAV to Dynamics Business Central.
Dynamics NAV is a fantastic ERP (Enterprise Resource Planning) solution for small and mid-sized businesses to automate and optimize their business processes and manage their operations more effectively.
Dynamics Business Central is the latest iteration of Microsoft Dynamics NAV. It is an all-in-one business management solution that makes it simple to integrate various systems into one. Business Central is interoperable with other Microsoft products including Office 365.
Both on-site and cloud versions of Business Central are accessible. The biggest changes to a company, though, may result from migrating to the cloud.
With Microsoft Dynamics Business Central (BC), Dynamics NAV has been improved and rebranded. When you switch to Microsoft Dynamics Business Central, you can enjoy the benefits of Dynamics NAV while also availing additional benefits.
Top 5 reasons to Upgrade Dynamics NAV to Business Central
1. Cloud-based solution with an on-premise option
Designed on Microsoft Dynamics NAV code, Dynamics Business Central provides businesses with options for on-premises and cloud deployments. Additionally, Microsoft recently upgraded its user interface to make it more user-friendly and geared toward end-users, so businesses can host their ERP solution either in the cloud or on-premises. Both options can be managed seamlessly.
2. Single Coherent Platform
In Microsoft Dynamics Business Central, all corporate services, applications, data, processes, teams, and people can be managed in a single solution. It provides a seamless flow of information across the entire organization. Using it, organizations can gain a consolidated view of multiple business touchpoints and eliminate bottlenecks caused by data silos.
3. Move customizations at your pace
Dynamics NAV users often customized their software to exactly how they want it. Since customizations cost quite a bit of money, moving to another solution may be too costly. You are able to move your customizations to Business Central 14 at your own pace, which is a major advantage. Again, this increased functionality of Dynamics Business Central can even allow you to eliminate some customizations.
4. Easy integration with external platforms
There are numerous native integration features in Business Central which allow you to integrate with popular third-party applications. Further, the development environment provides flexibility and the ability to build integrations for users. You can also access external applications that are tailored to your business needs by connecting to the Microsoft App Source business applications marketplace.
5. Seamless Integration with other Microsoft Solutions
Microsoft Dynamics Business Central works seamlessly with other Microsoft solutions such as the Office 365 suite, Power BI, Microsoft Outlook, and SharePoint. Furthermore, those using Outlook, web browsers, or mobile devices can make use of the data by switching between applications. Due to the variety of operational similarities across multiple applications, employee training costs are reduced.
Thinking of upgrading from Dynamics NAV to Business Central?
If you are considering an upgrade from Dynamics NAV to Business Central, then we can help you make the transition smoothly. DynamicsSmartz is a Microsoft Gold Partner that helps large and mid-sized enterprises migrate from legacy ERP systems to Business Central, Microsoft's next-generation ERP solution. Drop us a line today.