Top Reasons to Upgrade from Dynamics NAV to Dynamics 365 Business Central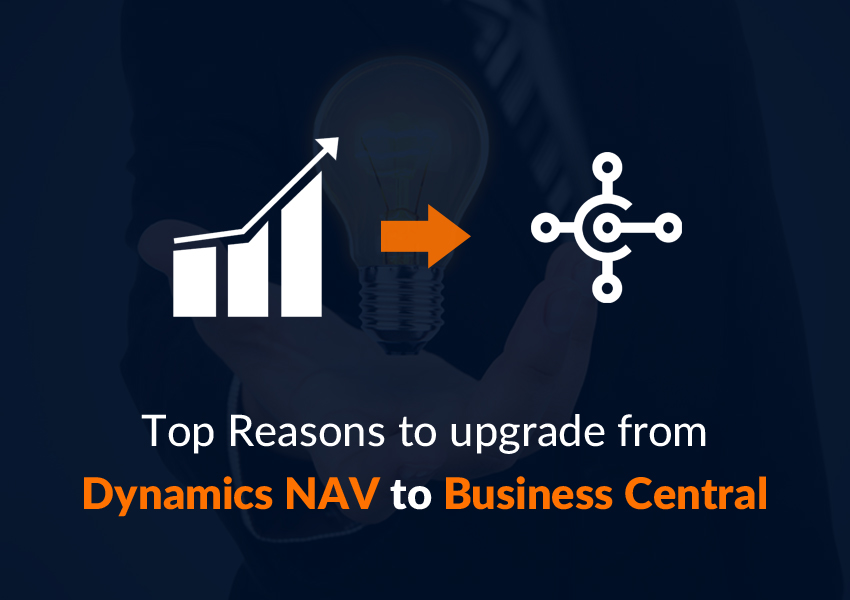 As a result of the ongoing COVID-19 pandemic, many businesses have had time to reflect on their current ERP systems. The question that arises most often is whether or not to upgrade your current on-premise Dynamics NAV solution to the new and enhanced Business Central in the Cloud.
The shift towards more cloud-based solutions raises a number of new questions that can have a significant impact on how we do business on a daily basis. Some organizations are resistant to change, yet it is necessary to embrace change in order to avoid falling behind in the market.
You may also notice that some of your day-to-day processes need improvements as your organization has simply outgrown them. For many organizations, this might be a daunting task; nevertheless, in the long run, it provides a lot of additional benefits.
So, what exactly is Microsoft Dynamics 365 Business Central?
Dynamics 365 Business Central is the latest iteration of Microsoft Dynamics NAV. Business Central is an easy-to-use, all-in-one business management solution, that allows you to combine disparate systems into a single system. The latest addition to the Microsoft stack, D365 Business Central, works easily with other Microsoft products like Office 365.
Business Central is available on-premise and in the cloud. However, moving to the cloud can bring the most significant changes to an organization.
So, what are the primary differences between Dynamics NAV on-premises and Business Central on the Cloud?
Capabilities and Functionality
Aside from VAT and Making Tax Digital, you won't notice any difference between the processes used in Dynamics NAV and Business Central. However, it's worth noting that Business Central in the Cloud is future-proof, which means it can equip you with additional capabilities like Artificial Intelligence; this can make forecasting easier for you.
As you collect more data, the software will be able to manage much of the workload for you. It can highlight important facts, predict cash flow, and help with forecasting. All can be done quickly and in real-time, eliminating the need to sift through your archives for information.
Regular Updates
Another difference between the two software is that if you use Business Central in the Cloud, you will always be on the most recent version of the software. Businesses must be able to adapt quickly in order to maintain their competitive advantage in today's fast-paced environment, but this comes with its own set of challenges.
Upgrades can be both inconvenient and costly for a company. However, with Business Central in the Cloud, this issue is eliminated because you receive two major annual updates automatically, generally in April and October.
Software as a Service
The advantage of Business Central on the Cloud is that it is only accessible through a Web Client. This gives you a lot of flexibility when you're on the go, as you can log in from anywhere, at any time, on any device.
The database is also seamlessly connected with your Office 365 tenant. Because it is hosted within Microsoft's own IT infrastructure and data centers, your company can save money by not having to manage servers, SQL upgrades, or backups.
If your organization does not currently use Office 365, it is critical that you consider this during the Business Central implementation process.
If you're using Microsoft Dynamics NAV, you'll most certainly need to upgrade to Dynamics 365 Business Central. Mentioned below are the five primary reasons to upgrade from NAV to Business Central:
1. Microsoft Cloud
For most IT professionals, data security is paramount. The Microsoft Cloud is known for its reliability and security. Microsoft is a market leader in detecting, preventing, and dealing with cyber-attacks, with over 3,500 cyber-security professionals on staff.
Your IT personnel can be more productive without having to worry about managing servers or keeping up with ever-changing security laws when you have so many IT specialists on your side.
2. Costs
Microsoft Dynamics 365 provides a clearer picture of your monthly spending, which can help your team budget and plan more effectively. Moving to the cloud is essentially a financial change that shifts ERP (Enterprise Resource Planning) spending from infrastructure, expensive servers, and updates towards licensing fees.
In fact, upgrading from NAV to Business Central is the last 'upgrade' you'll ever need to do. After you've installed Dynamics 365, you'll receive free updates on a regular basis, ensuring you're always up to date.
3. A Cutting-edge Platform
Dynamics 365 Business Central has an intuitive appearance and feel that will assist users to reduce training and ramp-up time because it is extremely easy to use and similar to other Microsoft solutions. Besides, Microsoft Dynamics 365 Business Central can be accessed from any location, at any time, allowing users the freedom to operate from anywhere.
4. Increased Functionality
Business Central adds new capabilities like focus mode, late payment prediction, fuzzy search, and more to Microsoft Dynamics NAV's core functionality. Every day, new apps and add-ons are added to AppSource, extending the capabilities of D365 Business Central.
5. Rich Business Insights
Businesses can easily take advantage of the benefits of Machine Learning (ML) and Artificial Intelligence (AI) with Dynamics 365, allowing them to become more efficient and eliminate manual operations.
Machine Learning may assist with a variety of tasks, including equipment monitoring, ad targeting, spam filtering, forecasting, image detection, and more. Microsoft's Power Platform includes Power BI and Power Apps, which help you make better business decisions by providing more accurate and timely data.
Winding Up!
To keep up with the rapid pace of advancements and accelerate digital transformation for your business, it's ideal to switch to Microsoft Dynamics 365 Business Central.
At DynamicsSmartz, we understand that upgrading from Dynamics NAV to Business Central is a complex process that is rife with challenges. But our Gold Certified Dynamics Consultants can help your organization make a seamless transition. Drop us a line for a quick consultation or a personalized demo of Business Central.