Top Platforms to Integrate with Microsoft Dynamics 365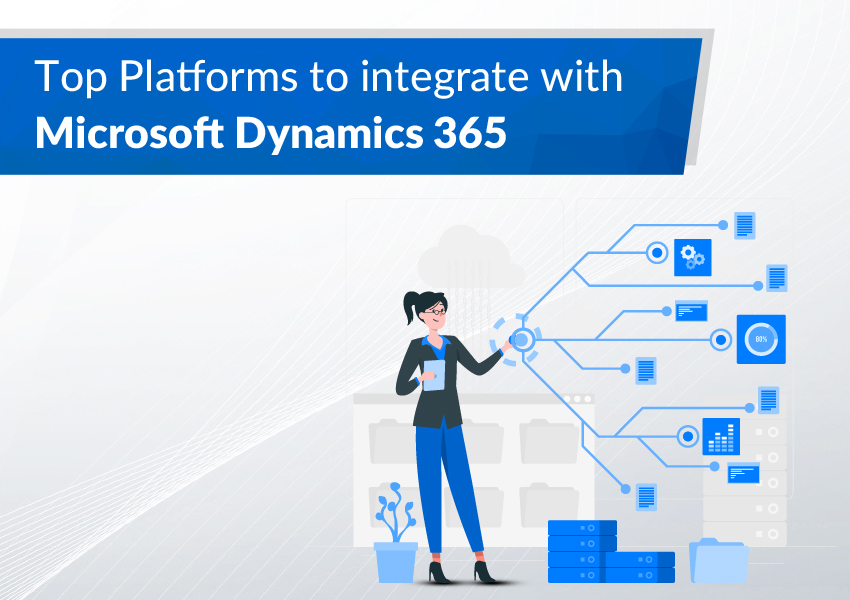 With over 500,000+ customers, Forrester and Gartner have named Microsoft Dynamics 365 as a market leader. The solution includes sales, marketing, customer management, and field service.
One of the key aspects of Microsoft Dynamics 365 is how quickly it can be integrated with other Microsoft products as well as a variety of third-party applications without requiring considerable configuration. Microsoft offers a number of APIs to make these integrations as simple as possible.
It is critical to integrate Dynamics 365 with other platforms in order to provide customers with a unified perspective. Since the integration does not require considerable configuration and can be simply implemented utilizing integrators and add-ons, it is suitable for both small and large businesses.
Integration like this is essential for Dynamics 365 to be a valuable business tool. Make use of this feature by integrating these useful platforms with your Dynamics 365 system if you're trying to manage your business end-to-end:
1. Power BI
Every organization's goal in this era of data overload is to analyze critical business, customer, and competition data for better decision-making. Microsoft's Power BI is a key business tool that provides real-time information. Because Power BI and Dynamics 365 connect data from your CRM, ERP, financial software, and other systems, identifying trends, diagnosing problems, and making educated decisions becomes easier and more accurate.
With this integration, you can view dashboards and reports from Power BI on web pages if the Power BI visualization from the Portal Admin Center is enabled. Using Power BI capabilities, you can quickly study data and generate rich reports and dashboards. Here are some key features:
Users will also have access to dashboards and charts, which they will be able to engage with on a variety of devices.
You can embed dashboards and reports developed in a new Power BI workspace by enabling the "Power BI Embedded" service integration.
Automatically refresh data from Dynamics 365.
Power BI allows you to create reports and dashboards that you can share with others.
2. SharePoint
SharePoint is the ultimate collaboration and content management tool. Users can use Dynamics 365 to store, search, and share information, as well as establish a productive environment with safe access to the documents and data they need to make business decisions.
Users can save and manage documents in the context of Dynamics 365 for Customer Engagement application records by integrating Sharepoint. Additionally, you can:
Check the document in and out, examine the history, and change the document properties using Sharepoint's document management features.
Since Sharepoint provides additional storage, users don't have to worry about their Dynamics 365 instance running out of space.
Allow SharePoint documents with rights to be accessed by non-Dynamics 365 users. Store information about leads, opportunities, and services.
3. Marketing Automation
Integration with third-party tools is possible with Dynamics 365. With this integration, you can add an email marketing and marketing automation solution to Dynamics 365's marketing features. You can integrate Dynamics 365 with any of the best marketing automation technologies that meet your needs and budget.
4. Office 365
You can improve customer relationship management by integrating Office 365 with Dynamics 365. With this Office 365 integration, users can increase their employees' productivity by making their day-to-day tasks easier. You can more efficiently collaborate with your team across multiple devices. Thanks to the Outlook-Dynamics 365 interface, users can connect Outlook emails to contacts and opportunities associated with their Dynamics 365 data, create action lists for email responses and schedule them as tasks, and monitor email activity from any device. You can also:
Collaborate more effectively with your team across different devices with the Office integration.
With the Outlook App, you can generate leads directly from your inbox.
You can keep track of notes for leads and opportunities with One Note.
Without leaving Dynamics 365, you can communicate with your clients, colleagues, and team members in real-time.
Work in teams and collaborate more easily with Yammer.
5. Outlook
Any company's goal is to save time and sell more. Team productivity is revolutionized with this seamless interaction with Dynamics 365 and Outlook. This opens up a more accessible alternative for businesses to function more efficiently. When you have to log in to many applications to manage your emails, notes, and insights, it becomes tiresome. This integration eliminates the need for a second step, allowing users to:
Link Outlook emails to contacts and opportunities connected with their Dynamics 365 records automatically.
Make email response activity lists and assign them to tasks automatically.
Track email activity across all devices and include knowledge-based content in your emails.
6. Exchange
By integrating Dynamics 365 with Exchange, you can sync all of your contacts, appointments, tasks, deadlines, and customer conversations in one location. Users can now send automatic emails straight from Dynamics 365, collaborate more effectively, access all emails, add Dynamics 365 contacts directly from email messages, and enable Exchange folder monitoring.
7. One Note
When you integrate One Note with Dynamics 365, you can store all of your thoughts, ideas, goals, and research in one place. When dealing with several leads or teams, taking notes is a common occurrence. It may be difficult to recover earlier conversations, opportunity details, quotations, or orders as a result of this. Users can now experience an interactive platform for their notes thanks to the integration. In addition, the user can:
Organize your pending leads in a better way.
To make it easier to lead, take notes for each opportunity.
For each new record, create a OneNote tab to which you can attach unstructured notes.
8. LinkedIn Sales Navigator
As a result of Microsoft's acquisition of LinkedIn, the LinkedIn Sales Navigator tool is now completely integrated into Dynamics 365 CRM. Using the Dynamics 365 and LinkedIn Sales Navigator integration, you can explore LinkedIn profiles, save leads, set up alerts, and get notifications on changes to your lead's profile.
9. Document Creation Tools
All of these may be created immediately in Dynamics 365 CRM, including proposals, quotations, other sales papers, and contracts. Using a document-generating tool to improve the productivity of your sales process can be extremely beneficial. By leveraging CRM data to pre-populate fields in your documents, you may send documents directly from CRM, prepare documents that are immediately logged to a CRM opportunity, and follow current progress at any time.
10. Business Central
Keeping your entire organization on the same page requires integrating CRM with your ERP solution. Microsoft's existing ERP system, Dynamics 365 Business Central can be seamlessly integrated with Dynamics 365 CRM. This removes the need for human data entry, ensures data transfer accuracy, and facilitates supply chain and inventory management.
11. Custom Integrations
Dynamics 365 solutions provide a great deal of flexibility and include web APIs that make integrating with other systems a breeze. If there isn't a pre-built integration that meets your needs on Microsoft's AppSource, a Dynamics 365 partner can assist you in creating a bespoke integration for any solution you require.
12. ProjectPro
ProjectPro is the first Construction Management Software that provides real-time information about your construction company. It also aids in the organization of any information pertaining to your construction projects.
ProjectPro is ideal for any size firm, including those just starting out in the roofing industry. It allows you to manage your roofing contracts, track materials, and even communicate with team members quickly and easily. ProjectPro powered by Business Central can be seamlessly integrated with Dynamics CRM and other Microsoft Solutions to boost productivity and provide overall business insights.
Conclusion
There are numerous integration options and methods for utilizing the capabilities of Dynamics 365. However, there is something you should know if you want to get the most out of your Dynamics 365 system through integration. Integration with Dynamics 365 is easy. There is no need for large-scale configurations.
However, you'll need a strategy if you want your integration to perform as planned. It would be great if you looked at how it will affect your existing and future business needs and figure out the best method to get the best results from your Dynamics 365 integrations. As a Microsoft Dynamics Gold Partner, we can help you determine the optimal integration choice for your present and future business needs. Drop us a line if you'd like to speak with our experts.