What are the important steps for a successful ERP implementation?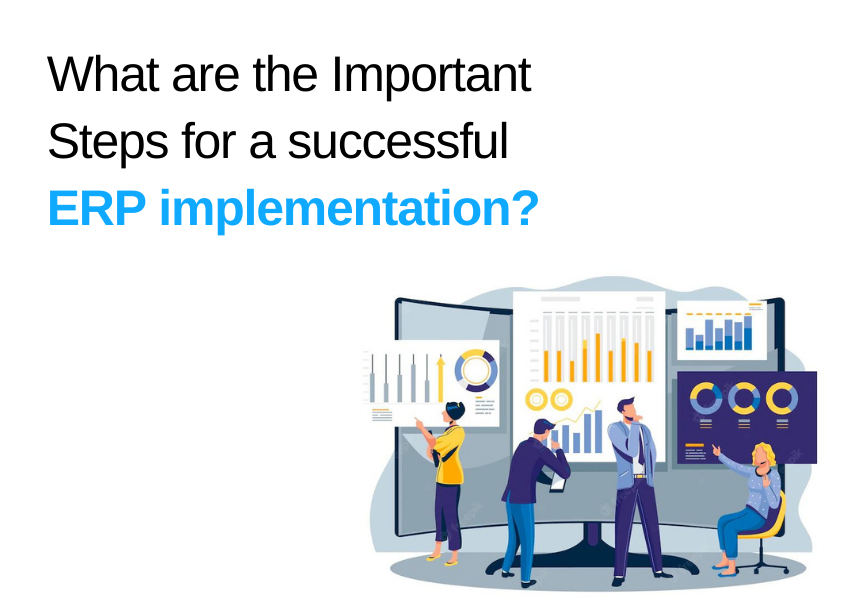 Businesses today require proper enterprise resource planning (ERP) solutions to assist their employees in driving critical business operations, making smarter and faster decisions, and maximizing their resources. If implemented correctly, Microsoft Dynamics ERP solutions have the potential to take your business to new heights.
If you've been looking into ERP solutions like Microsoft Dynamics Business Central, you've probably understood what a full-service, integrated, adaptive ERP can do for your company.
However, selecting an ERP system is only the beginning of your journey. In fact, it is only the first step. Your solution will be a tremendous letdown if it isn't properly implemented and adopted by users.
Here are the most critical steps for an ERP implementation:

1. Prepare and Plan
The first step is to prepare and plan. To build and execute your ERP project plan, assemble a team of front-line and management staff from each department. This team's diverse skills will provide you with critical insight into how the system and process changes will affect day-to-day operations.
The first task for this new project team will be to assess current company practices in order to determine which processes the new ERP system can improve or automate. Prioritize these processes and utilize this assessment to help you strategize and decide the implementation's goals and scope.
2. Process Review
Have your project team go over the features and capabilities of your new ERP solution in detail. The goal of this evaluation is twofold:
Before the wider rollout, the project team needs to acquaint themselves with every component of the new ERP software and identify proficiencies and skill gaps. This knowledge will be used to direct training.
To confirm which manual procedures will be automated by the new system and to ensure that any necessary changes are made prior to the implementation to ensure that automation runs smoothly.
Interview key individuals from each department to gain firsthand knowledge of how present processes interact and how they may be automated most effectively.
3. Data Preparation
Determine which of your old data needs to be transferred to the new system, and then examine it to remove any irrelevant or outdated data. Locate source documents if possible to ensure data accuracy and completeness.
Because an ERP system is only as good as its data, a little housekeeping goes a long way at this stage. The value delivered by your new ERP will be negatively impacted if your data is clogged with inaccurate information.
Create spreadsheets to collect and segment important data into logical tables to speed conversion to the new system once the data has been verified and cleaned.
Set realistic expectations for the process with everyone involved, from executive leadership to front-line staff, and keep the lines of communication open about how things are progressing. This will help to assuage concerns about the change in tools and processes, as well as promote post-launch adoption of the new solution.
4. Testing and Training
To check system output, test accuracy, and ensure that integrations and interfaces work properly; have the project team practice using a test database filled with a complete week of real transaction data. This hands-on experience with the new software can be utilized to help the project team generate cheat sheets and process documentation for company-wide training, in addition to testing the new system.
The best training strategy depends on the type of workforce. In-person training, e-learning, or a combination of the two will work best depending on how much time your staff can dedicate to training and where they are located.
Use these tips to make the process more productive for everyone involved, regardless of whichever training method you choose:
Train tech-savvy employees to be ERP software superusers, so they can assist with low-level user difficulties while freeing up your IT personnel to deal with bigger problems.
Parts of the training process can be made gamified to garner interest and inspire friendly competition among coworkers.
Provide rewards to those who complete training on schedule. Small incentives can be an efficient approach to incentivize staff and make the process enjoyable.
Turn cheat sheets and process documentation into standard operating procedures that are accessible to everyone in the company and are updated on a regular basis.
5. Implementation and Evaluation
Prepare a go-live checklist for the days and weeks after implementation to ensure that the following requirements are met:
Post-go-live system testing
Communication protocols for system downtime
Checks for network speed and stability
Processes for data backup
Expect a lot of inquiries on the day of the rollout, as well as some hiccups. Make sure your project team is ready to guide their departments through the process, and your IT team is ready to make any necessary changes and adjustments.
Although ERP deployment is time-consuming, the gains in efficiency and profitability are well worth the effort. After the rollout, compare the output of your ERP solution to the goals and objectives stated by your project team during the planning stage.
Is your new system achieving those objectives? Is it automating manual operations as effectively as it should be? If not, more changes and adjustments are required. Conduct periodic audits to compare ERP solution output to industry benchmarks to see if the solution is adding value.
Conclusion
Bringing a solution provider on board early in your ERP implementation will help you avoid frequent problems and errors. Following the above-mentioned steps for ERP implementation can help you make a seamless transition.
Many solution providers specialize in specific products and handle the procurement, deployment, and initial configuration of ERP solutions. Microsoft certified partners, for example, are experts in Microsoft solutions and have proven expertise in implementing ERP solutions. This means that they bring a high level of expertise and experience to the table when it comes to implementations.

As a Microsoft Gold Partner, we work with companies in a variety of industries to provide Microsoft consulting, effective change management, technology implementation, migration, and support services. We excel in providing end-to-end services for your business solutions and infrastructure needs and can help you rapidly scale your business for future success. To know more about ERP implementations, drop us a line.