Should you move from Microsoft Dynamics SL to Dynamics 365?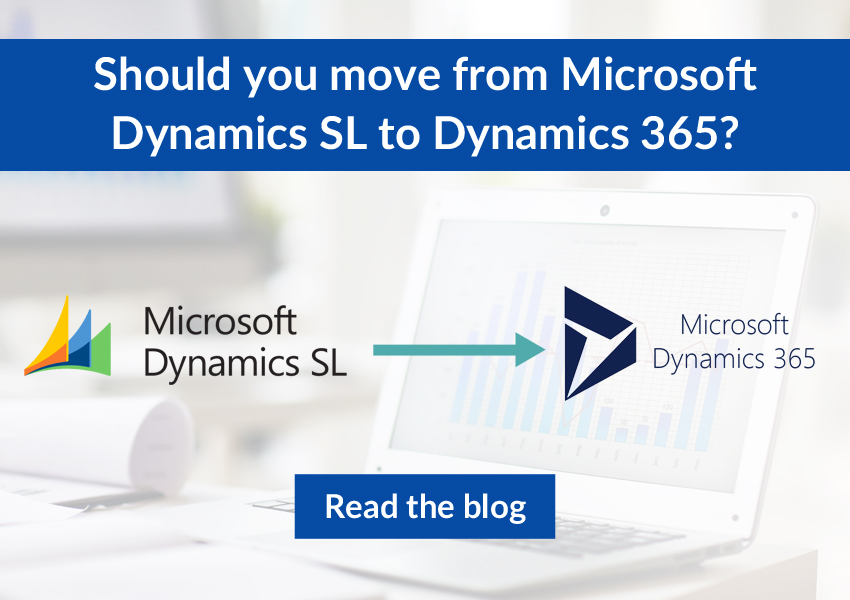 Microsoft Dynamics SL has been a high-performing ERP solution for many years now. With the changing ERP landscape, there have been questions about the life expectancy of Dynamics SL and whether it is a viable solution.
Dynamics SL currently powers over 14000 businesses, implying that the tech giant has enough customers to keep the product going for the foreseeable future. Although Microsoft Solomon isn't acquiring new customers quickly, it is still the preferred choice for thousands of businesses to ensure a steady revenue stream. Microsoft not only directly offers Dynamics SL implementation, but it has also collaborated with hundreds of partners delivering Dynamics SL implementation and solutions to companies all over the world, ensuring professional implementation and support for customers.
Dynamics SL is still one of the most reliable, robust, and well-integrated platforms available, especially for project-based businesses. In fact, to help project-based businesses with integrated and out-of-the-box functionalities, Dynamics SL outperforms other Microsoft ERP products, such as Dynamics GP (Great Plains), Dynamics NAV, and Dynamics AX. Dynamics SL, like all other Microsoft ERP products, has its own place in the Microsoft Dynamics Suite.
What is Microsoft Dynamics SL?
Dynamics SL is a proven enterprise resource planning software designed to meet the unique business requirements of project-based companies and professional services organizations such as government contractors, construction agencies, business intelligence, and others. What sets Dynamics SL apart from other ERP solutions is that it integrates project management and financial management functions, allowing companies greater leverage over their work quality, performance, and profitability.
The platform provides a range of advanced and optimized features that help companies improve performance, accuracy, and customer satisfaction. Dynamics SL, like many other modern ERP solutions on the market, relies on automated functionality to help businesses streamline processes and operations across various departments, regardless of their geographical location. Managers and business leaders can leverage the platform to better manage people in order to enhance productivity and profitability.
What can we expect from Microsoft Dynamics SL in the future?
Support and development for Dynamics SL will continue beyond 2020. Microsoft has announced that they plan to extend SL connections for their Intelligent Cloud offering, which combines intelligent AI with cloud-based anywhere/anytime access, and users can expect two cumulative upgrade releases beginning 2020.
To put it another way, Dynamics SL works great, it's still supported, and it's still enhancing its key capabilities.
Microsoft Dynamics 365 Business Central
In addition to creating a slew of different apps and cloud offerings such as Office 365, Power BI, and Azure, Microsoft has launched Dynamics 365 Business Central, which allows small-to-midsize businesses (SMBs) to better manage their financials, employees, service, and supply chains, as well as get a better handle on the overall customer relationship management.
If you're currently using Microsoft Dynamics SL, you might be wondering if the new Dynamics 365 Business Central offering is really worth your company's transition to the cloud.
Essentially, Dynamics 365 performs all of the tasks of Dynamics SL, but it does it much better and more comprehensively, including budgeting, cash management, accounts receivable, financial reporting, and project accounting.
Dynamics 365 is divided into two editions: Business Edition, which is targeted predominantly at small and medium-sized enterprises, and Enterprise Edition, which is geared at medium to large businesses. Because of its size, Dynamics 365 is a little hard to navigate than its predecessor, but the workflows are clear and intuitive.
Perhaps the most important distinction between Microsoft Dynamics 365 Business Central and Microsoft Dynamics SL is that Business Central is a native cloud-based solution. Although Dynamics SL can be hosted in the cloud, Dynamics 365 Business Central is built to be a true cloud solution that is multi-tenant. Access to the cloud has almost become a necessity for businesses to stay competitive.
According to McAffee, more than 85 percent of companies say cloud-based technologies have helped them expand more rapidly. According to the International Data Organization, cloud investment is projected to hit up to $500 billion within three years, up from $229 billion in 2019. So, if you are looking to accelerate your digital transformation and move to a cloud-first solution, Dynamics 365 Business Central is the ideal choice.
At DynamicsSmartz, we help clients in making the best technology decisions for their businesses. We've been successfully implementing Microsoft Dynamics for over 20 years; as a Microsoft Gold Partner, we can help you stay on the latest version of SL or transition to the cloud seamlessly. Drop us a line for a quick consultation today.