What to consider before moving from Salesforce to Dynamics 365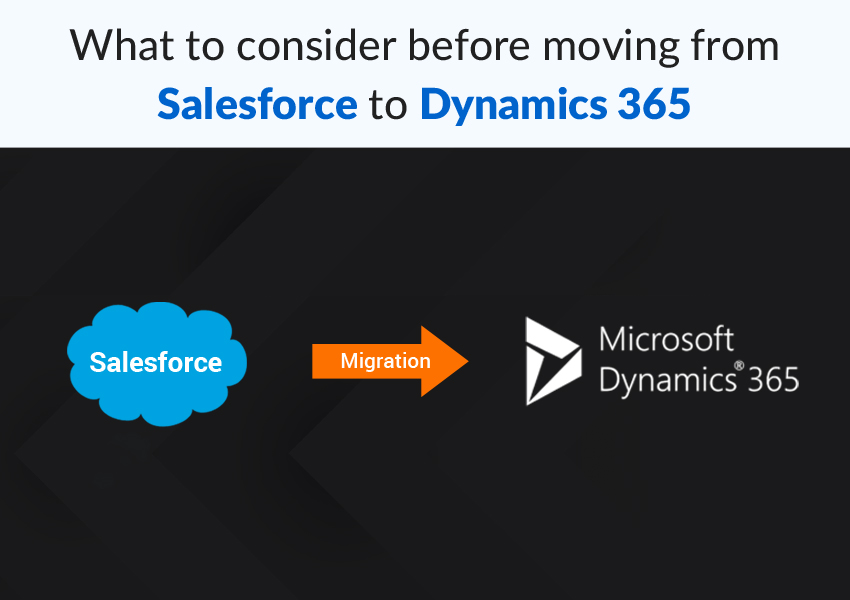 Businesses are increasingly switching from Salesforce to Dynamics 365 in order to take advantage of not only the cutting-edge features and functionality for their teams but also to realize the full potential of the Microsoft platform. By integrating Word, Office, Teams, Power BI, and other modules in the Dynamics 365 stack, Microsoft provides a robust end-to-end solution that provides a single source of truth by using one database.
According to the latest Microsoft Dynamics Salary Survey, 16% of Dynamics users had migrated from another business software in the previous year.
A majority of the respondents who had recently switched from another product to Dynamics had come from SAP, Sage, or Salesforce.
With Dynamics 365, you can enhance your customer experience and equip your organization with the tools and resources it needs to meet customer satisfaction and business growth.
Why do people switch from Salesforce to Dynamics 365?
The implementation of new software can be daunting, and the process of migrating data can be even more complicated. So what led our software-switching respondents to migrate to Microsoft Dynamics?
Dynamics's primary selling point is its extensive functionality, along with ease of implementation. This was due to Dynamics' use of popular programming languages in customizations and the fact that users do not need to involve a specialist platform developer to generate the customized capabilities that they require.
Dynamics is known to be significantly cheaper and more transparent in its pricing structure than some of its leading rivals, which was another reason to make the switch.
Following are some other reasons that motivate people to switch from Salesforce to Dynamics 365:
Enhanced CRM features.
Seamless integration with Word, PowerPoint & Excel.
Microsoft is more cost-effective than Salesforce.
Microsoft is more scalable as your business grows.
Microsoft's platform provides access to PowerApps, Power BI, and other features you may not have access to with Salesforce.
As opposed to Salesforce, Microsoft offers add-on functionality for free.
Let's take a look at some best practices to move from Salesforce to Dynamics 365.
Before you begin a data migration, you must ensure that you follow the best practices to ensure that you do not fall into the common traps.
Planning
Identifying what has to be done and when is a crucial part of the process.
Analyze and review your current data
You should ensure that everything is tied up on your end before making the switch. Even if your current data is in perfect order and contains thousands of fields and datasets, you will still find that some of them may include duplicates or incomplete information.
During this phase, it is extremely important to make note of any issues you may encounter with your existing data to avoid causing any problems during the migration. Additionally, you'll need to familiarize yourself with the new system by working through the fields, which will make it easier for you to prepare and clean your current data for the migration.
Data cleansing and profiling
After you have a solid understanding of your existing data and how it aligns with the new platform, you need to go through the process of cleaning up your data in preparation for moving to the new platform.
In addition to the fact that data cleansing provides you the ability to evaluate your data quality and address data anomalies, it also helps you decide how to move data together to migrate to a new platform. Data fields that are not maintained correctly or that remain empty should be analyzed to determine whether this data is important or if it can be removed across the board.
While it's important to move your important data to your new system, keep in mind that the less data you need to move, the easier and more rapid it will be.
Top tips for things to look out for when cleansing and profiling your data:
Know where and how your data is stored, and outline your policies, data standards, and quality requirements.
Evaluate the causes behind bad data as well as the impact it has on the business.
Build systems to prevent any other bad data from occurring as a result of the causes you have discovered.
As soon as you have created your data profile and system, monitor the data to ensure that the processes are being followed.
Plan the timeline for your migration
Once you've determined the timeline for your migration, it will be easy to begin the migration. Although there are many elements you need to understand and when they need to be completed, it is best to begin the migration as soon as possible.
Additionally, you should consider the following:
The business processes that will be moved; who will be involved in the migration; and identifying and engaging key stakeholder groups such as users and senior management.
Do not wait until the last minute to complete your migration.
How will the system be implemented? In the cloud or on-premises? Decide which type of deployment will be most appropriate for you.
Choosing which type of migration you will employ when transferring Salesforce to Dynamics 365 will require you to make a number of decisions. Examples include whether you're planning to make wholesale changes and how quickly you'd like the transition to take place?
Taking into account these questions can help you decide whether you want to move to a new platform or whether to complete a full implementation.
If you go for a full implementation, you should perform a thorough data reconciliation. It is recommended that you choose this option if you are a business looking to improve its overall business processes and make full use of Dynamics 365.
When you're simply moving systems, it is easier since it requires you to move your Salesforce data into Dynamics 365.
Prepare your data properly
It goes without saying that your new CRM will mirror the data that you move. Putting the focus on quality data is a key factor in a successful migration.
Move your data
Moving your data involves sending out information from Salesforce and importing it back into Dynamics 365. Dynamics 365 and Salesforce differ in many ways that impact this migration:
Export: The fields you want to remove will need to be marked as 'visible' and outlined accurately, with an accurate latter case, so that they can be extracted from Salesforce. Not all fields will be available for extraction since some of these entities do not exist in Dynamics 365.
Import: You should use the Dynamics 365 data import template which takes into account any discrepancies in calculated fields and custom entity types. This import should be completed at least two weeks before the CRM is launched as batches.
Integrate with third-party systems
Both Dynamics 365 and Salesforce were designed to allow integrations with third-party systems. The only problem is that some of the integrations that were allowed in Salesforce might not apply to Dynamics 365.
If you are moving your apps, then you will need to approve integrations that you want to use when making the move. It is at this point that you should consider other Microsoft business options such as Business Central ERP, Microsoft 365 (formerly Office 365), Power Automate, and Power BI.
By moving your business to Dynamics 365, you will have access to the full range of Microsoft solutions, from Business Central ERP, Microsoft 365, and Power Automate, which can be combined to meet your growing business needs.
Conclusion
DynamicsSmartz is a Microsoft Certified Gold Partner that can help support your business through the whole process of migrating from Salesforce. Our team of experts have over two decades of knowledge and CRM experience which will be perfect for helping you to plan, migrate, prepare data and integrate all you need into your Microsoft Dynamics system.