Top Benefits of using Sales Accelerator in Dynamics 365 for Sales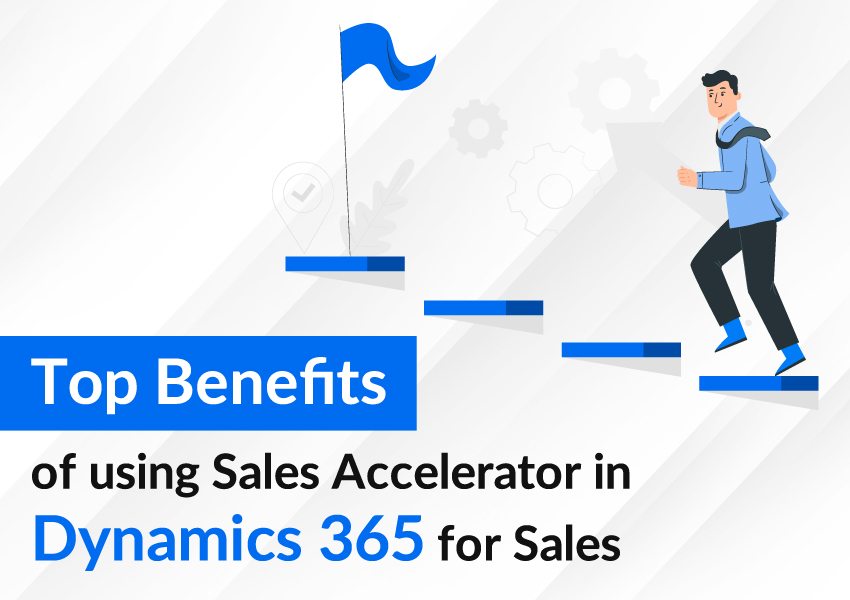 Sales Accelerator is a new feature in Microsoft Dynamics 365 that was released in April 2020. It empowers sales teams to concentrate on their most important leads and opportunities by organizing them into an intelligent work queue. Prior to the sales accelerator, Sales reps used to spend the majority of their time sifting through leads and prospects to determine which customers they needed to contact and when.
To keep up with the fast-evolving business landscape, your company's sales teams should concentrate on high-velocity selling. Microsoft Dynamics 365 Sales Accelerator gives sellers a more personalized experience by reducing the amount of time they spend looking for the next best customer to contact.
Sales Accelerator collects data from a variety of sources and generates a sales sequence that helps sales professionals swiftly prioritize their customer list. Sales Accelerator gives salespeople more time to focus on what they do best- building relationships with customers and closing deals.
It enables salespeople to sell more intelligently by building a strong and prioritized pipeline, providing context, and surfacing smart recommendations throughout a sales sequence, all of which help to speed up the sales process.
The sales accelerator is activated by default in the Sales Hub app, although with limited functionality. Your sales teams can see the worklist items that have been created using the timeline. To get the most out of the sales accelerator, get the Sales Premium license and configure features like sequences and segments.
The sales accelerator enables salespersons
To quickly and easily prioritize their customer list, by using an intelligent worklist. By showing essential sales information and customer context that is immediately available, the worklist assists salespeople in reaching out to the next best lead or opportunity, ensuring that every connection is more successful.
The sequence designer helps sales managers to create activity sequences that outline steps to assist salespeople to organize their day's activities, be more productive at work, and focus on selling.
The Sales Accelerator app is built on top of Microsoft Dynamics 365 for Sales and includes capabilities like:
Deal Pipeline
Tracks deals as they progress through the sales cycle, giving you insight into where they're stuck.
Sales Process
The sales process identifies the steps required to qualify and close a deal. The activity tracking functionality keeps track of the actions that take place during the sales process and gives you insights into which ones are the most effective.
Sales Projecting
It anticipates how much revenue can be generated in the future based on previous sales success.
In this blog post, we will go through the top reasons why adopting Dynamics 365 Sales Accelerator in your CRM setup is a good idea.
Enable Digital Selling with the Sales Accelerator in Dynamics 365 Sales
1. All customer data in one place
You know as a salesperson that having a clear view of your consumers is critical to your success. With Dynamics 365 Sales Accelerator, you can get a comprehensive 360-degree view of all your customers, no matter where they are in the sales cycle, allowing you to see all interactions that have occurred across all channels. There are several advantages to using the Sales Accelerator tool, including:
All customer contacts and interactions in one place, across all channels.
A centralized location to keep customer information.
The ability to track customer engagement and activity, and forecast sales opportunities.
The ability to generate custom reports
You can quickly keep track of all your clients and their interactions using Dynamics 365 Sales Accelerator, allowing you to give the best possible customer service.
2. Quickly qualify leads
Sales Accelerator allows you to prioritize your time and focus on the most promising prospects by helping you identify and qualify leads faster. It accomplishes this by assessing leads based on their likelihood of closing and then providing the sales agent with the necessary information to begin a conversation.
Artificial intelligence powers the Lead Scoring tool, which means that the more you use it, the smarter it becomes. It considers data from the web and social media as well as previous customer interactions. This enables salespeople to concentrate on the best-qualified prospects, resulting in more sales.
3. Drive activity sequences
The Sales Accelerator sequences in Dynamics 365 are an excellent approach to boost the productivity of your sales team. You can establish a repeatable process for your sales staff to follow, by employing sequences, thereby enforcing best practices.
As a sales manager, you can use Dynamics 365 Sales to connect sequences to leads and prospects in a sales representative's queue to help them prioritize their daily responsibilities and focus on selling. This will help them better understand and align themselves with your sales processes, resulting in increased productivity.
4. Get actionable insights
The Sales accelerator provides actionable recommendations for closing more deals based on your sales process and CRM data to help sales teams sell more efficiently. It includes a sales summary report that illustrates how your team is doing in regard to your goals, as well as information on your most profitable products, regions, and clients.
5. Predictive Analytics
If you work in sales, you know that forecasting future sales is critical to your success. That's where Sales Accelerator for Dynamics 365 comes in. This tool includes predictive analytics, which can assist you in forecasting future sales and making better business decisions.
Predictive analytics is a sort of artificial intelligence that uses data mining and machine learning to make predictions about the future. It can be used to predict, among other things, customer behavior, product sales, and market trends.
Predictive analytics is used by Dynamics 365 Sales Accelerator to assist sales reps in improving their sales performance. It examines historical sales data in order to spot trends and patterns. This data can then be utilized to forecast sales in the future.
Conclusion
Leveraging Dynamics 365 Sales Accelerator into the sales process can help reps be more successful and efficient. It can assist salespeople in identifying and connecting with prospective customers, tracking deal progress, and closing more sales. The app is simple to use and can be tailored to match the particular requirements of any business. To know more about sales accelerator and how you can use it to your advantage, drop us a line.