Pipedrive vs Microsoft Dynamics 365: A Detailed Comparison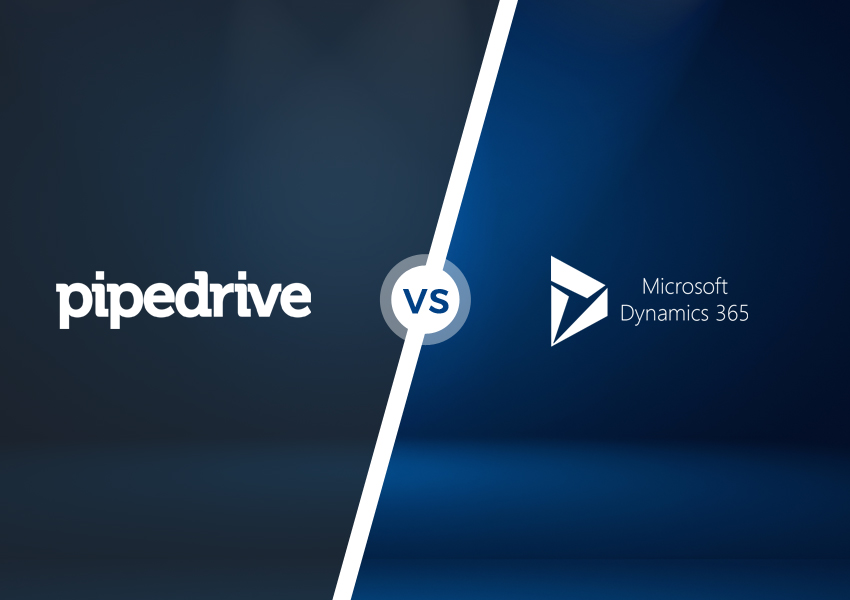 Making the right CRM choice for your business is tricky since there is a wide range of platforms available each with unique capabilities, pricing structures, and integration options. Check out our side-by-side comparison of Pipedrive vs Dynamics 365 and choose the right CRM solution. Examine the capabilities of the two solutions and determine which best meets your company's requirements.
Microsoft Dynamics 365 is a robust solution that combines CRM and ERP capabilities and applies intelligence across unified data. The business areas that the software supports include:
Sales Productivity
Customer and Field Service
Marketing Automation
Financial Management
Operations and Supply Chain Management
Physical and Digital Commerce
Workforce Administration
Microsoft Dynamics CRM targets businesses of all sizes and offers a user-friendly interface that seamlessly connects with other Microsoft applications. This facilitates user adoption.
Businesses of all sizes, including those in the automotive, education, financial services, government, health, manufacturing, media and communications, and retail sectors, use Microsoft Dynamics 365.
Pipedrive is a simple but powerful sales CRM designed for small and mid-sized businesses. You can follow leads along the pipeline with this solution, add activities to deals, and generate sales data about the efficiency of your team and business operations.
Pipedrive is a web-based sales CRM and pipeline management tool. It was developed with the salesperson in mind. Salespeople can:
Organize deals and leads
Monitor communication
Automate recurring administrative tasks
Create reports to gain knowledge
Readily access information on the go
Feature Comparison: Pipedrive vs Dynamics 365
With simple graphical tools, Microsoft Dynamics 365 enables you to manage leads and opportunities. The LinkedIn Sales Navigator integration allows you to obtain profiles, relevant leads, and methods for self-introduction. You can keep track of both your contacts and their relationships using interactive organizational charts.
With embedded Office 365 tools, sending customized sales materials becomes easy and straightforward. You can leverage its advanced scoring algorithms on your leads and opportunities to increase conversion and win rates.
Microsoft Forms Pro, another component of the product, enables you to gather, examine, and use customer feedback. It can be incorporated on apps, online sites, and mobile devices are simple to set up and manage, and is sent automatically via triggers.
Visual sales pipelines are available on Pipedrive indefinitely and can be easily customized. In your pipeline, you can arrange deals in accordance with your sales process, and modify the stages. Team pipelines can be filtered by sales reps or stages. For each member of your sales team, you can also construct a pipeline. You can gather sales information that is unique to your team, product, or industry using its limitless custom fields.
Microsoft Dynamics 365 uses pipeline analysis, deal insights, relational analytics, and conversation intelligence to drive performance. You can identify potential customer demands and market trends with AI-driven insights. You can access additional details and competitive dynamics by using the Competitors tool, which is located on the left-hand menu. Without coding, you can adapt the insights to your own needs and sales process. In addition to analyzing your sales calls and identifying deals at risk, the software also generates graphic reports.
Pipedrive enables you to create brief reports that highlight performance. Tables, charts, and dashboards are all ways that you can acquire sales reports. Activity reports allow you to assess your sales team's effectiveness while custom filters let you focus on specifics. Custom metrics and product reports can be filtered by product.
When making sales predictions, live dashboards assist you in visualizing your requirements and expected outcomes. Detailed individual and team objectives can be outlined, and they can be monitored with real-time analytics and dashboards.
With scoring-based leads and opportunity management capabilities powered by AI, Microsoft Dynamics enables you to discover customers who are likely to convert and make a purchase. With clever features like these, you can free up more time for selling.
Contextual cues that advise you to create new records while note-making.
Playbooks for sales that include resources, winning techniques, and reference materials.
Intelligent recommendations when looking for pertinent content and related training materials.
You are guided by a business process UI as you go to the next stage of the sales cycle.
Scannable business cards that can create new customer records.
As you share information and documents on Microsoft Teams, you can work on deals with other team members or members of other teams. With capabilities for hiring and onboarding, Microsoft Dynamics 365 also makes it simple to collaborate with your partners.
Pipedrive CRM provides your sales team direction through its Navigator Dashboard. It has 5 incorporated components in a single, unified view:
Opportunities, actions, and tasks are shown in chronological order in the activity stream.
Target overview depicts progress toward a sales goal.
The number of incomplete tasks, the number of missed deadlines, the number of opportunities past due for advancement to the next stage, and the greatest open opportunity are all displayed in notifications.
Suggestions provide you with guidance in other areas like fresh leads, stalled opportunities, and inactive accounts.
Business overview shows graphs regarding the overall health of the business.
For assignment and qualifying, leads can be dragged and dropped into the pipeline view. It is scored and ranked after it develops into an opportunity based on its propensity to close. Pipedrive allows you to tailor the stages of your sales to fit your sales process.
Why should you choose Microsoft Dynamics 365 over Pipedrive?
This inquiry is one that we get a lot. Pipedrive is a fantastic cloud-based system that assists you in managing a sales pipeline visually. Additionally, it can create pipelines for various facets of your company.
But with Microsoft Dynamics, you have a solution that works with Microsoft Office, Outlook, and every aspect of your business. Microsoft Dynamics 365 will meet your needs both now and in the next five to ten years. If you're serious about expanding your business, you would not want to have to change your system every couple of years; it would be too disruptive.
If you have ever undergone a system change process or the adoption of a significant system program, you are aware of how these changes hinder your productivity. Taking the time to choose the right CRM solution at the very outset is important.
Conclusion
For users to interact with your CRM system easily, you need to have the right visual tools, which is what Microsoft Dynamics 365 is all about. Microsoft Dynamics can be integrated into your CRM system more quickly and simply by users who are accustomed to using Outlook and other Microsoft Office products. With Microsoft Dynamics, you can manage your sales funnel in addition to customer care, field service management, project management, or portal features.
Among the two solutions, Pipedrive vs Dynamics 365, D365 takes the lead. These are the features that distinguish Microsoft Dynamics 365 from competing CRMs. It is a robust, corporate-wide solution that will take care of your requirements both today and in the future. To take a closer look at Dynamics 365, request a personalized demo.