What you need to know about Dynamics SL to Dynamics 365 Migration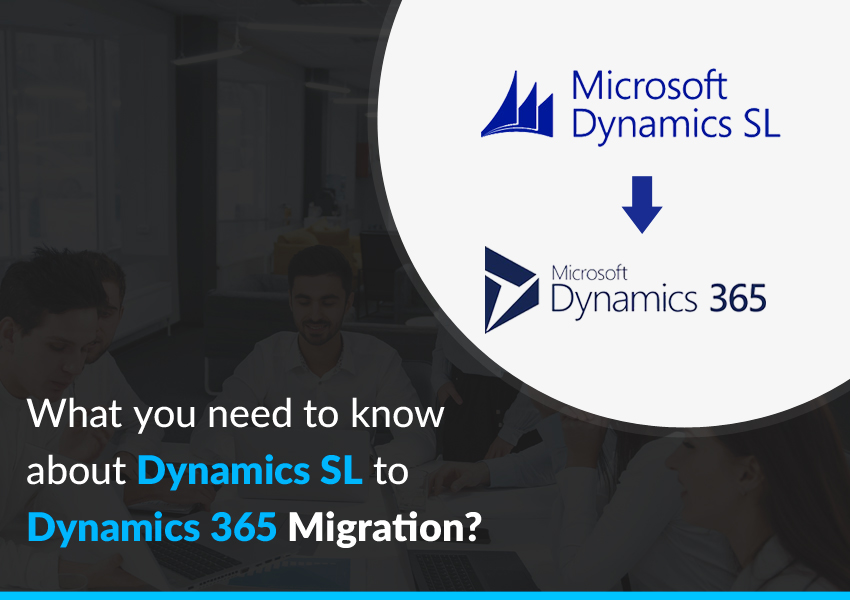 Dynamics SL has fueled business growth since the 1980s when it was known as Solomon and before it was acquired by Microsoft. Small and mid-size businesses still use the most recent versions of the application, Dynamics SL 2015 and Dynamics SL 2018, to manage their finances and operations.
With more and more enterprises migrating to cloud-based ERP solutions, keeping SL and dealing with versioning concerns every few years is becoming increasingly difficult to justify. As a result, an increasing number of SL customers are moving to Microsoft Dynamics 365.
This is good news for SL users who want to stay on a Dynamics platform. Microsoft Dynamics 365 is a robust and scalable solution that will sustain their organization for decades to come.
Dynamics 365 is hosted on Microsoft Azure, which is the world's most secure cloud for enterprises. This ERP system is modern and robust. As a user, you do not have to worry about servers or hardware costs. It's a cloud-based architecture and you receive upgrades and updates on a regular basis.
Due to the cloud's computing capacity, features can be developed and improved indefinitely, ensuring that your business always has access to the most up-to-date and modern user interface.
Apart from SL's impending end of life, there are other reasons to move to Dynamics 365. When it comes to improving your solution's capabilities with Microsoft's cutting-edge technology, Dynamics 365 exceeds Dynamics SL as a modern ERP platform in many aspects.
Improved Security and Greater Accessibility with Microsoft Azure
The fact that Dynamics 365 is a cloud-based solution is one of the primary benefits it has against SL. Users can access and collaborate with data via a web browser, regardless of where they are or what device they are using.
In contrast, Dynamics SL, is often hosted on-premises or in a private cloud and requires a middleware to access it from outside the workplace.
Tight Integration with Microsoft Office 365 and Outlook
Dynamics 365 also outperforms Dynamics SL in terms of close connectivity with Microsoft Outlook and Office 365. It automatically feeds pertinent data into the client's email. Users can generate quotes, purchase orders, and bill directly from Outlook. So, you won't have to toggle multiple screens, throughout your quote-to-cash process.
The integration between Dynamics 365 and Office 365 extends to other commonplace apps such as Excel, Word, SharePoint, and Teams. With the touch of a button, all of the applications can communicate with Dynamics 365 and share data, ensuring that you have consistent data across all of your business software.
While SL can integrate with Outlook and some Office 365 applications, it is not hosted on the Azure cloud; the integrations aren't as seamless.
Integration with Microsoft Power Platform
Dynamics 365 outperforms SL in terms of custom development and business intelligence because of its tight integration with the Microsoft Power Platform, which includes apps like Power Apps and Power BI.
Power Apps is a drag-and-drop, point-and-click interface that lets customers create application add-ons for their solution with little or no coding knowledge. Custom development in Dynamics 365 is thus simplified and modernized, whereas development in Dynamics SL necessitates familiarity with the coding language.
Power BI is a simple tool that provides a comprehensive picture of your business KPIs through graphical dashboards that you can dive down into with a single click. Because of Dynamics 365's tight integration, these dashboards are automatically updated in real-time, allowing users to examine the current state of their business.
Artificial Intelligence
Artificial intelligence (AI) is becoming increasingly popular among business executives, and Microsoft Dynamics 365 was built with this in mind. Users can leverage Dynamics 365's built-in AI to automate operations like data analysis, speed up processes, and leverage machine learning capabilities to guide best actions.
Implementation vs Upgrade: How to Migrate Dynamics SL to Dynamics 365
The two basic paths to migrate to Dynamics 365 are the upgrade path, which is akin to updating to a new version of SL, and the implementation path, which is effectively a full-scale software implementation.
In an upgrade scenario, all of your existing data from Dynamics SL to Dynamics 365 would be directly migrated, similar to upgrading from SL 2015 to SL 2018. Any reports and modifications that work with Dynamics 365 will be carried over.
To upgrade, you must be using SL 2018, which is the latest version. If you're using Dynamics 2015 or earlier, you'll need to upgrade to Dynamics 365 by going through successive updates of the software.
Since upgrading from prior versions of SL appears to be a time-consuming process, most organizations go for a full-scale Dynamics 365 implementation. During this process, your data would be retrieved from SL and entered into your new solution. Unlike an upgrade, where all of your data is transferred to Dynamics 365, an implementation simply moves the data that you request.
Furthermore, while some of your reports and customizations may move over, the majority of them will need to be rebuilt from the ground up. Regardless of the SL version, a re-implementation approach is recommended for organizations that wish to make significant changes to processes and tools.
Winding Up!
At DynamicsSmartz, we assist clients in making the optimal technology choice for their businesses. We've been successfully implementing Dynamics for over 20 years, and as a Microsoft Gold Partner, we can assist you in making a seamless transition to Dynamics 365. We also offer SL users that are interested in migration a free Dynamics SL-to-Dynamics 365 migration assessment. Drop us a line for a quick consultation today.