Microsoft Inspire 2022: Key Takeaways from the Event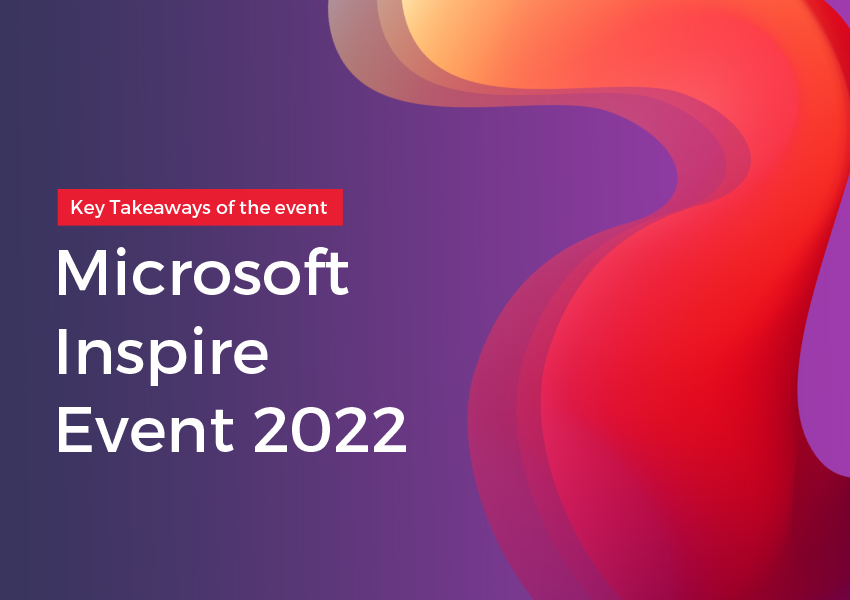 Microsoft Inspire is a global conference where Microsoft Partners from all around the world gather in person or online to learn about Microsoft's roadmap for the coming year.
This event is pivotal as it offers us the chance to learn about Microsoft's developments and innovation and to strategically plan how to deliver more value to our clients by amplifying productivity, efficiency, and collaboration.
The two-day online partner-focused event, which ran from Tuesday to Wednesday, came amid a time of great change for the Microsoft Partner Program.
Satya Nadella, the CEO of Microsoft, urged partners to go beyond digital transformation, while the company's channel leaders provided an update on the company's industry push.
During his keynote address at Microsoft Inspire, Nadella urged partners to go past "talking about digital transformation to delivering on the digital imperative for every organization."
Incorporating digital technology into all business activities, according to him, will be the key differentiator, "It's what will create the difference between firms that prosper and those that get left behind".
The competition between leaders and laggards in the digital business world is nothing new. But Nadella said that recent economic developments like inflation create a greater need for urgency.
"Digital technology is a deflationary force in an inflationary economy," he said. "It's the only way to navigate the headwinds we are confronting today."
Microsoft Inspire 2022 Key Announcements
Microsoft Digital Contact Center Platform
During Inspire, Microsoft announced its Digital Contact Center Platform. The new solution combines technology from Teams, Azure, and other portfolio products with Nuance, a voice-to-text company that was recently acquired.
According to Microsoft, the platform integrates artificial intelligence (AI) to provide self-service and live consumer interactions, collaborative experiences with live and virtual agents, business process automation, fraud detection, and advanced telephony.
With the use of Nuance technology, conversational AI, security, and automation capabilities are improved with the aim of providing clients with quicker and more personalized service. According to Microsoft, contact centers can also provide specific incentives to boost customer loyalty and upsell opportunities for increased revenue.
According to Microsoft, the platform predicts consumer intent and anticipates their requests using AI and the Context IQ function. With integrated biometric identification, authentication, and fraud prevention, customers are safeguarded. Additionally, users get customer journey analytics to enhance their experiences.
Teams Connect Shared Channels
The Teams Connect Shared Channels feature is now generally available thanks to Microsoft. In the fall, the tech giant had revealed a preview for shared channels.
With this feature, Teams users can "collaborate with people inside and outside your organization in one shared space where everyone can work, chat, meet, share, co-author files, and develop apps together,"
Teams users can chat with persons outside the business network using a personal account thanks to Teams Connect, which enables collaboration between several enterprises.
Excel Live
Excel Live was unveiled by Microsoft at Inspire. Users of the Excel spreadsheet application can "collaborate on workbooks in real-time in Teams meetings" thanks to this capability.
The Live Share in Teams function, which was unveiled at Microsoft's Build conference in May, is expanded upon by Excel Live. Within a Teams meeting window, individuals can communicate with one another via Live Share.
With the new Teams SDK extensions, independent software vendors (ISVs) and developers can also build Live Share applications.
Video Clip And Collaborative Annotations
Users can now capture, send, and watch brief videos in Teams chat thanks to the new video clip functionality.
According to Microsoft, users can "capture your video and then deliver your message at the tap of a button". "Your recipient can play it back at their convenience."
According to the tech giant, Microsoft has made its collaborative annotations tool generally available.
All Teams meeting attendees will be able to "draw, type, and react on top of content shared in a meeting using the powerful toolset of Microsoft Whiteboard" with the help of this functionality.
Viva Goals
On August 1, a new feature for the Microsoft Viva employee experience platform will be generally available.
The software company describes Viva Goals as "a goal setting and management solution that aligns teams to your organization's strategic priorities to drive results".
Viva was singled out as one of the "new growth engines to address the demands of hybrid work" by Microsoft CEO Satya Nadella during the company's April quarterly results call. Teams has long been hailed as a revenue generator for the tech giant by Nadella.
Viva Engage
Microsoft unveiled Viva Engage, a new Teams application, at Inspire. In line with Microsoft's claim, Viva Engage "brings consumer-like social networking to the workplace, building on the strength of Yammer to build community, spark engagement and grow personal networks, right in the flow of work".
Through Engage, company executives and supervisors can communicate with employees and share information, respond to inquiries, and hold dialogues. According to Microsoft, the objective is to "build community and connection while also providing tools for personal expression."
Microsoft Cloud for Sovereignty
Microsoft has unveiled a brand-new solution called Microsoft Cloud for Sovereignty that is geared toward organizations and contractors in the public sector. This solution offers rules, controls, and technologies that aid in streamlining internal operations, enabling you to comply with federal data, security, and privacy regulations. Users will benefit from increased resilience, agility, and scalability thanks to public cloud technology, which will also lower overall operating costs.
As a certified Microsoft Gold Partner, we understand how critical it is to keep abreast of new developments in order to continuously innovate and offer everlasting value to our clients. Drop us a line if you have any inquiries about the most recent product innovations from Microsoft.