Microsoft Ignite Conference 2022 Key Highlights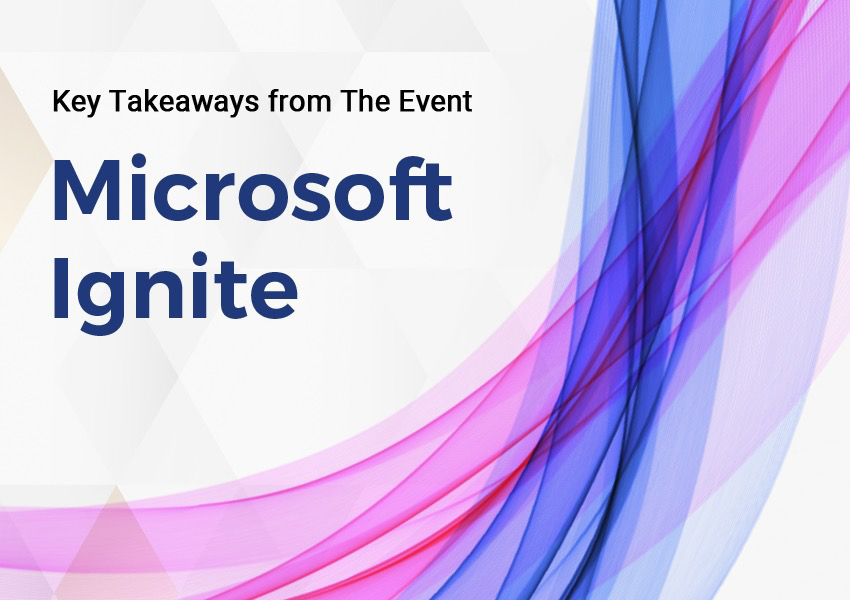 Even though our society has experienced disruptions over the past few years due to the dramatic changes in the world, Microsoft Ignite's long-standing goal is still to make it as simple as possible for users to navigate all the technological innovations and information and give them the necessary details on the most exciting subjects.
Over 2,75,00 people attended the event, which gave users a distinctive experience. The event was launched in six languages and six Spotlight locations this year.
Session Highlights:
Microsoft Ignite featured 1200+ speakers with a vast session catalog and five themed sessions this year. The event concentrated on technical topics like Windows Building & Developing, Azure & Power Platform, Future of Space with the Microsoft Cloud & Data Center, Microsoft Viva, Github, Microsoft Teams, and AI, as well as general spotlights like the significance of mental health, the new work-from-home work culture, Cyber Security, Drawbacks of IT, Female Leaders in IT, and empowering sessions for students with future-ready skills.
Five themed sessions from the event:
1. Building agility, optimizing business, and creating data-driven experiences with Microsoft Azure
2. Delivering efficiency with automation and AI across businesses
3. Re-energizing the workforce in the office, at home, and everywhere in between
4. Accelerating innovation with the world's most complete cloud developer platform
5. Protecting everything, everyone, everywhere with comprehensive security
Dynamics 365 speakers and keynotes from their sessions
Tim Müller
Tim Müller is a Mechanical & Process Engineer. In his current role, he works as an Engineering Manager of Digitalization & Knowledge Management at BASF's Technical Site Services in Ludwigshafen. At the event, Tim provided insights and explained why he sees the Power Platform as a driver of digitization and business opportunity.
Vandana Sharma
Vandana Sharma is a Principal Program Manager at Microsoft. She brought in an insightful session with other engineers and an informative discussion about how users might make the most of the newest features to adapt to changing corporate priorities, market circumstances, and possibilities.
Michal Slowikowski
Michal is an experienced collaboration architect at Microsoft. He discussed how ServiceNow workflows in Microsoft Teams assist customers in enhancing the employee and agent experience.
Jeffrey Fox
Jeff Fox is a product manager at ServiceNow focused on their Microsoft Teams integration. He has given presentations to thousands of people on how to get the most out of using ServiceNow within Microsoft Teams. His session at the event was about "Service Operations Automation & Optimization using ServiceNow and Microsoft Teams."
Stanley Li
Mr. Li Mian (Stanley Li) works in Greater China in the Microsoft Azure Division. He has been assisting consumers in better-utilizing data to produce commercial solutions. Moat. He gave a presentation in Chinese on how AI enables a new type of hyper-connected enterprise in the industrial metaverse.
Microsoft Ignite is the technology giant's largest annual event. It is a one-of-a-kind event that unites technology professionals and developers worldwide to share their knowledge and passion.
Please contact us if you have any questions or want additional information about the event.