Top Benefits of Microsoft Dynamics 365 for Non-Profits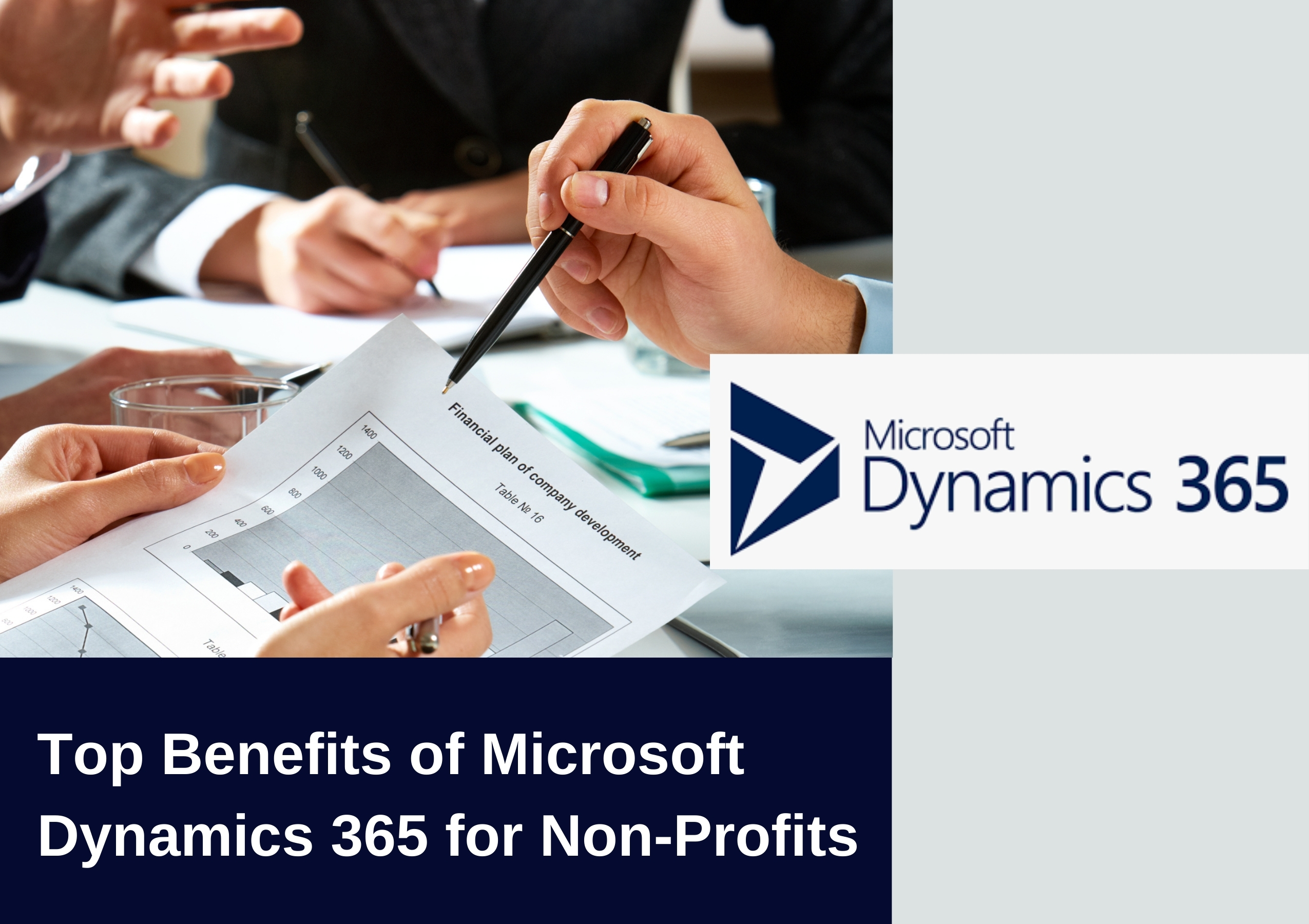 Non-profit organizations strive to improve people's lives while working with limited resources. They are driven by a cause, rather than expansion and profits. The push for digital transformation is enabling non-profit organizations (NPOs) to become more efficient and productive while streamlining their operations.
Many NPOs still believe that modern Customer Relationship Management (CRM) solutions are not ideal for them. After all, if they're not in the business of selling anything, why should they invest in a CRM system?
However, CRM capabilities are incredibly valuable for mission-driven organizations, even though their usability may not appear to be relevant from a non-profit perspective.
CRMs can help non-profits manage their data more confidently and efficiently, from monitoring donor relationships to segmenting donors by issue and interest areas, tracking membership activities, and expediting the donation or grant process.
The Microsoft Dynamics 365 solution was created keeping organizational structures and non-profit challenges in mind. The benefits of Microsoft Dynamics 365 are endless and that is why it has proven to be the most effective system, with several NPOs throughout the world relying on it.
Microsoft Dynamics 365 for Non-Profits
Non-profit organizations are unique as they are motivated by a common, selfless aim rather than a profit margin.
However, a non-profit can only achieve its objectives by adhering to the same premise that allows for-profit businesses to thrive: cultivating relationships with people who will put money in their pockets, whether those people are customers, clients, or donors.
It is imperative for NPOs of all sizes to engage with a range of organizations, including corporate sponsors, public funders, and volunteers, to promote their mission in today's digital world. Of course, the flip side of that coin is meeting goals and providing services to achieve their mission. Effectively executing both these front-end and back-end processes necessitates a great deal of organization, coordination, and assistance, which is why non-profit organizations need a robust CRM system to thrive.
While the majority of software solutions are designed for commercial endeavors, charitable organizations find it challenging to meet their more qualitative needs. Even though Dynamics 365 was not created expressly for the non-profit sector, it has made a name for itself in the field by providing several capabilities that can help organizations improve their operations, increase their efficiency, and lower expenses.
Dynamics 365 assists NPOs in meeting their goals while maintaining a laser-like focus on providing exceptional service and cultivating relationships with the donors and volunteers who are critical to their success.
D365 gives non-profits the tools they need to achieve more, such as administering grants and engaging with donors, as well as coordinating resources across many locations and managing field personnel and volunteers.
What is the Microsoft TSI Initiative (Tech for Social Impact)?
Microsoft Tech for Social Impact (TSI) is a philanthropic program that was started in 2017 as part of the company's larger philanthropic efforts. Microsoft TSI is geared at enabling non-profits to more effectively accomplish their goals by leveraging Microsoft cloud technologies. Here's what you should know about the Microsoft TSI initiative:
Microsoft provides a wide range of software to 501(c)(3) NPOs for free or at a reduced price. Microsoft Dynamics 365, Azure cloud computing services, and the Office suite are all included.
The Non-Profit Common Data Model is an open-source non-profit resource developed by Microsoft TSI.
Profits from the non-profit sector are reinvested in the two projects mentioned above, as well as extra donations are offered to non-profit organizations.
What is the Non-Profit Common Data Model?
Microsoft TSI and other non-profit developers are working on the Non-profit Common Data Model (CDM), which is an open-source data model.
The Nonprofit CDM's main goal is to offer a universal means for nonprofit-specific data points, entities to interact with one another. The ultimate goal for the industry is to adopt a single data language that will allow for unprecedented data flow between applications. Data imports and integrations between systems would be easier than ever, allowing non-profits of all sizes to attain new levels of efficiency.
What is Dynamics 365 Non-Profit Accelerator, and how does it work?
The Microsoft Dynamics 365 Non-profit Accelerator is a collection of pre-configured views that helps non-profits get up and running with Dynamics 365. The Non-profit Accelerator is a "beginning kit" that comprises the Non-profit Common Data model (CDM) and pre-built processes, as well as a program design template, example apps, and dashboards.
Key Benefits of Dynamics 365 for Non-profits
If you're still on the fence regarding whether or not your non-profit organization needs to move to Dynamics 365, consider the following reasons:
1. Ensure that everyone is on the same page
You'll be able to have a better understanding of what your organization offers thanks to the 360-degree perspective using Dynamics 365. For non-profits with several locations and branches, this can be extremely beneficial. You'll be able to observe what everyone is up to and maintain consistent operations across your organization.
2. Grant Management
You can track numerous grant opportunities using Dynamics 365, from the application procedure to awarding the grant.
You may create reminders for prospects to renew or reapply for grants, and you can restrict access to only the appropriate people inside the organization, avoiding duplication and confusion about who should apply.
3. Volunteer and Donor Management
Volunteer and Donor Management is essentially what non-profits do on a regular basis. Dynamics 365 can assist you in keeping track of your volunteers and ensuring that they are treated with respect. As a result, you may be able to keep them for a long time (which helps in reducing training costs as well).
4. Crafting excellent Email Communication
Non-profit organizations rely on email communications and campaigns to inform their patrons about upcoming events. Dynamics 365 CRM assists them in efficiently managing their email marketing.
Users can create bespoke contact segments for specific campaigns, allowing non-profits to directly target former donors who might be interested in similar upcoming projects or keep supporters of previous campaigns up to date on how their contributions are being used.
It also shows campaign analytics like the number of emails sent, opened, and clicked. This enables organizations to compile reports and have a better knowledge of the campaign pitch's effectiveness.
5. Social Media Management
Any Non-Profit organization's social media outreach is equally important. If they want to reach out to a growing number of potential donors, they'll need to have a solid approach. Users may combine Dynamics 365 CRM with social media platforms such as Facebook, Twitter, and LinkedIn to plan, execute, and analyze social media initiatives. For any upcoming events, users can schedule postings for social media platforms in Dynamics CRM.
Winding Up!
At DynamicsSmartz, our Consultants understand how Dynamics 365 can improve the productivity and donor relationships of NPOs by optimizing workflow and streamlining processes. With lower expenses, more money can be spent on making a positive impact in the world. To know more about what DynamicsSmartz can do for your organization, drop us a line.