Why Dynamics 365 Business Central is the right choice for Manufacturing?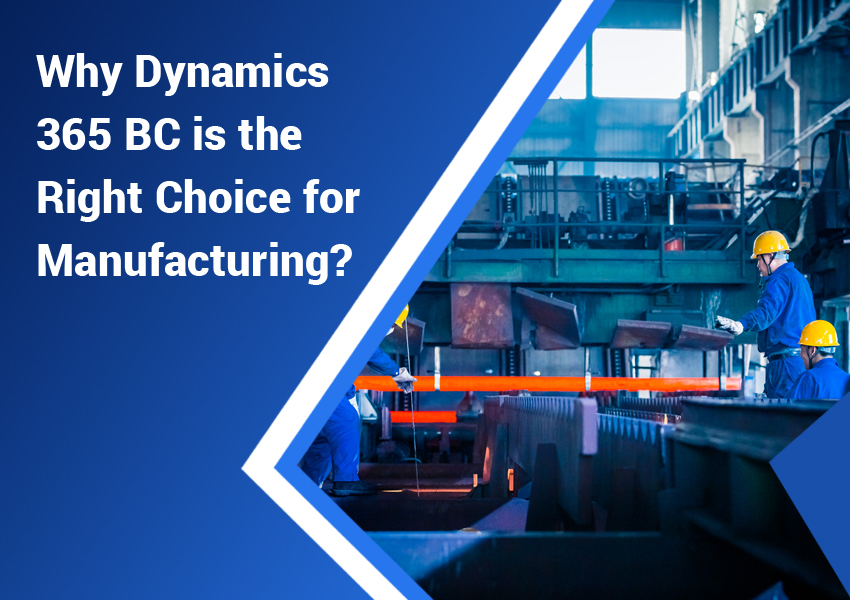 Manufacturing is a challenging industry to work in due to its competitive and dynamic nature. This is why many businesses rely on enterprise resource planning (ERP) software to assist them in making educated and strategic decisions while managing different supply chain activities. Dynamics 365 Business Central enables manufacturers to combine several components of the manufacturing process into a single solution.
Manufacturing enterprises want a dependable ERP solution to assist them to manage issues such as pressure from overseas competitors, the effects of digital transformation, and an unpredictable market. Modules in the Microsoft Dynamics 365 Business Central Manufacturing software suite help with:
Demand Forecasting
Capacity Planning
Agile Manufacturing
Machine Center Management
Production Planning and Scheduling
Finite Loading
Production Order Management
Production Bill of Materials
Version Management
The platform aids manufacturers in transforming their operations and efficiently managing complex manufacturing processes. It's perfect for small businesses that require assistance with backend business activities.
Key Challenges for Manufacturing Businesses
Distribution and Supply Chain Management
The worldwide supply chain was disrupted by the COVID-19 lockdown and a shortage of raw materials, posing significant challenges to businesses. It is no longer possible to meet customer needs with outdated systems and processes, especially as the workforce shrinks. The inability to foresee demand as a result of shifting constraints adds to the stress. Factory procedures can, however, be automated to reduce unpredictability using the correct ERP system.
E-commerce
E-commerce is a critical aspect in today's world for any industry vertical, as recent challenges have demonstrated. It's no longer an option to have a third party stand between you and your customers. Instead, your company needs to offer products directly to clients, which requires an e-commerce gateway that is integrated with your ERP system.
Automation of Business Processes
Automating your business is one of the most important aspects of responding promptly to consumer requests. When systems are divided into silos, overheads, delays, and human error are inevitable. This is due to a decrease in efficiency and an increase in the demand for communication, as data must be transferred from one application to another. Furthermore, operating without any automated processes becomes challenging because automation helps to imitate the production environment, minimize human labor, and improve business KPIs.
Cybersecurity
As manufacturing companies have grown more data-driven, the risk of data loss has increased, making them more vulnerable to cyber-attacks. Half of all industrial organizations in the globe have had data breaches in the previous few years, with their confidential data being hacked or stolen. As
What makes Business Central so well-suited to the Manufacturing Industry?
It's vital to choose a current business management solution that can handle today's challenges. Microsoft Dynamics 365 Business Central helps you develop your business by streamlining procedures and enabling accurate forecasting of customer requests. Financials, Sales, Service, Projects, Supply Chain, Warehousing, Manufacturing, and Distribution data are all consolidated into a single application. This solution combines Office 365's productivity with Power Platform's data connectivity and business intelligence, as well as Microsoft Azure's security.
You can also pick between on-premises, SAAS (Software as a Service), cloud, and hybrid deployments, depending on your business needs.
Some of the advantages of Microsoft Dynamics 365 Business Central Manufacturing are listed below:
A Cost Analysis of Production Overhead
Business Central follows the manufacturing process to the letter, even in the most challenging of environments. A bill of materials that makes up a finished product or a kit is defined as raw materials, subassemblies, or resources. During assembly-to-order processes, it collects particular requirements in a bill of materials and retrieves them straight from the quote and sales order.
It also tracks consumption and output across numerous bills of materials and routes, as well as reconciles scrap and output variances. All of these criteria assist a company in tracking the right cost of their products, including all overheads, which leads to the examination of numerous cost factors such as labor costs, raw material costs, packaging costs, freight costs, and so on. This also aids the company in determining cost-cutting opportunities and selling the product at a competitive price without compromising quality.
Adaptability and Business Growth
Business Central is adaptable to any platform. It's available on a laptop, tablet, or mobile device, as well as on-premises or in the cloud, and on Windows, iOS, and Android devices. Furthermore, you can customize your solution to fit your industry vertical by purchasing purpose-built extensions from the Microsoft App Source business application marketplace. You can also customize the software to meet your needs.
Supply Chain Optimization
Improve supplier relationships and convert the best bids into orders, all while adhering to internal and external policies through process governance and approvals. Business Central also gives you a complete picture of your inventory, which helps you plan for supply replenishment.
Make your Financial Management process more efficient
Business Central gives you more control over your financial data and helps you manage your cash flow, fixed assets, budgeting, and project costs more effectively. It enables numerous currencies, exchange rates, and localized tax requirements when it comes to worldwide market expansion. Most importantly, you can link reports, charts, and Power BI data from across the accounting, sales, purchasing, and stock teams to gain precise insights and make confident financial decisions.
Accelerate your Sales process
Throughout your sales cycle, you can track client interactions and receive recommendations for the greatest upsell, cross-sell, and renewal opportunities. Track customer agreements in Business Central to rapidly access facts regarding prices, discounts, delivery dates, product availability, and fulfillment status, resulting in better cash management.
Conclusion
To stay competitive in the new manufacturing era, organizations must work faster and smarter. Microsoft Dynamics 365 bridges the gap between CRM and ERP systems, providing manufacturers with the capabilities they need to boost productivity and market better products faster. It supplements necessary capabilities with rich analytics, embedded intelligence, and the ease users expect from consumer apps on their phones or tablet by unifying numerous components across the manufacturing lifecycle.

Because digital transformation does not happen quickly, a unified system like Microsoft Dynamics 365 Business Central Manufacturing can be an important component in achieving better results. Manufacturers can get visibility into operations, empower employees, increase business productivity, and provide personalized service by enabling robust project management. To know more about Microsoft Dynamics 365 Business Central Manufacturing, drop us a line or request a personalized demo.