What's new in Dynamics Business Central 2022 Release Wave 2?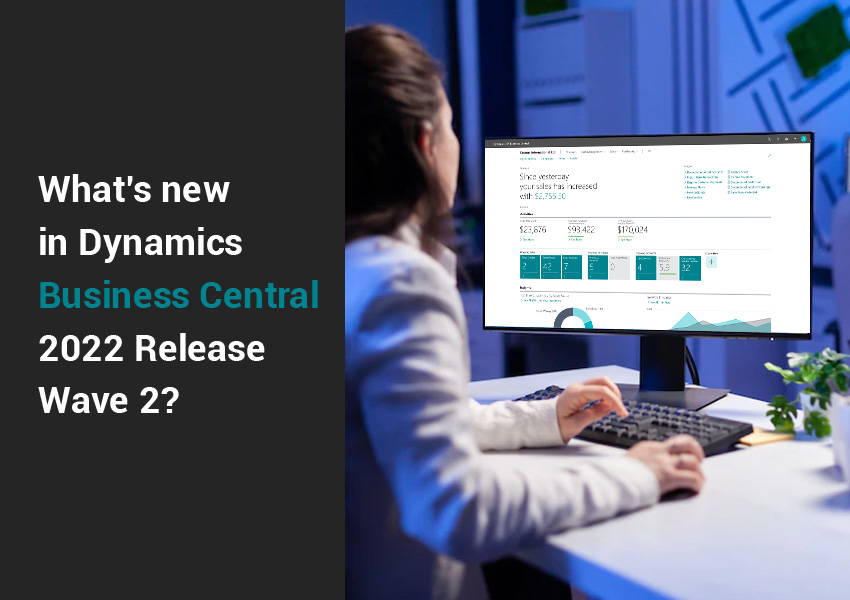 Microsoft Dynamics Business Central receives two significant updates every year. It is usually in the form of a new "wave" in the spring and another in the fall. Microsoft recently announced the highlights for this year's Business Central 2022 Release Wave 2.
Taking advantage of last year's release momentum, this new wave of features and capabilities will enable you to optimize business processes, improve decision-making, and accelerate your digital transformation.
With this release, you'll experience an improved user experience with an intuitive and easier-to-use interface and enhanced connected experiences with Power Automate.
For users, the overall theme is fewer clicks and optimizing Business Central's design elements, with an emphasis on removing redundancy.
Further, new capabilities exist to streamline your supply chain, manage your finances, and more.
In its most recent update, Microsoft aims to make it easier for new users to get up and running by providing easy access to the right apps. In this release, tooltips and expanding geographic coverage have been considered to improve performance and usability. With Power Automate, Microsoft is enhancing its automation story, aiming to increase users' productivity.
Onboarding
With this year's fall release, the Onboarding experience will be optimized to ensure a quick and smooth start to using Business Central. The new release cycle emphasizes connectivity with third-party business productivity services. The new AppSource version offers better discovery, installation, and setup of apps of this type. There are certain requirements for proposed apps (including specific criteria for usage and quality and a minimum set of features).
Application
Every release contains updates based on the most popular requests for improvement. The latest release wave's key features are improved reporting and finance and supply chain improvements. Several of the requested highlights include:
Extended text functionality for VAT clauses
Account schedules have been replaced by financial reporting
Customizable sorting on the Planning Worksheet page
Make entry of variant codes required
Post item charges for each step of the process
Find posted and non-posted document lines in search
Development
Development updates have been released to continue boosting efficiency in VS code. Microsoft has concentrated on providing AL object management that is better and more effective across projects and workspaces and has done this in response to requests from numerous productivity partners throughout the tools experience. These improvements include:
Connect to Azure Functions from AL code
Override entitlements with built-in permissions
Apply specific code actions across projects and objects.
Utilize a split button to combine multiple UI actions
Promoted action groups and action references
View SQL locks during AL debugging
Define inherent rights as a developer
AL-Go for GitHub, a modern DevOps tool for partner
Improved Collaboration with Microsoft 365
Microsoft has been making more and more investments lately to ensure that Business Central and the various Microsoft 365 products work together seamlessly. The second wave of the 2022 release offers administrators more control over OneDrive and Excel in Business Central. Excel's report layouts and data manipulation have also improved, which will help users.
Data Loss Protection and Updated User Interface
The next Business Central fall version will contain more optimizations in addition to the new features mentioned. For instance, the client portfolio's desktop and mobile device user interfaces will also be improved (e.g., with unique design elements). The future of working with Business Central will be even more straightforward thanks to a streamlined business and environment changeover.
The added option to recover deleted environments is another significant simplification. In the future, these will be temporarily soft-deleted for seven days following deletion. Administrators can recover the deleted environment in the Business Central Admin Center during this time without contacting Microsoft Support. For instance, if an environment is unintentionally removed or its trial period has ended, the new capability is intended to guard against data loss.
Integration with the Power Platform
The extent of Business Central's integration into the Power Platform keeps growing. This enhances the Power Automate connector and the "Automate" action, among other things (e.g., easy access to document attachments and automated assignment to a process in Business Central). Additionally, a contemporary toolkit that makes it simple to expand Business Central and connect it to other systems will be included with Power Automate and Business Central.
What Effect Will This Release Have on Your Business?
Depending on how your company uses Microsoft Dynamics Business Central, these changes can have different results. For the upcoming release, we've identified a few key target points:
For Business Users, the most visible improvements may be those to the user interface and collaboration with Microsoft 365. It will be simpler to utilize Business Central thanks to the updated design components and simplified company switching choices. Data editing will be easy, thanks to OneDrive and Excel updates.
The most noticeable improvements for IT Specialists and Partners might be those to the development experience. In addition to making it simpler to manage your environment, the new features will make it easier to create and implement extensions. The management of user access and permissions has also been improved.
Business Central users will enjoy a consistent experience whether connecting from a phone, tablet, or laptop.
Conclusion
While we have rounded up the key highlights from Dynamics Business Central 2022 Release Wave 2 in this blog, there's much more to explore. Now is an excellent time to upgrade to Business Central's most recent edition if you're not already. You can soon learn more about the updated features and functionalities if you already use Business Central. If you want to learn more about the new features or need a guided tour of Business Central, drop us a line.