Improved Digital Selling and Better Customer Engagement: Dynamics 365 Sales October 2020 Update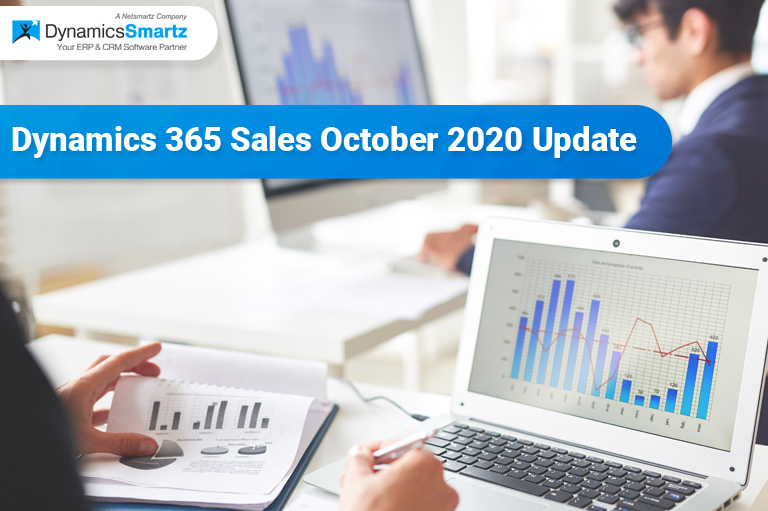 Gradually over time, especially since the emergence of technology and digital solutions, customers have become more particular about their needs.
However, the sudden outbreak and impact of the pandemic has transformed the buying and selling traditions into a completely digital buying scenario. Also, the acceleration of the need and use that digital solutions have gained over the past few months is likely to pull customers towards tools that are reliable and secure for designing intuitive customer journeys.
The recent Wave 2 release of Microsoft Dynamics 365 Sales is completely based on such intentions as it is focused on streamlining seller experience with deepened engagements. Here is how Dynamics 365 Sales update could turn out to be the best thing you need for digital selling and customer engagements:
Proactive Selling For Better Business Opportunities
Sales Accelerator
The latest upgrade made to Dynamics 365 Sales is everything that makes Dynamics Business Solutions a primary choice for business enthusiasts. The sales accelerator now allows easy prioritizing of activities for improved lead generation. It allows direct interactions with customers through emails and phone dialer options along with automatic lead routing. The automation advantage will not only help to streamline engagement sequences with customers but will also boost sellers for quicker goal achievements.
Forecasting
When it comes to business health, accurate forecasting plays a significant role. Dynamics 365 Sales now allows extended support on sales forecasting with options like custom entity support, drilldowns, multi-currency views, product-based forecasts, opportunity overlays, and more.
Pipeline Intelligence
with upgraded features like predictive forecasting, Dynamics 365 Sales also brings the concept of pipeline intelligence that helps to measure predictive lead and opportunity scoring. This data can be used by sales teams to reach new opportunities as the data can be used to get directions for investing time and resources. In short, the predictive scores and predictive forecasting features on the update can help strike productivity through better decision data support.
Understanding Customer Relationships
Conversation Intelligence
Dynamics 365 Sales update now allows automatic analysis of content, sentiment, and behavior on calls with conversation intelligence. This can help sellers to improve their conversation techniques and use their CRM resources for improved sales.
Relationship Intelligence
This exclusive feature will allow users to identify the scope of engagements and build nurturing relationships with customers. Relationship intelligence along with premium tools like auto capture will help sellers to capture data quickly and foster revenue-generating actions for better business.
Improved Microsoft Dynamics 365 Customer Voice
The all-new improved Dynamics 365 Customer Voice needs only the customer metrics to feed on insights and it will allow rapid actions for conversation building. This time it comes with sentiment measure and NPS metrics that can work for sales managers to process customer concerns in a more sensitive manner. Some of the additional features which users will find with the upgrade include short URL support, template enhancements, and the capacity to record 5 million responses per survey on feedback operations. Also, it can help sellers with real-time follow up management, automated survey reminders, improved question branching, and more.
Team Collaboration & Productivity
Mobile Experience
Since the latest update on Dynamics 365 Sales is based on creating better customer journeys, it allows sellers to have a simplified CRM experience through an intuitive mobile experience. This update will allow quicker access to customer meetings and records with the advantage to add notes simultaneously for using the information to grab the opportunities by quickly finding accounts.
Usability Enhancements
With usability enhancements, Dynamics 365 Sales update comes with reduced friction and a better user experience. It allows improved data management with enhanced email capabilities along with optimized PDF generation. It also offers an all-new search experience with search suggestions while typing, which can be a very useful feature for sellers.
Concluding It All
The rapid exposure of the pandemic at the global stage has completely changed the service experience when it comes to customer preferences and seller strategies. Amid all the hustle, this new release of Microsoft Dynamics 365 Sales will help organizations to deliver their services with more precision and seek consistent results.
Like with every new update, Microsoft has raised the bar for selling standards as it uses the power of data, business intelligence, and user experience to its full potential. For those, who are already using Dynamics 365 Sales, this upgrade can provide everything that is required to compensate for lost opportunities during the pandemic.
On the other hand, for those who are planning to migrate to Dynamics 365 Solutions to take advantage of the new platform features, it can be the ultimate game-changer that has the potential to take down on any level of competition.
Good Luck!
Curious to learn how Dynamics 365 Sales can help your business? Learn with our experts at DynamicsSmartz and find a better way to reach your customers with effective business opportunities. Schedule a call for a free demo!