How to improve Customer Retention using Dynamics 365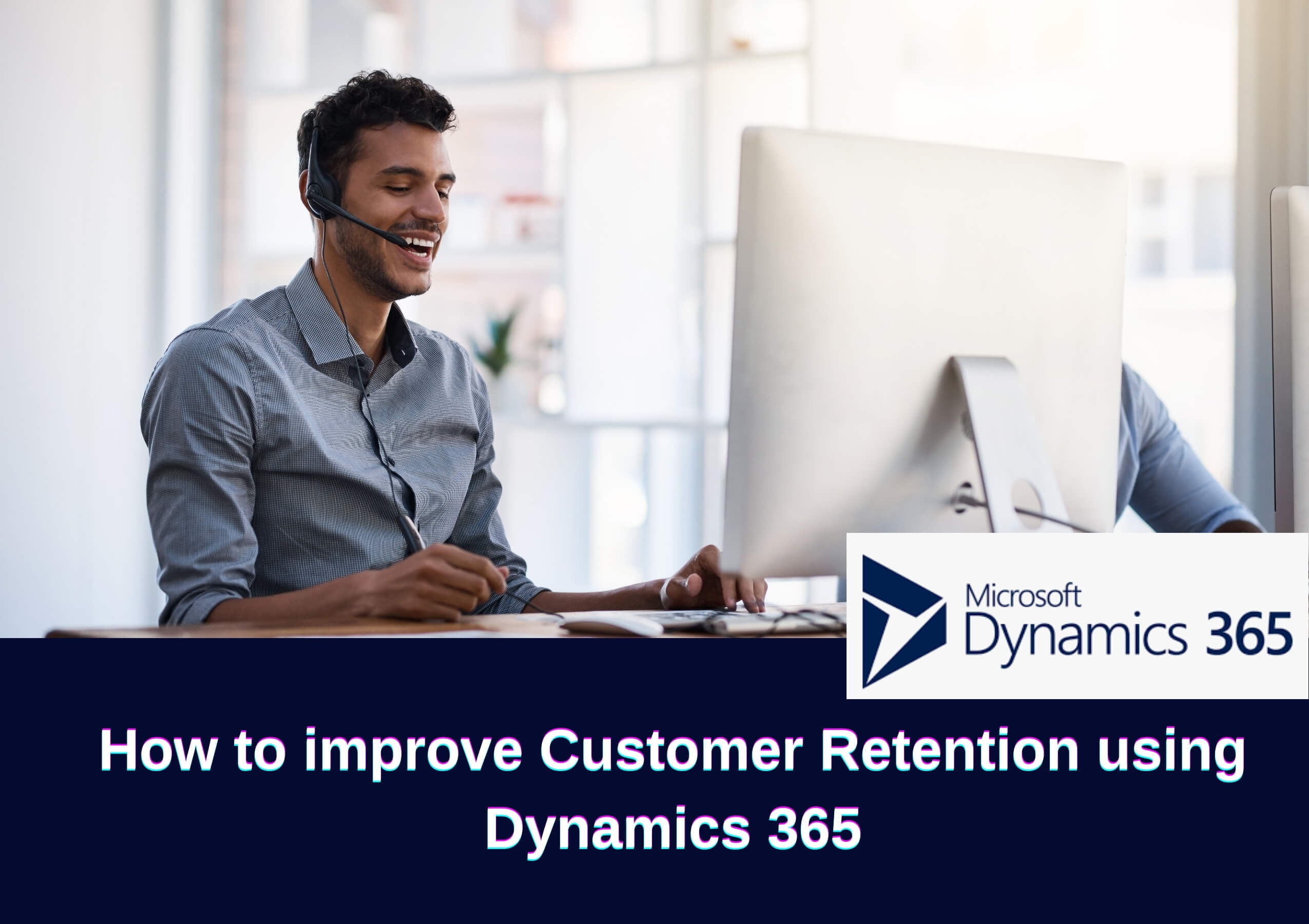 Customer retention is critical for a company's success, and it's what makes a brand stand out in today's competitive marketplace. Many businesses are unaware of the importance of customer retention and continue to focus on new customer acquisition. However, customer retention is far more beneficial to a business than acquisition.
According to Forrester Research, 88 percent of customers abandon purchases due to a negative experience, and research by Bain & Company revealed that increasing retention rates by only 5% can boost profitability by up to 95%.
Top Reasons Why Customer Retention is Important
Customer retention is less time-consuming and less expensive than gaining new customers.
Retaining customers generates a higher return on investment (ROI)- revenue grows by 25-95 percent.
It costs 5 to 25 times more to acquire new customers than it does to retain existing clients.
Since they've understood the value of a product/service, loyal customers buy frequently.
More than 60% of loyal customers discuss their favorite brands with their friends and family.
Customer retention is one of the key objectives of a CRM, and keeping your existing customer base is critical for long-term business growth. Reduced attrition, additional revenue from existing customers, and new client acquisition are all ways that Microsoft Dynamics 365 helps you achieve business objectives.
So, how does Microsoft Dynamics 365 CRM help you retain customers?
1. Improved data functionality gives you a centralized view of your customers
A good customer retention system should give you a 360-degree view of your current customers, but what exactly does that entail and how can a CRM do it? Simply said, all employees in an organization should have ready access to consumer information to aid decision-making. Furthermore, having all of the information in one location will save time and boost productivity across the board, as there would be no need to sift through many systems manually.
Through the following functionalities, Microsoft Dynamics 365 CRM creates a centralized picture of your customers:
Role-based Views
Information overload is one of the perceived issues of consolidating client data into a single system – too much data can be daunting, and not everyone in a company requires full access. Microsoft Dynamics 365 CRM, on the other hand, provides the potential to bring together distinct customer views unique to various roles across the business (sales, services, marketing), making analysis and efficiency easier.
Advanced Integration
Although most CRM systems support data integration, moving all of the data that your business users need into the CRM system is not always possible. Microsoft Dynamics 365, on the other hand, includes a set of technical features that make it simple to consume and transfer data. The following are some of the integration features:
The ability to provide information to users without having to replicate it in Dynamics 365.
Power BI and other products have embedded data analytics and KPIs.
Users can navigate directly to or from consumer displays and information in other systems when needed, thanks to user interface integration.
Customer Insights
Customer Insights in Microsoft Dynamics 365 CRM combines the best of Microsoft technology, including advanced analytics and Artificial Intelligence, to not only provide a holistic view of customer information but also detect patterns and suggest actions or automate workflows to help your team make sense of the data. Client Insights gives market-leading 'central view' capability and readily enables increased CRM customer retention. It is easy to extend and adapt based on your business and data.
In addition, the system can spot patterns in client attrition and take focused measures to counteract them. For example, if you notice a drop in customers as a result of a competitor's new product or service, Microsoft Dynamics 365 CRM can give recommendations on how to deliver client retention campaigns.
2. Assists sales teams in managing their workload
When salespeople manage too many accounts or work inefficiently, it has a direct influence on the quality of care and service they provide to their clients. While it may appear that this is unavoidable, a CRM system may assist sales professionals in better managing their workload and time so that the client experience is never compromised.
It is critical for the CRM solution to assist the individual salesperson in managing their day-to-day responsibilities. As a result, a CRM system must be simple to use and mobile-friendly, with poor usability being one of the primary reasons why salespeople do not use CRM systems. To prevent the need for double entry and dual maintenance of items like calendar appointments, an efficient CRM must be integrated with office applications such as Outlook as well as social media (LinkedIn, for example).
Furthermore, from account allocation and performance to activity management and visit reporting, management requires complete insight into all sales activity. By giving managers and directors further insight into why customers aren't being retained through clarity of the sales pipeline, Microsoft Dynamics 365 CRM functions as a customer retention system.
Managers can see where processes are lagging, where salespeople have missed critical information, and where clients haven't gotten the attention they need. This allows sales managers to better manage their teams, resulting in higher CRM client retention and team happiness.
3. Artificial intelligence (AI) and proactive monitoring
If your company's customer retention strategy includes renewal or extension of products and services, without a well-designed CRM system, things can get complicated quickly. Manual processes frequently result in lost renewals and upsell and cross-sell chances.
Microsoft Dynamics 365 CRM, on the other hand, uses AI technology and proactive monitoring to help with effective renewals. D365 makes suggestions and discovers chances for salespeople to cross-sell or upsell other items or services to customers who are more likely to buy them.
Dynamics 365 functions as a customer retention solution by monitoring customer behavior and identifying selling possibilities using your existing data, ensuring that all recommendations are relevant to ongoing client needs. When your salespeople are able to sell their consumers things or services they want, it demonstrates that your company is capable of providing excellent customer service. This not only aids customer retention by gaining renewed contracts but also makes your product or service more appealing to potential clients.
4. Seamless Integration of Sales, Service, and marketing
Perfect customer service is the key to long-term customer retention. However, when your sales, service, and marketing teams are not aligned, communication breakdown leads to disappointed customers. A well-implemented CRM solution that enables your staff to collaborate seamlessly is one way to avoid this.
Through comprehensive integration, Microsoft Dynamics 365 CRM aligns sales, customer service, and marketing. The Customer Service module in Dynamics 365 equips service teams with the resources they need to provide a personalized customer experience while also providing complete insight to your sales team. This means salespeople may keep track of any customer requests or complaints and collaborate with the customer support staff to improve customer satisfaction and retention.
Marketing teams may simply segment and target customers using integrated marketing capabilities in Microsoft Dynamics 365 CRM based on a variety of data. These records are accessible to sales and service teams, allowing for complete visibility of all marketing communications sent to customers. This means that sales and marketing automation may work together to boost customer retention. Besides marketing communications, Microsoft Dynamics 365 CRM, for example, enables sales follow-ups and workflows and tailors additional communication based on sales and customer service patterns or challenges.
Winding Up!
Microsoft Dynamics 365 CRM is particularly beneficial for Customer Retention since it gives sales teams a clear, consolidated view of their customers, as well as real-time data to help them delight and retain customers. D365 gives total insight for sales leadership, allowing for smoother workload allocation and ensuring that no customer is neglected.
Microsoft Dynamics 365 CRM, with its outstanding AI capabilities and ability to combine sales, services, and marketing, can give your company the tools it needs to boost client retention and scale business to new heights. To see Dynamics CRM in action, request a free demo.