How Long Does an ERP Implementation Take?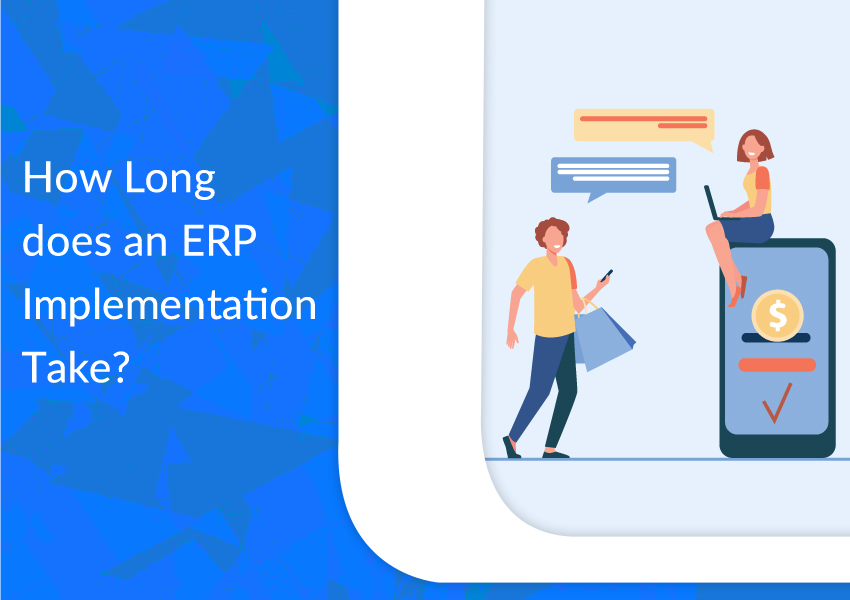 There is no such thing as a standard ERP implementation timeline. How long does an ERP implementation take varies depending on a number of factors.
An ERP project can take anything from six months to a year to implement. However, it varies greatly based on the following factors:
The size of the company
The system's complexity, including ISV add-ons and customizations
Expected concurrent users
Cloud vs on-premise deployment
Data migration or integration from outdated systems
What else can have an impact on the timeline for your ERP implementation?
Involving the right internal resources
The time to gather data from your team about the challenges you wish to address with the new ERP system.
The availability of your key personnel and resources during the implementation.
Documenting your current processes and identifying what needs to be changed.
Organizing and cleaning up current business data, as well as deciding what to bring over.
While an average ERP implementation timeline can't be predicted until all of the requirements are known, you should keep realistic expectations in mind. This is a long and drawn-out process that cannot be expedited. Examining your processes and selecting the best future course is a task that must be approached with care.
You can create an implementation plan with your partner that includes benchmarks to be checked along the way. You can discuss the variables that may lengthen or shorten the project's time together. Stakeholders sometimes can be irritated by the length of time required to complete the project, but keep in mind that future gains will be realized if the process isn't neglected.
Planning an ERP implementation isn't always simple. When deploying an ERP, companies should strive to complete the project in 4 to 6 months, at the most. While ERP implementation is a large undertaking, extended implementation deadlines only result in ERP initiatives stagnating and failing, leaving your company in worse shape than before.
How to Quickly Implement an ERP System
1. Designate a Project Champion
This is one of the most crucial tips for a successful implementation. You should appoint someone on your team to be in charge of the implementation strategy.
The ideal champion will possess a diverse set of abilities: Excellent project management abilities, knowledge of ERP software and how to utilize it, as well as excellent communication skills, which means they'll be able to clearly communicate the necessity for the new system to your staff, as well as deal with any interpersonal issues that crop up along the way.
Choosing the right individual, one who has the trust of the rest of the team, can help smooth over any potential problems. It's not always easy to ask your employees to change how they conduct their work, but a competent project champion will be able to help team members overcome any worries or apparent issues with the system.
2. Break the project down into manageable pieces
This is what will allow you to keep your timeline as short as possible while still being successful. Rather than attempting to complete everything at once, prioritize the capabilities and modules that are most vital to your business.
With the correct implementation strategy in place, you'll be able to get an ERP up and running quickly, which means you'll be able to reap the benefits of an ERP system sooner.
Perhaps you require assistance with project management, or perhaps your inventory is out of hand. Setting realistic expectations and prioritizing the features you need most first- within a shorter time frame, will allow you to get the system up and running quickly.
And once you've mastered the most critical elements, you'll have a better understanding of how the system works, making it simple to add new features and functions in the future.
3. Select the Right ERP System
When it comes to implementation, the reality is that some ERP firms are better than others. Some firms will have more experienced ERP consultants and implementation teams, as well as better-designed and thought-out business processes for putting the system in place. The right ERP Partner will be there for you every step of the journey, from user training through the go-live date and beyond.
How long does Dynamics 365 Business Central take to implement?
If you want to implement the Microsoft Dynamics 365 Business Central ERP solution, you'll need to plan ahead and strategize. The length and cost of implementing Business Central are determined by a variety of factors, including the size of your firm, the complexity of your current setup, the number of users, and the data migration from legacy systems.
It is critical to have details regarding the functionality or modules that your customer is searching for when offering an estimate for Business Central Implementation.
Implementing Dynamics 365 Business Central should take between 1 and 2 months for a reasonably small company with a smaller number of employees who may simply require finance modules.
A medium-sized firm, on the other hand, could expect to spend 3 to 5 months implementing Dynamics 365 Business Central, as they may require modules like sales, core financial, purchasing, and inventory management.
Manufacturing, inventory management, and other commonly used features such as core financial, purchasing, and inventory management are all required for large-scale businesses. As a result, implementing Business Central and training the key stakeholders could take 6 to 10 months in this instance.
Conclusion
How long does an ERP implementation take is a question that we come across most often. Regardless of the size or complexity of the organization, we believe that if you bring on the right partner on board to help you approach the implementation project with your business needs in mind, you will be able to implement Microsoft Dynamics 365 in the shortest time possible with the best results. If you'd like to learn more about how DynamicsSmartz can assist you with Dynamics Business Central implementation, please drop us a line.