How CFOs can drive growth and profitability with Business Central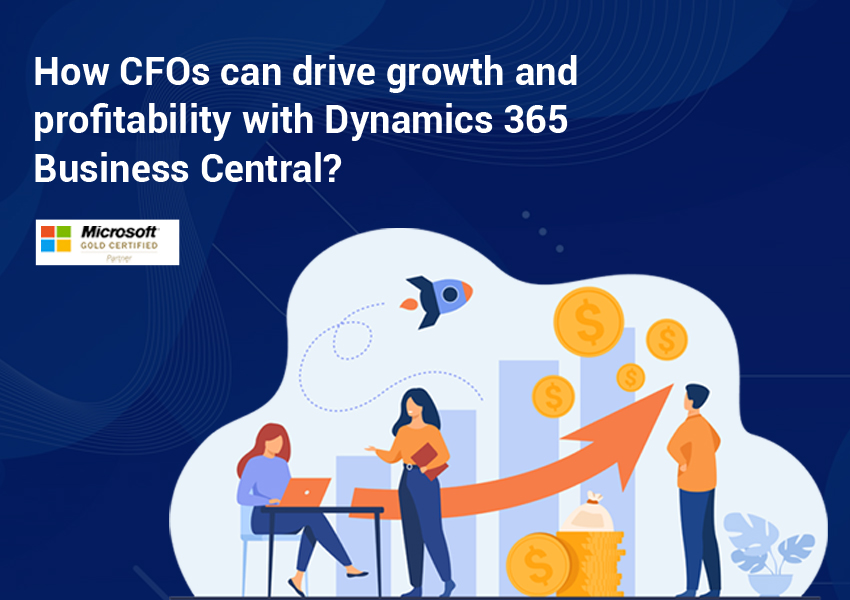 Is your present financial solution out of date and ineffective? Is it failing to provide you with the capabilities you need for your business? Is it too costly and difficult to scale as your company grows? Does this ring a bell?
Then it's time to think about a cloud-based solution, which is likely to be less expensive than your existing on-premise system.
Implementing a robust, cloud-based financial management solution like Microsoft Dynamics 365 Business Central can benefit your business on a day-to-day basis. Besides, CFOs can leverage the power of digital technology to better manage, analyze, and present data that has the most impact.
Financial Management
Financial management, which is at the heart of a business management software's functionality, empowers users to make better decisions, improve reporting capabilities, enhance forecast accuracy, and do so much more.
See the Big Picture: D365 Business Central's Financial Management functionality provides the right information to the right people at the right time. Financial Management lets you see the bigger picture by offering information at a glance from the home screen, seamlessly linking data with other modules and applications, and enabling new methods to slice and dice data using business intelligence.
Work More Effortlessly: Streamline accounts receivables and payables, automatically reconcile accounts to close, and report on financials swiftly and accurately while staying compliant. Automate processes and workflows from within common Office tools like Outlook, Word, and Excel to increase efficiency. Get an end-to-end picture of your business with built-in intelligence whenever and wherever you need it with a single solution.
Take your data a step further to make smarter decisions: To acquire an accurate, end-to-end perspective of your business, break down silos and centralize data from finance, sales, service, and operations. You can even use real-time updates to discover patterns or problem areas before they become serious issues.
Improve forecast accuracy: Model and analyze data across various dimensions to refine financial forecasts. Easily customize reports using Microsoft Excel integration.
Extend Your Financials: You may run your business on your own terms with a wide choice of third-party integrations built into the Business Central Financial Management module, as well as many more accessible from a large network of ISVs.
Compliance Ready: ERP systems provide a high-level toolset that assists businesses in managing compliance and financial reporting. CFO's can use the reporting interface provided by Business Central to quickly examine and correct regulatory compliance issues across all business activities.
How can a CFO take advantage of Dynamics 365 Business Central's capabilities?
The Chief Financial Officer's (CFO) work encompasses more than just financial management; everything that happens in an organization has an impact on the CFO's commitment. The major job obligation, without a doubt, is to improve a company's financial performance and financial sustainability.
Apart from their financial obligations, a CFO must manage risks, develop new ideas, and use the right technology and automation to revolutionize the firm. Increased regulatory scrutiny, continual technological transformation, ever-changing customer expectations, and recognizing business difficulties are just a few of the challenges that CFOs face.
CFOs can use digital technology to better organize, analyze, and present data that is most valuable to the company. Finance executives can speed up decision-making by using the right technology.
Benefits of Dynamics 365 Business Central
Business Central enables a CFO to be proactive about the organization's financial health by providing integrated data from reports, charts, and Microsoft Power BI dashboards across finance and accounting, sales, purchasing, and inventories. To put it another way, we've compiled a list of ways in which Business Central can assist CFOs.
Control Your Financial Data: As a CFO, you can manage your cash flow, bank reconciliations, fixed assets, budgeting, and project costing while lowering cycle times with the late payment–prediction extension by implementing Business Central in your firm.
Automate Your Business Processes: The Power Platform connects all Dynamics 365 offerings. You'll be able to develop workflows that connect systems in a way that gives users a consistent experience.
Monitor Your Entire Financial Performance: Business Central gives you real-time cash flow, helps you detect financial patterns, evaluate trends, and improves business planning by using built-in reports, Excel, or Microsoft Power BI, and unlimited data dimensions. To acquire accurate insights and make financial decisions, you can integrate reports, charts, and Power BI data across teams.
Work Collaboratively: Because they deal with so many documents and reports from all throughout the company, the finance team needs to be more collaborative than any other team. A CFO can quickly collaborate within their team, with other teams, and with vendors using Business Central, Microsoft 365, and Teams integrations.
Dimensions in Business Central: 'Dimensions' is a strong Business Central tool that allows CFOs to access detailed reporting quickly and easily. Unlike previous techniques, you can utilize "Cost Centre" and "Department"/any other as Dimensions in Business Central instead of hundreds of G/L codes.
Enhance Your Reporting with AI: Power BI is a Microsoft reporting solution that can be utilized across several systems. With Power BI installed in your Business Central system, you'll be able to instantly access live reporting and real-time insights, as well as act on them.Several strong AI components incorporated into Business Central can help you boost productivity by automating repetitive operations and improve cash flow by assisting with inventory management.
Cost Optimization: Cost optimization is one of the primary responsibilities of a CFO. A cloud-based ERP system allows the CFO to reduce the amount of money spent on legacy IT infrastructure as well as any future hardware and software installation costs.
Accelerate Financial Closing: With the amount of data in a business, financial close and reporting can be quite a hassle. With data from the general ledger, accounts receivable, payables, and fixed assets, Business Central can help you reduce month- and year-end closing times. Using Power Automate in Business Central, you can also streamline approval workflows.
Quickly Expand into Global Markets: With Business Central's capabilities, you'll be able to handle numerous currencies, exchange rates, consolidations, intercompany transactions, and specialized tax regulations with ease.
These are some of the ways in which Business Central benefits CFOs and Financial executives streamline workflows and operations. By leveraging the Financial Management capabilities of Business Central, you can cut costs, gain a competitive advantage and scale your business to new heights. To explore Business Central's features and capabilities, drop us a line.