6 Key Field Service Industry Trends to watch out for in 2022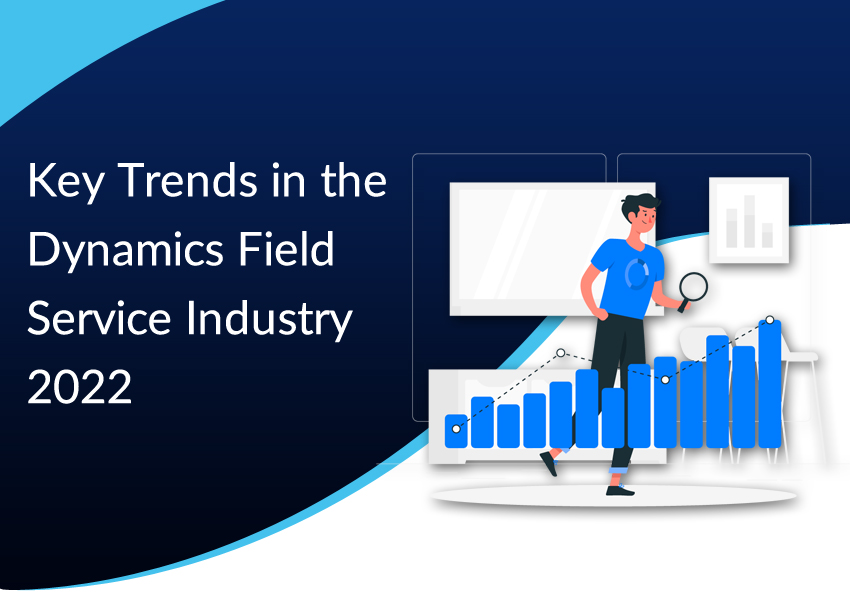 The global field service market is expanding at a rapid pace. The field service market was valued at $1.78 billion in 2016, and now it is expected to grow to $4.45 billion by the end of 2022, representing a 16.5 percent compound annual growth rate (CAGR).
From automating work orders and AI-driven analytics to leveraging the potential of mixed reality to finish a job, technology has forever changed field service management. And the transformation of field service is far from complete.
The COVID-19 pandemic was a wake-up call for many industries, causing a substantial shift in business practices. The field service industry was no exception.
Businesses were compelled to limit, or even stop, in-person field service visits due to the pandemic. The global pandemic wreaked havoc on the field service industry, and since then, nearly every field service company has reevaluated its business model in some way. Some have embraced the concept of contactless or remote service, while others are investing in predictive maintenance.
Field service organizations will need to listen, be adaptable, and continue to innovate to meet these ever-changing, rising consumer demands and increase customer loyalty.
Let's take a look at the top 6 field service industry trends for 2022 as we continue to navigate COVID-19 and its far-reaching implications. This will give you an idea of what best practices and technologies to use to reposition your field service business for future growth.
Top Field Service Industry Trends for 2022:
1. Contact-free or Remote Service
According to a report, field service businesses will continue investigating contact-free or remote services since 75% of consumers dislike having field technicians in their homes unless it is absolutely necessary as a result of the pandemic.
Although the concept of contact-free or remote service is not new, it has quickly become a customer preference due to the pandemic.
Customers' expectations are changing, and field service organizations and technicians are adapting to meet them. What's new is that the Internet of Things, Artificial Intelligence, and Mixed Reality have all contributed to the evolution of contactless service, with the added benefits of lower service operations costs, travel time, and vehicle expenses. Furthermore, contact-free service improves the health and safety of technicians, which is an important personnel benefit.
2. Use Automation to your advantage
Automation has become a big element of today's business environment. At the end of the day, everything boils down to getting work done in a given timeline and with precision. There are manual processes in the field service industry that can become laborious and detract administrative and frontline staff from their other high-priority service tasks. Customer interactions might come to a halt if vital service duties are compromised, which can have a negative impact on the organization.
Field service management software is a lifesaver because it allows entire processes to be automated, scheduled, and assigned to specialists without disrupting existing workflows.
3. Predictive Maintenance
Artificial intelligence (AI), Machine Learning, and Analytics are all used in predictive maintenance to forecast equipment failures or challenges before they occur. Predictive maintenance allows you to take the necessary preventative measures to avoid unexpected failure and save money on maintenance.
Predictive maintenance is now seen as the way of the future by field service companies. Technicians can employ IoT-enabled tools to proactively monitor equipment health, set up warnings that are transmitted to an operator console in the case of a behavioral change, and implement pre-determined measures to prevent any harm using IoT-enabled tools.
Predictive maintenance is based on predictive analytics, which compares current activity to previous behavior in order to make an assessment. For example, if a piece of equipment fails again under the same circumstances as before, it is likely to fail again. This will automatically generate a work order schedule; businesses can choose to use remote service first and then dispatch a technician.
4. Promote Self-service
How amazing would it be to assist customers in resolving their problems without having to wait for a specialist for hours? It is, however, easier said than done. A self-service portal can help you communicate with your customers and collect information about the issue they're having.
If you can't help the customer right away, you can send the data to field service agents, who can come to the location with everything they need to fix the problem on the first visit.
In addition to being easy, these portals can notify field staff in real-time of any changes to the project and efficiently maintain service standards with seamless communication between all stakeholders.
5. Mobility is a must-have
Mobile technology is no longer a luxury, but rather a necessity, particularly for field service professionals. It not only allows for remote problem solving, but it also provides customers with guided guidance from technicians who have the field service app.
When technicians go on-site for resolutions, the field service application helps them with their schedules and gives them clear directions. The application includes the customer's information as well as the type of repair that will be done. They can improve their fix rates by using Microsoft Teams to communicate with other technicians.
6. The Internet of Things (IoT) and Artificial Intelligence
Several industries, including healthcare, manufacturing, and automobiles, are substantially investing in AI and IoT to boost field service management capabilities.
While AI can match techs to upcoming work and provide optimized routes based on geographic data, IoT sensors can help field personnel provide better remote customer support.
Conclusion
Field service has evolved from a reactive to a proactive role. If your goal is to empower technicians, boost customer interaction, and turn field service into a profit-generating arm of your company, these growing field service industry trends can help you pivot in the aftermath of COVID-19. The next step is to look for a comprehensive solution that will give you the tools you need to implement these trends.
Dynamics 365 Field Service is leading the way by combining AI, IoT, and Machine Learning capabilities and it is one of the most comprehensive and robust field service management software solutions available today.
If you'd like to learn more about these and other field service industry trends, or how a Dynamics 365 Field Service implementation might benefit your company, drop us a line.