Top Factors to Consider when migrating from Dynamics GP to Business Central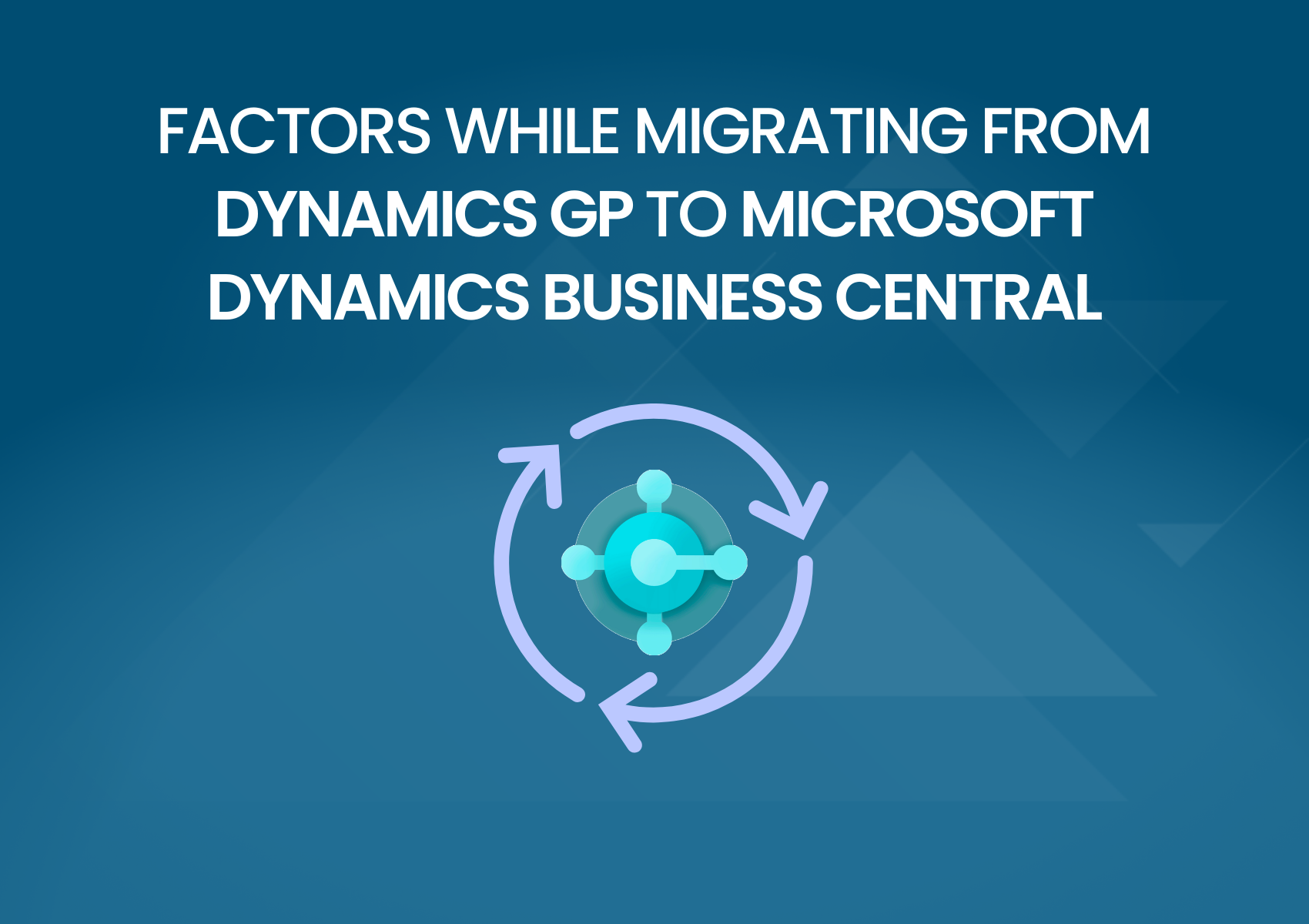 If your company is currently using Dynamics GP, Microsoft is likely already asking you to switch to Dynamics Business Central. Moving to Dynamics Business Central can unlock several business benefits. Most Dynamics GP companies are now upgrading to Business Central to take advantage of Business Central's improved functionality, modern user experience, integration, and AI capabilities.
What are the main advantages of migrating from GP to Business Central?
There will be no more finance series posts: Because Business Central is a fully online data processing system, transactions are directly integrated into General Ledger (GL), eliminating the need for Series posts.
Reporting Capabilities: When data is available in the cloud, enterprises can take full advantage of the analytics and reporting features in Dynamics Business Central. Integration with Power BI, which is built in Business Central and Azure, aids in storing big data and is well worth the cost.
Mobile Enterprises: With many devices and businesses operating "on the move," it adds a new work dimension to how and where work may be done and facilitates auto updates.
Increased Efficiency: By integrating Business Central with Power Platform, Customer Engagement, and Office 365, you can increase overall business efficiency.
Maintenance: Business Central lowers infrastructure management and maintenance expenses. Microsoft maintains the infrastructure, updates, monitoring, and administration as part of the subscription maintenance. Every update brings new functionality to Dynamics Business Central.
The Drawbacks of Delaying Dynamics GP Migration
Delaying an upgrade to Dynamics Business Central will result in the following:
Inadequate Security
Decreased Productivity
Expensive upgrades
Fewer functional improvements
Loss of support
Considerations for Migrating from Microsoft Dynamics GP to Dynamics Business Central
Are you ready to go from Dynamics GP to Business Central? These five stages will help minimize the process from becoming overwhelming, confusing, or frustrating.
1. Analyze Your Situation
How old is your present Dynamics GP software? What aspects did you consider while making your decision? Because a company's demands vary over time, it's common for an ERP solution chosen a decade ago to no longer perfectly meet current requirements.
Begin by documenting your current Dynamics Great Plains workflows, interviewing users, and analyzing indications such as customer feedback to understand what is and isn't working.
2. Establish the Goals and Roadmap for Your Organization
Without a strategy, implementing Dynamics Business Central might result in lost effort and wrong turns that affect your bottom line. Make a list of the milestones and goals you expect to achieve over the next three to five years so you can upgrade Dynamics GP to a solution that will assist you in meeting them.
3. Think about the Cloud
One of the primary reasons to move to Dynamics Business Central should be Microsoft's lack of plans to deliver a true-cloud version of Dynamics GP. Cloud benefits range from better security to fewer IT expenses, scalability, quicker updates, and 24/7 access from any device, anywhere.
4. The Advantages of Staying with Microsoft
Staying in the Microsoft family for your ERP needs provides several benefits, including:
Utilization of Microsoft Azure Cloud and other Microsoft technologies.
Outlook, Word, Excel, Teams, and SharePoint are fully integrated.
Tools for making the transition from one solution to another easier.
5. Know Your Options
It's crucial to analyze all your options, not just whether migrating to Dynamics Business Central is a good idea in the short term or in a more long-term strategic manner.
You can do nothing for now. This is tempting to enterprises with no time or resources to manage migration. If you go this way, keep in mind that the long-term expenditures of hardware and update-related fees, productivity losses from not shifting to the cloud, and ultimate lack of support from Dynamics GP specialists would be immensely detrimental to your firm.
By migrating your system to a real cloud-based solution like Dynamics Business Central, you could reduce future hardware expenditures, boost scalability, and better manage your ERP cash flow and ROI. Migrating to Business Central provides the most benefits to your organization.
Conclusion
Moving doesn't have to be an isolated decision. Working with a certified Microsoft Dynamics Business Central Partner can help you understand everything covered here, including determining where your business stands currently and how to consider the benefits of upgrading to Dynamics Business Central.
By migrating Dynamics Great Plains to Business Central in the cloud, your system will be managed by an experienced Dynamics 365 Implementation Partner with greater resources and knowledge to guarantee your solution meets your industry and operational needs. And, because Microsoft maintains Dynamics BC up to date, you'll be able to empower your employees to perform more in support of your organization's goals. That means no more pricey improvements; this will be the last upgrade you will ever make. Drop us a line to learn about Dynamics GP to Business Central migration.