How Microsoft Dynamics 365 facilitates Collaboration and Flexible work during COVID-19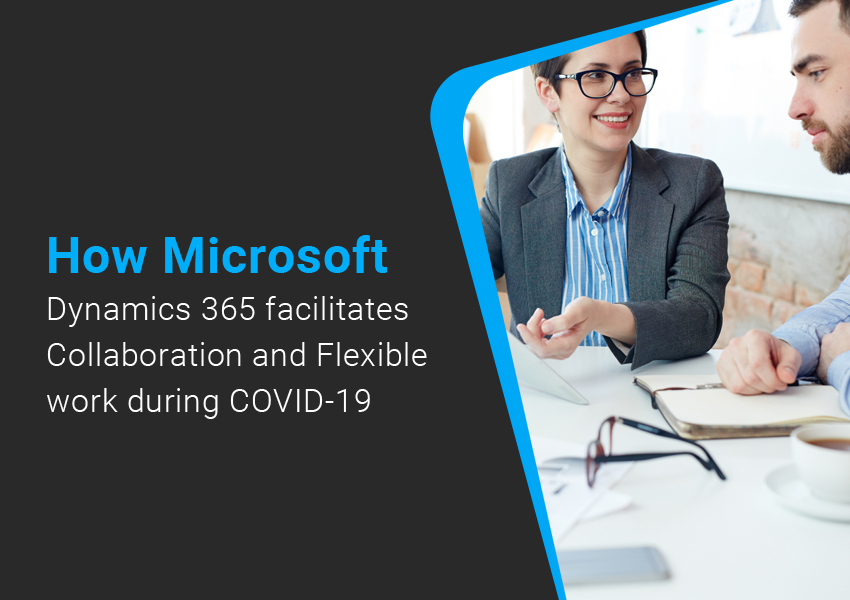 2020 is the year work, learning and innovation moved to the cloud. The COVID-19 pandemic has irreversibly transformed how we work. Flexible work has become the new norm.
As per a study conducted for Microsoft's Work Trend Index, more than 80% of managers expect flexible work from home policies after the pandemic subsides. And, over 70% of employees expect to take advantage of that.
Organizations need fluid, dynamic, and cloud-based solutions to stay on top of their game.
Microsoft is actively working to create refined experiences to help people succeed in this hybrid environment of work and learning. Forrester, one of the world's most prominent research and consulting firms, recently published a report naming Microsoft a pioneer in enterprise collaboration. Microsoft leads the industry as a collaboration provider in the wake of the current crisis.
The Sudden Surge in Remote Workers
With a major percentage of the global workforce working from home, the staff has become more flexible and geographically dispersed. With the rise of independent contractor collaboration, businesses must be equipped with comprehensive resources that enable efficient teamwork among all team members – regardless of whether they operate from the same open space as their colleagues or from a coworking space from a remote part of the world.
At DynamicsSmartz, the solutions we provide as a Microsoft Gold Partner address the evolving needs of today's modern workplace.
Businesses can now take advantage of newer avenues for collaboration, connectivity, and, productivity, thanks to rapid advancements in technology. Robust and cutting-edge technologies such as cloud-based application suites and platforms have enabled businesses to reduce computing costs and increase performance.
Microsoft Dynamics 365 is an outstanding example of such a solution. It serves as a one-stop solution for all CRM and ERP-related needs, helping businesses remain competitive and agile.
Dynamics 365, performs best when combined with complementary technologies to provide businesses the ultimate performance and experience. As a result, leading organizations have begun to use this platform in collaboration with Office 365 applications such as Word, Excel, and SharePoint to increase efficiency and productivity.
How does Collaboration help in the new way of working?
Microsoft Office 365 is a set of simple but robust business applications, that allow users to streamline data, consolidate sheets, secure key business information, and do much more all from a single platform.
Using Office 365 in isolation means companies waste valuable time and effort moving between different apps to perform even the most basic tasks, such as copying or deleting data. When dealing with many apps at once, this could lead to inefficiency and raise the risk of human error.
Using Office 365 in combination with Dynamics 365 eliminates the risk of error and inefficiency. Together, they form a robust tool that helps businesses unify processes and data across applications, resulting in improved efficiency, security, and reliable customer service.
It results in a scalable solution that helps companies compete more effectively.
What are the business benefits of integrating Dynamics 365 and Office 365?
1. Improved Customer Satisfaction
Customer relationships are crucial to any business as they guarantee repeat sales, which helps businesses to expand and grow.
The integration of Dynamics 365 and Office 365 acts as a catalyst in building meaningful relationships. It allows salespeople to view, collaborate, and act on customer feedback in a single window, and on the go.
When a salesperson receives an order request in a traditional environment, they must contact other departments to inquire about previous orders, available inventory, and additional details about the customer.
However, if they have access to Dynamics 365 along with Office 365, they can use the CRM to segment potential customers and gather all relevant information.
You can do all of this and more on the go, without a hitch – customer response times are shortened, increasing customer loyalty, driving more sales, and ultimately propelling the company forward.
2. Optimization of time and resources
Disparate, disconnected systems cause havoc on business operations as a lot of time is spent on switching between stand-alone apps. Microsoft Partners integrate D365 and Office 365 to eliminate the need for salespeople to go back and forth between applications to gather relevant data and save time on administrative tasks.
Using separate windows for various applications not only reduces productivity but can also bring entire businesses to a halt due to inefficiencies.
3. Promotes Collaboration and Communication
Most organizations still operate in silos which significantly hampers collaboration and productivity. Without a proper platform in place to promote knowledge exchange across departments, business productivity tends to decline.
Businesses can enhance organizational visibility with D365, as it offers single-window access to all relevant information across various departments. When the sales team has a good picture of what's going on within the business, they can speak with confidence to potential customers. Thanks to the one-window solution integration in Office 365, salespeople can provide key information, send quotations and update customers.
4. Simplified Reporting
Many business functions rely heavily on reporting. From sales to production and accounting, everyone is expected to evaluate results, gain insights, and report figures on time. Streamlining and automating these processes leads to reduced errors and increased efficiency.
This is another place where the two platforms' integration comes in handy. Salespeople can generate insightful reports from Dynamics 365 data in seconds, making reporting a breeze for everyone.
5. Faster User Adoption
Thanks to the integration of D365 and MS Office, sales teams can now access relevant information easily and quickly. Since everything is automated and at the user's disposal, getting the most out of this setup does not necessitate extensive training.
Teams can easily migrate to Microsoft BI and obtain comprehensive monthly reports to better understand overall performance and take appropriate measures. Furthermore, Microsoft BI-generated reports come with custom dashboards and vivid visuals that make it easier to access valuable insights from D365 data.
If you're looking for a way to combine Dynamics 365 and MS Office productivity tools, you would like to know what the Office 365 and D365 integration can do for your business.
Outlook
Microsoft Outlook can be seamlessly integrated with D365 to allow salespeople to manage their emails, make phone calls, and do much more from a single window. For remote access, the relevant data can also be made accessible offline.
Excel
Making informed decisions necessitates comparing important data in Excel. Users can avoid switching between different sheets with D365 integration with Excel. As a result, faster strategic decisions are made, which is critical for gaining a competitive advantage.
Power BI
Power BI is a robust business intelligence tool designed by Microsoft to promote a cohesive data culture. This analytics platform can be used in combination with Dynamics 365 to examine data in a variety of scenarios. This integration allows you to build custom dashboards and data visualizations, which can help the company gain valuable insights.
Teams
Teams is a collaboration tool developed by Microsoft. Microsoft Teams offers valuable information exchange and management capabilities for teams across projects, and when combined with D365, it makes it easier to monitor client meetings, conversation files, and even sales opportunities.
SharePoint
SharePoint assists in storage space management. Since consumer data is automatically linked to records, by using it with Dynamics 365, companies can become more efficient with storage spaces. SharePoint also allows you to interact and work on files with people outside your organization.
Winding up!
Both Microsoft Dynamics 365 and Office 365 are outstanding business solutions. Integrating the two systems significantly boosts business efficiency. That is why, to achieve better business outcomes, most leading Microsoft Partners advise combining the power of two. Call us for a quick consultation today.