What are the top criteria for ERP Software Evaluation?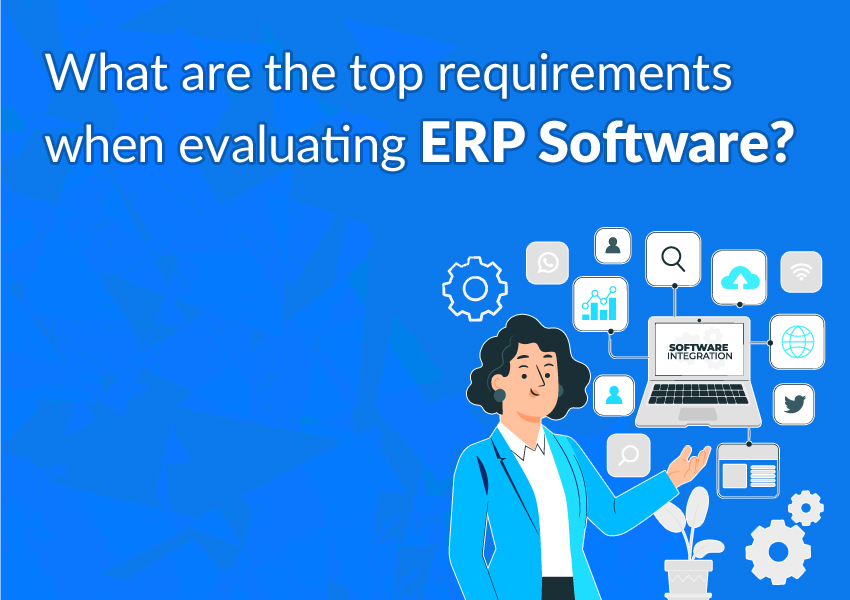 There is no denying that choosing a new ERP (enterprise resource planning) system is a big undertaking. There are several factors to consider, and there is a lot at stake for both the company's future success and the people managing the evaluation process. It is critical that the ERP software evaluation process demonstrates due diligence.
When a company implements an inadequate ERP solution, not only is the initial investment squandered but it also risks becoming tied to a solution that will create frustration for years to come and limit operational capabilities.
Increased ownership costs, service failures, and software that is simply not fit for purpose are all potential sources of frustration in these situations.
Before we deep dive into the top requirements when evaluating an ERP, let's take a look at what exactly is an Enterprise Resource Planning software?
What is an ERP Software?
ERP (Enterprise Resource Planning) software is a complex and reliable software system that affects a large part of your organization. ERP software solutions include a wide range of business functions, including commerce, human resources, analytics, supply chain, commercial sales, and much more.
The first step in choosing the right ERP solution is to create a comprehensive requirement gathering plan. Through improved operations, the optimum ERP software can elevate your business processes, eliminate inefficiencies, streamline internal communication, and eventually give better business outcomes and client interactions. Your ERP system will serve as the beating heart of your business, bringing many of your most important tools together in one place.
If your company is looking for an ERP system, having a comprehensive ERP software evaluation checklist is essential for long-term success.
To assist you in getting started, this blog covers important steps for creating an ERP software evaluation checklist as well as some questions to consider during the selection process.
1. The Functional Match for your Organization
This may appear quite straightforward, but the most significant (and time-consuming) component of the ERP selection process is determining how the functionality of ERP software products and services fits within your organization.
Facilitating internal talks to define your business requirements for ERP and outlining the functional areas to solve is one of the most beneficial things you can do during a selection process. The following are some key questions that can help shape these discussions:
What about your present system is outdated? Why are you thinking about switching to a new ERP system?
What works well with your current business system?
What manual processes do you think you could automate?
What areas of your business do you lack visibility in, or where do you struggle to get solid business reporting?
What other systems should be linked to the ERP?
A thorough set of needs for a new ERP software solution should be the end result. The list should be prioritized and agreed upon by key executives at the company, with IT and the rest of the executive team on board.
2. Ensure that Senior Management is onboard
Without continual buy-in from senior executives, software that has been chosen may face hurdles and skepticism. While much of the solution will be implemented at the lower levels of the organization, the ultimate evaluators of success are generally top management.
Involving higher management in the decision process can assist in ensuring that the solution chosen is maintained. Executives may not need to know every element of the solution, but knowing a few key points will help them make better decisions.
3. Make a Project Roadmap
A clear roadmap can help stakeholders understand when the rollout is expected, the costs involved, and when benefits and ROI can be expected. This smoothing of the transition will entail anticipating and documenting several key variables, such as the transition steps and the processes and functional roles that will be impacted by the anticipated changes.
4. Take into account the Total Cost of Ownership (TCO)
There are extra costs to consider in addition to the initial outlay before getting a clear picture of the cost. Future updates, hardware needs, and implementation expenses, as well as training and consulting fees, are all factors to consider if you intend to hire outside help. These factors can go a long way toward demonstrating your diligence and thorough comprehension of the problem at hand.
5. Examine your Deployment Options
The system you choose must fit the way your company does business, and deployment choices can be a major consideration when choosing an ERP partner. Cloud deployments, for example, are maturing and becoming more popular, and you may want to know what your alternatives are today and in the future. Partners who offer more options, such as hybrid deployments in the cloud and on-premises, can help your company's operations change and adapt to the way you do business.
6. Identifying Your ERP Functionality Needs.
It's critical to figure out which features and modules you'll need in your new ERP system and which you won't. A typical ERP solution will include a number of essential modules, including:
Accounting and financial management
Purchasing
Inventory and order management
Project management
Supply chain management
Customer relationship management
Human resources management
Business intelligence and reporting
If your company isn't in the manufacturing or distribution area, for example, those functionalities aren't necessary. Your needs will vary depending on the nature of your firm, so you'll need to figure out what features you'll require right away.
Certain businesses demand unique functionality or adjustments; in these circumstances, it may be better to seek an ERP solution that has been shown to be dependable and includes industry-specific capabilities.
7. Decide what kind of ERP Partner you want to work with
The success of your ERP project will rely heavily on your ERP partner. Consider the type of partner you'd like to work with while gathering requirements for the type of software you'll need.
This is critical because any ERP software you choose will almost certainly not be able to handle everything you need – process vs. functionality issues may arise. A good partner will work with you to close these gaps so that you may achieve the desired outcome.
Conclusion
For every business, selecting an ERP solution can be exciting, but it can also be daunting and difficult to select the right platform and successfully deal with the challenges. If you make a mistake, your ERP system could end up being a transient and costly system that your company outgrows. Therefore, before investing in ERP, make a list of criteria and put them into context for your business to find the perfect fit for your organization. To know more about how to evaluate the right ERP solution, drop us a line.