Top Things to Consider when selecting your ERP Implementation Partner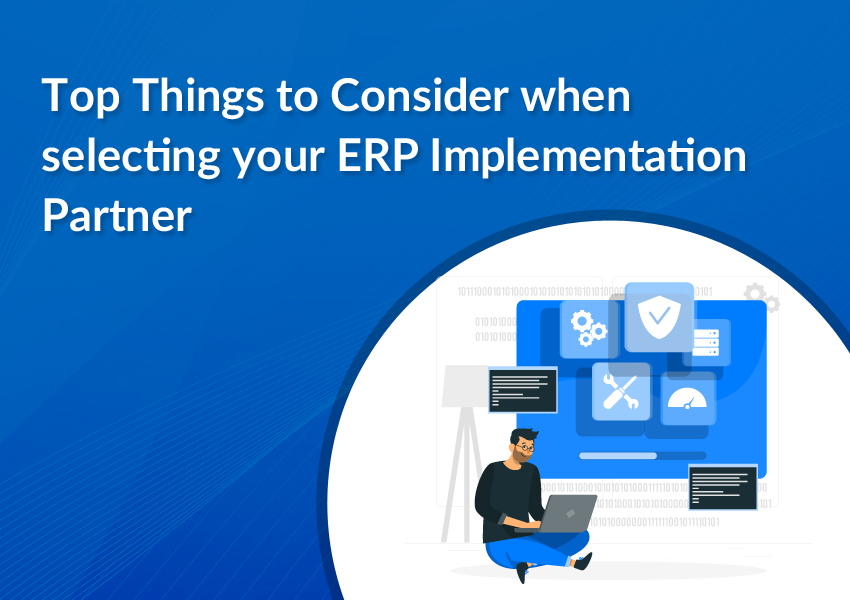 Enterprise Resource Planning (ERP) software is designed to simplify and streamline your business processes. However, without the right implementation partner, you may not be able to reap the full benefits of the ERP solution.
ERP systems have a lot of moving components and require consistent access to your company's vital data. Hence, it is important to work with an ERP implementation partner with a well-defined process. The right ERP Partner will lay out their implementation strategy and will answer any questions you have regarding the process.
When it comes to an ERP implementation partner, experience counts. Choose someone who is familiar with the ERP system you're looking to implement. Make sure to ask essential questions throughout your initial sales and discovery meetings.
Why Choose an Implementation Partner?
ERP software is a complex system. Most ERP software providers recommend working with an experienced partner to ensure the system meets expectations due to the sheer magnitude of implementations.
ERP implementation is a challenging undertaking, which, once completed, will have an impact on almost every part of your business. ERP partners should be fully invested in the success of your project and committed to a long-term partnership.
To ensure successful ERP software implementations, DynamicsSmartz follows a specific implementation methodology. Our thorough process helps you get the most out of your ERP software experience, from the research phase to implementation and support.
We work alongside you to gain a thorough understanding of your business, present systems, objectives, and timelines. An initial phase of implementation aids us in determining the optimal solution for increasing your business efficiencies and profits.
Following are a few crucial factors to consider while choosing an ERP Implementation Partner :
1. Partner Competency
When selecting a partner, make sure that the partner's competencies match your business requirements. It's crucial that your partner understands your challenges and possess the necessary resources to build and implement a solution. Customers should choose a partner with a proven track record of successfully implementing ERP systems with the right resources.
2. Industry Experience
One of the most essential criteria when selecting an implementation partner is the domain experience of the partner. Having a partner who understands your industry allows for a successful and quick implementation.
Partner must have a thorough understanding of your company's operations and how the new system will help you meet your goals and business objectives. Your partner will be better able to recommend relevant process improvements and design solutions if they have a better understanding of your industry's best practices and problem areas.
3. Capabilities for Customization and Integration
Every firm has its own processes, and deploying an out-of-the-box ERP solution isn't always enough to meet all of them. As a result, customers want customizations in order to make their ERP solution suitable for use. Always go with a partner who can customize the ERP solution and has experience integrating it with other third-party services.
4. Service Offerings
You should seek out a partner with a diverse service offering and experience working with the entire Microsoft stack. Your partner selection criteria should not just be focused on your current needs, but also on your long-term goals. This will provide you the freedom to develop and test new solutions and processes whenever you want.
5. Participation and Involvement
Some partners actively participate in management consulting, improving user adoption, and providing end-user training, while others assign these responsibilities to the clients themselves. Select a partner who can assist and guide you in streamlining your processes, as well as train your personnel on how to use them.
6. Support and Communication
A good implementation process requires prompt responsiveness and transparency. Regular communication not only creates trust and preserves transparency, but also promotes a healthy partnership. Choose a partner who can respond to your questions quickly and provide trustworthy customer service.
7. Relationship with Microsoft
The credibility of a partner's expertise is bolstered by their partnership with Microsoft. Microsoft has established different levels based on the competencies of the partners (Microsoft Gold Partner, Silver Partner, Inner Circle, Partner of the region, etc.). DynamicsSmartz is a Microsoft certified Gold Partner; we can assist you in making your ERP implementation journey a breeze
8. Take a Long-Term Perspective
Including your implementation partner as a long-term member of your team can help you achieve long-term success. If your ERP partner is committed to a long-term engagement, you will realize the benefits of a successful ERP implementation and a technological partnership that will serve you for many years to come.
Select the right Microsoft Dynamics Partner
If you choose the right Dynamics 365 partner, you'll be able to reap the benefits of in-depth training, smooth deployment, and great support and advice, long after the go-live date. Your partner will keep your digital transformation project on pace and on budget to meet critical business objectives.
Keep in mind that choosing a Microsoft Dynamics 365 partner is a long-term commitment. Being stuck in a terrible alliance can be aggravating, costly, and lead to an ERP failure.
If you are contemplating implementing or upgrading to a Microsoft Dynamics 365 solution, DynamicsSmartz can help you make a seamless transition. We use robust solutions like Dynamics 365 Business Central to assist small and mid-sized businesses to modernize their business operations.
With over two decades of experience, our team of seasoned specialists delve deep into the nitty-gritty of your business processes and principles, collaborating with you to produce a plan that is tailored to your specific needs. We believe in long-term partnerships and are here to help you guide and support your ERP implementation. To learn more about how we can help you meet your goals, drop us a line.