Top Benefits of Migrating Dynamics GP to Business Central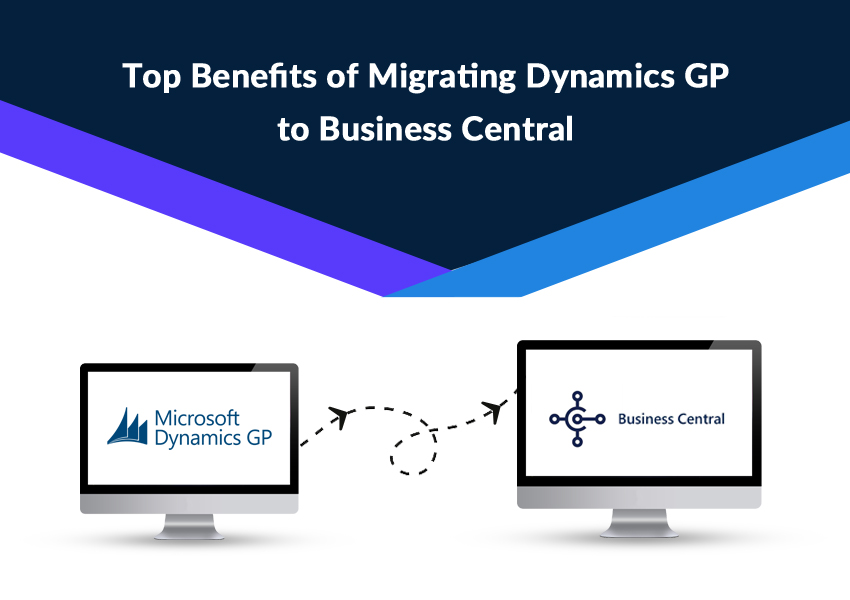 Do you make the most of your Dynamics GP solution? Although switching ERP systems might be challenging, moving from Dynamics GP to Microsoft Dynamics Business Central can have significant advantages for your company.
If your company is still using Microsoft Dynamics GP, you might be considering whether it's time to start thinking about migrating to Business Central.
The fact of the matter is, if your business is still using Dynamics GP on-premises, it can be costing you more than you think.
According to a 2020 Forrester Total Economic Report, businesses that switched to the cloud decreased their total cost of ownership by 10.25% and saved almost 40% on administrative expenses. You might drastically save costs and take advantage of a variety of other business benefits by switching to a cloud-based solution like Business Central.
Business Benefits of Migrating Dynamics GP to Business Central
1. Advanced Integrations
Popular third-party cloud applications, such as Office 365, Microsoft 365, and Microsoft Power Platform, are completely integrated with Dynamics Business Central. If a planned application doesn't have integration, users might certainly create one using Business Central's development environment.
Other Dynamics 365 applications, including Sales, Customer Service, Human Resources, and others, can be seamlessly integrated with Dynamics BC. However, specialist personnel, customized implementation, and additional expenditures are required if Power BI or CRM integration with Dynamics GP is needed.
2. Exceptional Security
SMEs don't need to worry about maintaining server software updates or other security issues since Microsoft takes care of everything. Modern data centers owned and operated by Microsoft house sensitive business data. Additionally, it uses backup encryption and transparent data encryption to encrypt the clients' data.
3. Robust Reporting
Users can combine data from many sources using the built-in Power BI dashboards that are available with Microsoft Dynamics Business Central. Instead of relying on other resources, organizations can monitor their personalized dashboards, analyze data, and generate reports.
4. Microsoft will stop providing support for Dynamics GP by 2028.
By January 11, 2028, Microsoft said it would no longer support any Dynamics Great Plains versions. Thus, updates will no longer be provided for any version of Dynamics GP released after 2012. If you continue to use this software, now is the ideal time to switch to Dynamics Business Central so that you won't miss out on the newest improvements.
5. Important Upgrades
Upgrades are one reason among many for switching from Dynamics GP to Business Central. With on-premises solutions, upgrades are more expensive and time-consuming, especially if the present solution has multiple versions behind it. Microsoft continuously updates Dynamics Business Central online with new features, bug fixes, and upgrades because it is a cloud-based solution. As a cloud ERP solution, you can anticipate routine updates that take little time and money to complete.
6. Increased Functionality
When compared to GP and Multiple Entities, Purchase Orders, and Warehouse Management, Dynamics BC offers more flexibility with its basic financials. Users can additionally gain features with a premium license, such as integrated budget functionality and service payroll through applications.
7. Cost-saving Advantages
After Microsoft GP is discontinued, fewer Microsoft Partners, if any at all, will continue to maintain it, raising the cost of support. Therefore, switching from Microsoft Dynamics GP to Business Central is worthwhile. By doing so, you'll benefit from the cost savings that come with having a single provider take care of all your needs.
8. Complete integration with the Microsoft 365 Platform
If you already have an Office 365 subscription, you've probably noticed how smoothly everything works together with Microsoft's platform. Well, Dynamics Business Central does just that. You can access hundreds of tools and services that help you work more efficiently by effortlessly connecting with Office 365.
9. New Capabilities
Some amazing new capabilities have been added to Dynamics Business Central in the latest release. You can import and export data from other sources, for instance, in addition to syncing data between other platforms. This involves importing information from numerous sources, such as Salesforce, QuickBooks Online, Excel, and Google Sheets. The ability to export data to numerous locations is also supported, including Salesforce, QuickBooks, Xero, Google Drive, Dropbox, Box, and OneDrive.
10. Boost your flexibility and ability to stay up to date
Boost the adaptability, scalability, and speedy deployment of new capabilities for your company. If you are using outdated, unsupported systems, you run the risk of breaking some laws. The cloud helps you:
Give your users access to the newest productivity and mobility tools.
Instead of forcing customers to hop between different point solutions, offer an all-in-one solution with a full range of capabilities.
Employees can be empowered by leveraging data to drive insights and decision-making.
Conclusion
While Microsoft will continue to support GP, it has become essential for businesses to accelerate digital transformation and streamline business efficiency, which Business Central, among other things, makes possible. Microsoft will still support GP, but with the rapidly evolving business landscape and technological advances, these are now business imperatives. DynamicsSmartz can assist you in a smooth transition to Dynamics Business Central. For more information on Dynamics GP to Business Central migration, drop us a line.