Dynamics Business Central vs Epicor: What are the key differences?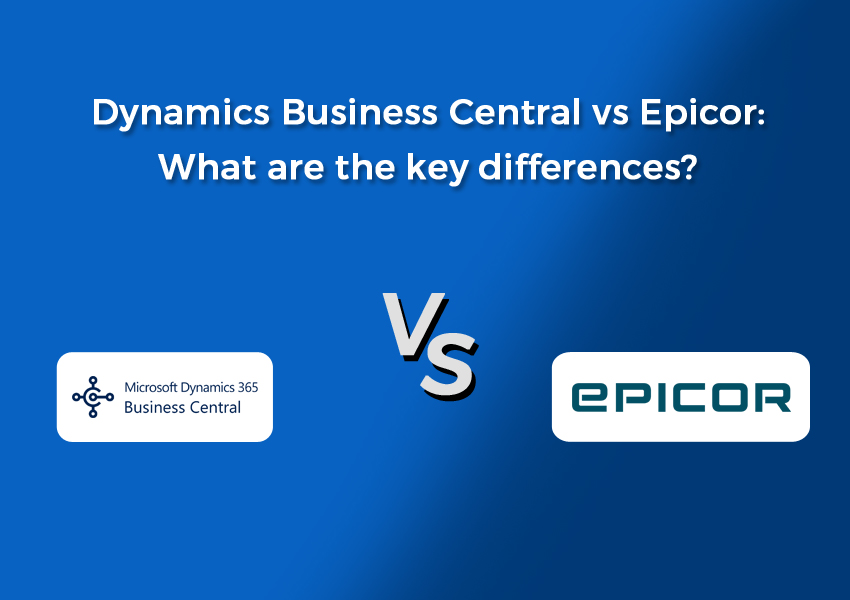 In the current global economy, it has become imperative to examine any and all tools that can provide your company with a competitive advantage. Regardless of size, the majority of businesses cannot afford to operate without enterprise resource planning (ERP) financial management. All of your company's financials, reporting, operations, and more are managed and integrated by the software in an effortless manner.
Organizational business practices have seen a significant transformation over the past few years. In order to support rapid business growth in a highly competitive environment, the new wave of digital innovation requires technology that can keep up with the latest trends.
For better business management, companies must assess and enhance their software investments, beginning with their core ERP system. Fortunately, ERP systems today are growing better and better at bringing all your business processes together to collaborate successfully and enabling you to make data-driven decisions to boost efficiency and stay ahead of the competition.
With a multitude of options, picking the best ERP software is harder said than done for anyone wishing to implement a new ERP or upgrading their legacy system to a modern ERP system. The choices include major ERP market leaders like Dynamics 365 Business Central, SAP, or Oracle, as well as relatively new entrants like Acumatica, Sage Intacct, etc. Along with choosing an ERP vendor, you must also decide on the best deployment strategy (Cloud or On-Premise), the required modules, pricing schemes, and other factors.
One of the first steps in selecting the best ERP software for your company is comparing the features and capabilities of several ERP solutions and assessing them against your business needs and expectations.
In this blog, we will compare Business Central vs Epicor and find out how Microsoft's well-known ERP stacks up against Epicor, which was recently renamed Kinetic.
Dynamics 365 Business Central vs Epicor (Kinetic)
Both Dynamics 365 and Epicor are regarded as industry leaders, especially in terms of capability. With a few small variations, they provide functionality that is similar. They differ, nonetheless, in a few ways, including price, support options, usability, and implementation. Let's examine each's advantages and disadvantages in more detail.
Overview of Microsoft Dynamics 365 Business Central
One of the key players in the ERP market nowadays is Microsoft Dynamics 365 Business Central. The cloud-based solution which is geared toward small and medium-sized businesses (SMBs) combines capabilities from traditional ERP systems with CRM to manage specific business processes. Its emphasis is on key groups within a business to offer the greatest flexibility and extensibility. It is well regarded for its easy customization, complete integration capabilities, and flexible payment structure.
Overview of Epicor (Kinetic)
Epicor's software, in contrast to Dynamics 365, is an industry-specific, growth-focused ERP system geared toward mid-size and big businesses. It's a whole end-to-end cloud-based system with simple customization options for reporting and data storage. With a network of limited partners, it is well-positioned for the manufacturing industry.
Comparison Feature Set Business Central vs Epicor
Let's look at how Dynamics 365 vs Epicor stack up against one another in several key areas.
Overall Performance
Dynamics 365 Business Central outperforms Epicor in head-to-head comparisons in the fundamental categories of usability, customer support, features, cost-effectiveness, and the likelihood of referral.
Implementation
Due to the drawn-out process and subpar internal consulting, almost all reviews for Epicor are unfavorable. Over 50% of consumers feel that navigation is time-consuming and unintuitive, which is another low point for support. Whereas, Business Central normally takes a few weeks to deploy.
Customization
One of Business Central's key advantages is its ability to be customized. It is simple to integrate with both third-party software and Microsoft products like Word, Excel, and Outlook. The software is user-friendly and can be customized and improved to meet the specific demands of a user.
With the new Kinetic design, Epicor is also adaptable, enabling users to change interface elements to suit their preferences. The company's recommendations must be followed for Epicor's setup to yield optimum results.
Pricing
The licensing fee for Business Central is $70 per user per month, and add-ons are offered. Contracts are handled through Microsoft Partners. Pricing information for Epicor and its partners is not made available to the public, although reports have it that licensing costs $175 per user each month. Additional fees are associated with system updates, feature additions, and maintenance.
Why Choose Microsoft Dynamics 365 Business Central
Seamless Integration with Microsoft Products: Increased productivity is brought on by close integration with LinkedIn and Microsoft Office 365. Customizations are made simple because of their integrations with the Microsoft Power Platform for bespoke additions.
With integrated Microsoft Power BI, Cortana Intelligence, and Azure Machine Learning, Dynamics 365 features some of the best analytics tools for assisting companies in using data to make better decisions.
Microsoft's suite of business programs all share a consistent user interface, which increases efficiency and facilitates end-user adoption with minimal training.
Offers users the opportunity to start with what they want and expand at their own speed with their purpose-built apps.
A large Partner Community.
Conclusion
Which ERP you should use ultimately depends on the unique needs of your business. Both Dynamics 365 and Epicor provide excellent functionality, although SMBs frequently prefer Business Central. Microsoft Dynamics 365 Business Central is a fantastic choice for modernizing your current accounting system because it integrates effortlessly with a variety of Microsoft products, including Office 365, Azure, and other suite products. To explore Dynamics Business Central in detail, request a personalized demo.