Dynamics 365 Business Central vs SAP Business One: Which is better?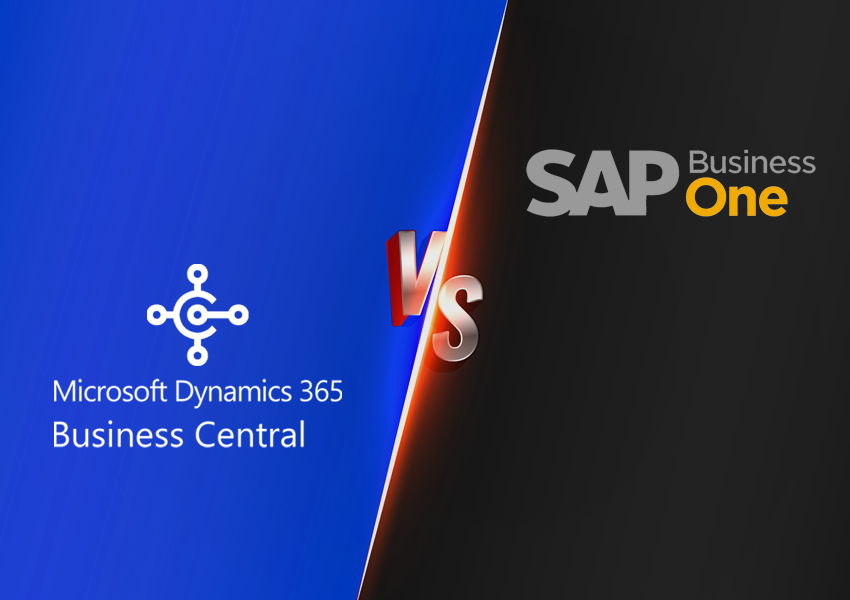 Investing in a cloud-based ERP system is an excellent place to start. ERP software enables you to manage and integrate all aspects of your business, including financials, operations, planning, reporting, and more, into a single system.
Today's ERP market leaders include Microsoft Dynamics 365 Business Central and SAP Business One. While both systems are geared toward SMBs, Business Central tends to outperform in areas such as finance, human resources, and operations management.
Examine the key differences between Microsoft Dynamics 365 Business Central and SAP Business One before choosing an ERP for your company. Let's look at it in more detail.
Microsoft Dynamics 365 Business Central vs. SAP Business One
Microsoft Dynamics 365 Business Central (previously Dynamics NAV) is a cloud-first ERP solution from Microsoft that focuses heavily on sophisticated UX / UI (User Experience) (User Interface). D365 BC is preferred by businesses of all sizes and across a wide variety of industries because of its intelligent ability to support a wider choice of organizational models.
SAP Business One is an ERP solution developed and designed by SAP SE that includes simple tools, interfaces, and capabilities with a traditional look and feel. SAP B1 is primarily aimed at small and medium-sized businesses, as its functionalities are specifically designed to meet their needs.
Features of Business Central and SAP Business One
Productivity
Dynamics 365 Business Central enables flexible manufacturing operation automation, making things easier while also providing visibility into production planning and cost management.
SAP Business One is effective at managing inventory, however, it is often regarded as overly complex and not built for future expansion.
Integrations
Other Microsoft products, such as Office 365, Azure, Outlook, and others, can be seamlessly integrated with Dynamics 365 Business Central.
Third-party apps can be integrated with SAP Business One, although each integration may require a unique tool.
Usability
Business Central delivers a top-notch consumer experience. It also delivers full insight across customer support, distribution, sales, and marketing, as well as real-time, rapid, and accurate views of the data you need to make better decisions.
SAP B1 includes debugging problems, limited human resources management capabilities, and less powerful dashboard and cockpit features than Business Central.
Licensing and Pricing
Microsoft Dynamics 365 Business Central
The pricing is quite obvious in this scenario and can be checked on the official website. It is licensed per user/month on three distinct tiers in its cloud mode:
Team Member: From $8 per user/month
Essentials: From $70 per user/month
Premium: From $100 per user/month
SAP Business One
SAP Business One costs $94 USD per user per month as a subscription for a Professional License and $54 USD per user per month as a subscription for a Limited License. SAP does not have a price transparency policy, and there is no pricing information on the SAP website. The prices displayed are estimates; if you want precise pricing, you must contact a partner and get a quote.
Dynamics 365 Business Central vs SAP B1
| | | |
| --- | --- | --- |
| Feature | D365 Business Central | SAP B1 |
| User-Friendliness | Several configurable tools and features with a user-friendly, web-based interface. | Standardized and traditional features with a somewhat difficult user interface. |
| Implementation and Integration | It syncs seamlessly with other Microsoft apps and is also compatible with third-party apps. | Users must rely on third-party and SAP applications largely. |
| Suitable for | A wide range of business sizes and domains | Small and Mid-size Enterprises |
| Customer Service | Complete support that includes training | Support that does not include training |
| Application Add-Ons | More than 750 | Around 40 |
| Pricing Alternatives | Monthly and one-time payment options are available, as well as quote-based pricing. | Pricing is primarily quote-based. |
| Platform Support | Desktop, Mobile, Tablets, and Cloud | Desktop, Mobile, Tablets, and Cloud |
Implementation Options
SAP Business One and Dynamics 365 Business Central can be deployed on-premise or in the cloud and are only available through a channel of approved partners.
After a customer buys B1, SAP gives them access to a help portal where they can learn how to configure, implement, and upgrade the software. After logging into this help portal, users can modify rights, generate reports, and extend the software using add-ons.
With Dynamics 365 Business Central, deployment and support are only done by a Dynamics partner, who provides completely personalized service and assists you in the day-to-day management of a complex project.
Depending on the business
If your company grows, it's highly likely that it will outgrow SAP Business One, forcing you to either shift to other SAP solutions with more functionality and thus higher costs or switch to a completely different solution.
Companies in a variety of sectors and industries use Business Central, including IT and medical services, as well as food services and distribution. It's built to scale, so it'll be useful when your firm expands globally. Business Central is a more stable platform that can support a wider diversity of business types.
Deployment and Adoption
In terms of implementation, SAP B1 offers less freedom. Business One implementations must have a minimum of 10 core modules, with no option to remove them if the functionality they provide is not in your company's best interests.
Business Central, on the other hand, allows you to pick and select individual modules to create a bespoke solution that fits your business exactly.
Customizations
Both ERPs can interact with third-party applications and make custom-made customizations. It's also vital to examine the number of developed solutions accessible while evaluating these options.
Since company needs are rarely unique, Microsoft Business Central can offer apps for Business Central that increase or extend its capabilities for certain industries and businesses thanks to its large customer and partner base. Working on a solution that is tailored to your company's needs prevents problems in the future, especially because it is focused from the outset on staff productivity and processes.
After only a few years on the market, Microsoft Dynamics 365 Business Central has a large number of apps. In its App source Marketplace, the solution has over 550 complementary solutions in the form of apps.
In addition to these bespoke settings, there are possibilities for easy integration and synchronization with a wide range of other Microsoft products. Naturally, Microsoft products like Business Central and Office 365 are easier to integrate. Also, using APIs, Webservices, file sharing, and other means, you can interact seamlessly with third-party products.
SAP does not currently match these figures: App center offers 73 Business One applications. Today, this thinking is more focused on the client's specific development. While the solution will be customized in any case, the hidden cost of maintaining customizations overtime must be addressed.
Improvements and Scalability
Version updates are performed automatically in both programs because they work in the cloud. You'll always be working with the most recent version of the software.
Dynamics 365 Business Central is compatible with a wide range of countries and languages, and, as previously stated, helps your organization to scale effortlessly. Its capacity to execute as well as its graphical interface provides an excellent user experience.
Microsoft is also a forerunner in integrating new technologies like AI, mixed reality, IoT, and a myriad of other Azure-developed capabilities into its ERP.
Functionality
SAP B1 is primarily employed by enterprises that focus on people and services; nonetheless, its support for more complicated use cases involving products faces some challenges.
Business Central includes a CRM as part of its ERP capabilities, however for scenarios where more specific sales capability is required, native connectivity with Dynamics 365 for Sales, which is a separate licensing option, is available.
Microsoft's operational map is extensive, and its functionality and native connection with the Azure platform, Power Platform, and the rest of the Microsoft suite of tools enable it to achieve improved functionality for a variety of business cases.
Business Central serves a variety of industries, including medical care, retail, manufacturing, distribution, food services, and others. The ability to scale and assist enterprises is greatly improved by implementing a better platform.
Winding Up
The ERP solution you select is determined by the unique needs of your business. Both Business Central and SAP B1 have excellent features, but for SMBs looking for scalability and expansion, Business Central is often the better choice.
SAP Business One falls short of Microsoft Dynamics 365 Business Central. D365 BC provides SMBs and large enterprises with flexibility, scalability, and lower deployment and ownership costs.
Because it connects easily with other Microsoft products your firm already uses, Business Central could be the ideal solution for bringing together your business applications, productivity, communication, and collaboration tools.
To discover more about how Microsoft Dynamics 365 Business Central can help your company, contact us today.