Domo vs Power BI: Which is the Right BI Solution?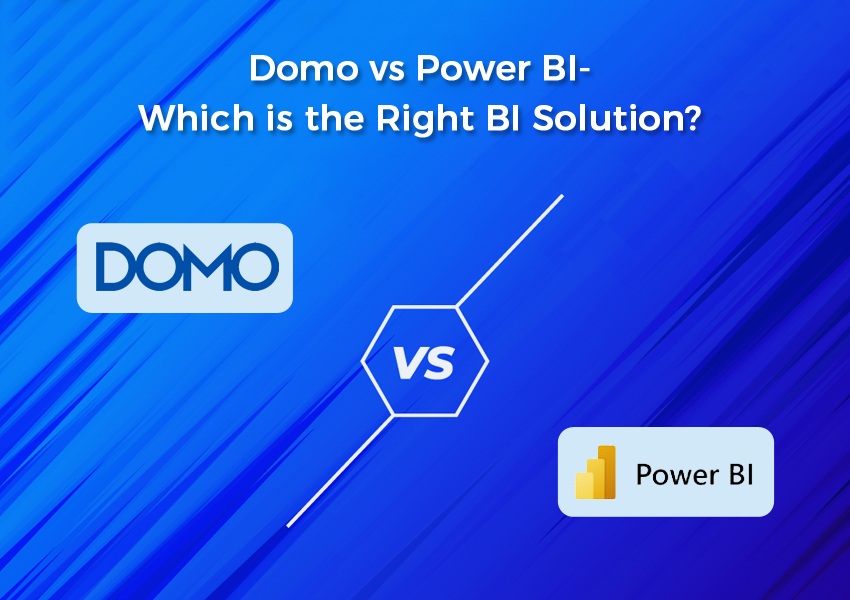 What exactly is a Business Intelligence Tool?
Before talking about Domo vs Power BI in more detail, it is crucial to first understand how business intelligence tools can benefit your firm.
Business Intelligence is a component of Data Analytics. BI uses data to support businesses in making decisions based on historical outcomes. Business intelligence is frequently referred to as descriptive analytics since it focuses on the past and describes prior events inside the organization.
The key advantage of business intelligence solutions like ( Domo vs Power BI) is that they compile the data into a single visual dashboard. These dashboards can be sent to management teams as reports by businesses.
Predictive analytics features are now common in many BI applications, which have evolved beyond the simple visual dashboards of the past. Based on previous occurrences and artificial intelligence, predictive analytics forecasts future events for an organization. The business intelligence solution's predictive capability grows as more data is sent to it by enterprises.
Executives can choose the best course of action by considering the organization's story. As BI tools advance, businesses discover new ways to support executives in making better decisions. This is known as Prescriptive analytics.
Prescriptive analytics considers the potential results of each recommendation before presenting what the computer deems to be the best outcome. Based on descriptive, predictive, and prescriptive analytics, BI tools assist organizations in making better decisions.
Advantages of Business Intelligence Tools
These tools compile all relevant information.
Their valid self-service analytics programs grant access to the data.
Manual tasks are eliminated, which lowers the cost of doing business.
Microsoft Power BI
Microsoft Power BI is a robust analytics and data visualization tool that enables users to connect to many data sources, generate reports, and create dashboards.
Although Power BI started off as an add-on for Microsoft Excel, it has since evolved into a commanding product that serves the needs of all businesses, from start-ups to global conglomerates.
As a result, it offers seamless integration with Microsoft Office tools, strong data preparation and data querying capabilities, a drag-and-drop data visualization producer, and a perpetually free edition.
This makes it possible to import product data, create dashboards, and then combine dashboards from several Excel sheets.
In a nutshell, those who are already familiar with Microsoft products like Office 365, Azure, and Excel should strongly consider Power BI. In the end, it is competitively priced for SMBs and startups who need data visualization but don't have a lot of extra capital.
Key Features Microsoft Power BI
The platform has elements like:
Greater flexibility in insights
Excel, Teams, SharePoint, and other SaaS integration features
Less expensive
Built-in and bespoke data connectors
Company-level security and data loss restriction capabilities
No or little technical expertise required
Automatic data preparation and reporting procedures
Built-in AI abilities
Domo
Domo's cutting-edge BI platform will assist you in integrating, interpreting, and using data to manage smart decisions throughout your organization.
It can aggregate information from more than 1,000 different sources. Therefore, businesses can create workflows and applications using the data they have collected to enhance decision-making.
Additionally, this application enables real-time goal tracking and the ability to change performance metrics.
Only certain persons can see particular data thanks to the simplicity with which security policies, groups, and customized data permissions can be created. Domo is therefore incredibly feature-rich but simple to use.
Key Features of Domo
The platform has elements like:
Dashboard for ad hoc reporting and benchmarking
Key performance indicators
Performance metrics
Analysis of profitability using predictive analytics
Strategic planning
Trend and problem indicators
Visual analytics
When we compare the customer bases of Domo and Microsoft Power BI, Domo has 2484 customers, whereas Power BI has 57389. With 57389 customers, Microsoft Power BI is ranked second in the field of data visualization, whereas Domo is ranked 28th with 2484 customers.
In the Data Visualization segment, Domo has a 0.68 percent market share, whereas Microsoft Power BI has a 15.72 percent market share.
Domo is a powerful BI tool. Support for numerous data sources, various chart types, and a fantastic social media integration tool makes it stand out. However, Domo is far more expensive and more difficult to learn and use than Power BI (in terms of per-user licensing costs).
Should you pick Microsoft Power BI?
When selecting the best BI tool for your company, you should consider market research and product features to determine whether the tool meets your company's needs.
Power BI offers a raft of benefits. Power BI has robust capabilities and it was created for collaborative stakeholders, not just data analysts. As a result, the interface places a greater emphasis on drag-and-drop tools to support the team in improving their visualizations.
But Power BI is more than simply a tool for reporting or visualizing data. In the long run, automating routine summaries will save you time if you have a solid data model in place, which will enable you to swiftly create sustainable reports.
In Domo vs Power BI, Power BI takes the lead in most segments. If you approach it from a business perspective, having a structure in place can help you make decisions more quickly. Instead of waiting for summaries of monthly reports, it makes it possible for people to easily see trends on a daily basis. It also features a powerful backend that allows you to edit and organize the data however you choose. To explore Power BI in greater detail, request a personalized demo.