Diving into the Update 17.1 for Microsoft Dynamics 365 Business Central 2020 Release Wave 2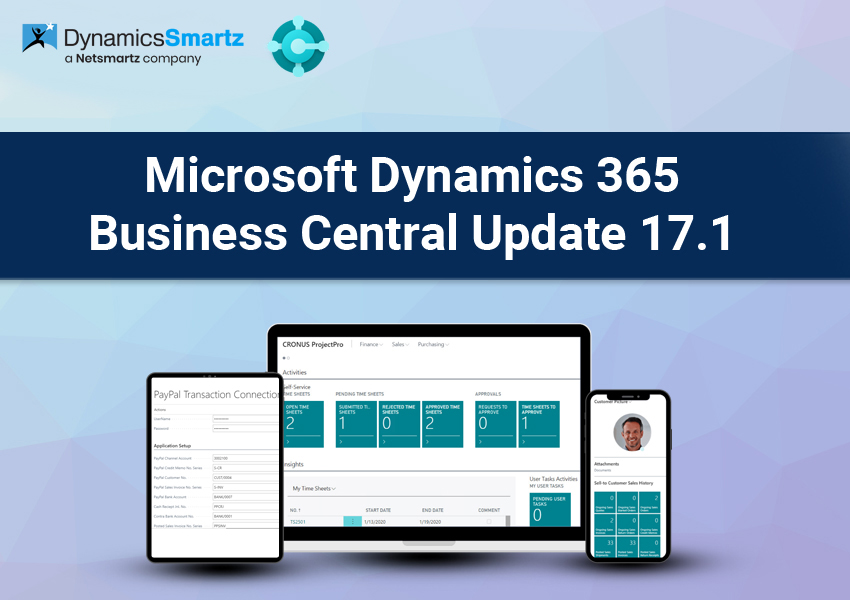 Over the years, Microsoft Dynamics has created innovative business solutions to serve various industries. One such legacy solution that has completely redefined the idea of all-in-one business management solution was the introduction of Microsoft Dynamics 365 Business Central.
Dynamics Business Central, as a product, has evolved every year making it more reliable and productivity focused solution. It has managed to gain a great reputation for driving business efficiency with streamlined workflows throughout each version.
To help keep our users updated on the latest product release features, here we bring you a detailed guide to update to 17.1 for Microsoft Dynamics 365 Business Central release Wave 2. Before we proceed with the upgraded feature list, make sure you don't forget to upgrade your license as well, as installing all the hotfixes and gaining access to new objects requires an upgraded license.
Now let us quickly jump to the updates that are intended for existing customers who are running Microsoft Dynamics 365 Business Central and are planning to upgrade to Microsoft Dynamics 365 Business Central 2020 Release Wave 2:
Administration
Now users can quickly rename the user-defined permission set without renaming the original user permission set which otherwise would have left phantom entries in user permission sets.
Users no longer need to add namespaces as XML Buffer.
When using the "Next" key, base calendar does not change.
Cash Management
The incorrect entries in the remittance advice journal are fixed.
The users will no longer see incorrect entries in the vendor pre-payment journal report when using single document journal number.
Finance
The finance feature now prevents sending intercompany documents multiple times when the Auto Send field is set to True".
System no longer causes errors due to incorrect posting data balance.
The recent update has resolved missing financial report issues.
The document number field is no longer sequential when transferring lines from the inter company journal to general journal in bank reconciliation page.
The invoice rounding line is now automatically added to the issued reminder, even if deleted from the reminder.
The tooltip on the Box No. field is now fixed.
The total excluding VAT calculation on print test report option is now fixed to include interest amount in reminder.
No more use of payment method code after being deleted at service order level.
Using Sales Credit Memo account from general posting setup no longer takes you to unfiltered list G/L accounts or filtered view when checking on Sales Account field.
Document no field is removed from customer detailed aging report.
Incorrect Blocked field on customer card page is fixed.
Applying actions now allows a negative ledger entry to display positive remaining amount.
Users can now filter G/L VAT Reconciliation report to VAT statement name field.
No more "Something went wrong" error message to prevent editing workflow step in Incoming Document Approval workflow.
Users can now check for VAT Registration duplicity using the VAT Registration Check service.
G/L account look up can now be managed in the General Posting setup.
No more sudden G/L account category value changes.
Users can now see numbers in the decimal place during the analysis by dimensions.
Y in the date filter will be functional.
G/L VAT Reconciliation report can be filtered to VAT statement name.
The VAT amount check option in sales order works accurately.
Bank Account Posting Group no longer gets deleted from company information table.
No more error message displays for .xsd file import in XBRL taxonomies schemas.
The consolidation percentage field now displays two decimals.
Fixed Assets
The FA Posting Group table now updates when you modify or delete the FA Subclass code for FA without entries.
No more column wrap for the Fixed Asset Book Value report when printed in a portrait mode.
The given FA Error Entry No. now matches the Journal Line for Fixed Asset No. for Depreciation Book Code without displaying any error message during Fixed Asset disposal posting cancellation or when the depreciation book is not integrated.
Inventory
Fixed multiple issues with VAT Rate Change tool are fixed.
WhseActivLine Copy code can now be used.
Assembly order can now be posted.
The record in the Item Variant table already exists. The Identification fields and Item No. =XXX, Code=XXX values are at variant level when the Copy Item function has been used.
You can now fill the Capacity Variance Account, Cap. Overhead Variance Account, Mfg. Overhead Variance Account fields in the Inventory Posting Setup.
Users can now create easy entries into reclassification journal when the Series No. field is empty.
The Physical inventory journal report now displays the exact Lot No. lines.
No more incomplete Item cross references display in Item Vendor creation.
Users can now work on tracking with no system looping when creating inventory pick.
"Get" Procedure can now be used to check Item Avail. by location lines page.
No translation is missing in Enum.
Jobs
Corrected the Work In Progress (WIP) Method of calculating Sales of Cost.
Corrected English and French language translations in the Jobs module.
The Ship-to code is now populating correctly when creating a sales invoice from the Job Planning Lines.
Manufacturing
The allocated time on Production Order Capacity Need page can now recognize the remaining quantity which is to be produced even after making changes to production order due date or output reversal.
The planning line created via accepted Capable to promise (CTP) calculation on a sales order can now create reservation between suggested purchase, reordering policy order, and planned production order.
Filtering by the No. field in the planning worksheets, displays a dropdown list of accounts.
"The Inventory Adjmt. Entry (Order) does not exist" error message no longer displays when running the Cost Shares Breakdown report for no consumption posted into the system.
Marketing
The Work Description field can now be updated in the sales order when you convert the sales quote into the sales order while keeping a linked opportunity open.
Purchase
When using Role Center, Overdue Purch invoice amount is no longer displayed negative which was a major issues after user updates to 16.4 for Microsoft Dynamics 365 Business Central 2020 Release Wave 1.
Vendor Statistics page now shows placeholders display.
Fields can be modified even after purchase order release.
No unexpected emptying of the Qty to Handle and Qty to Invoice in Item Tracking lines for requisition worksheets.
The email address field now validates the contact card for a purchase order, even when the contact is changed and email address varies from the vendor card email address.
No more error displays for batch purchase invoices with active workflow.When rounding original item charge amount, no difference is caused with the total sum of an item charge even when distributed across several item ledger entries.
Reordering policy is now fixed properly when a user needs to utilize a configuration package for a new Stock Keeping Unit Card.
The Applies-to-Doc. Due Date Offset is now available in the Suggest Vendor Payments window for users working on Business Central on-premises.
The Ship-to Code field error in the purchase order is fixed when generated from a Requisition worksheet in Business Central on-premises.
Sales
No more blank statement for Customer Statement report queries.
On posting the sales order, system no longer archives the document twice.
No more customer comment disappearing after any changes made to Customer Number field.
The sales invoice in custom report layout now displays job number field.
"Line Amount Excl. VAT must have a value in Sales Line: Document Type=Invoice, Document No.=X, Line No.=X. It cannot be zero or empty" error message does not display any longer on posting a sales document with Item Charge Lines that have 100% discount.
When using the Get Shipment Lines function in a warehouse shipment scenario with sales invoice, the prepayment amount for the second line is now deducted correctly.
The Qty. to Ship and Qty. to Invoice fields are populated in sales order after correcting the posted sales invoice.
Issues display when you run the Aged Accounts Receivable report.
"Code should be 2 characters long in Country/Region Code=XXX" error message is fixed when you try to send electronic document PEPPOL.
The New ISO field in the Countries/Region should be used along with the code.
When recreating lines, changing Bill no longer impacts the Drop Shipment field.
Issues resolved when you send the Customer Statement report in 15.x for Dynamics Business Central on-premises.
The Last Modified Date Time value in the Customer field is now updating properly.
The Shipping Time field can now be updated in the sales order when selecting the Customer Name field.
The e-invoice subject and attachment values are now available in customer language along with the user interface language.
"Quantity Shipped must be equal to '0' in Sales Document Type=Order", error message is no longer displayed if you try deleting the cross reference and insert again in a sales document.
Upgrade
When upgrading from previous versions, users now find the permission inserted in the relevant Role IDs for Table Feature Data Update Status.
Warehouse
The issue which made only the last picked document to be printed with 16.4 update to Dynamics 365 Business Central 2020 Release Wave 1 is now fixed.
A user can now post an item journal if the journal lines are created via Calculate Warehouse Adjustment even when the Item Tracking code is changed.
The issue that did not allow users to post an inventory pick due to an unexpected error is now fixed.
When working on job and transfer, no reservation status issue is now fixed for order planning and reserve option.
"Nothing to Handle" error message is no longer displayed when you create a warehouse pick and the Shipment Bin code that have special character '&'.
Using the Get Bin Content function for accumulating quantities now allows changing lot number at movement worksheet level.
The Shipment Method code does not lost when working from Transfer Order to Warehouse Shipment.
"Nothing to handle" error message displays when working on First Expired First Out (FEFO), expiration date, and internal movement.
"The total item tracking quantity 15 exceeds the sales line quantity 14. The changes cannot be saved to the database" error messages no longer displays when you register a partial pick of a lot tracked item.
The new update can create warehouse receipt if you had previously used the Undo function in Dynamics Business Central on-premises, while the Warehouse Receipt Lines are not created.
In addition, the Update 17.1 brings several additional hotfixes based on common issues that users faced, which can be accessed here.
Note: Before you go for an upgrade to the latest version of Business Central, make sure you have an expert consultation from a Microsoft Gold Partner firm, who can help you verify the system compatibility of the software along with your special needs for any third party solutions.
Are you a Microsoft Dynamics user or you are planning to upgrade your existing business solution to Microsoft Dynamics 365 Business Central release wave 2? Let our experts at DynamicsSmartz help you meet your needs and have the most refined experience taking your business forward. Reach us today!