Directions EMEA 2022: Key Highlights from the Biggest Partner Event of the Year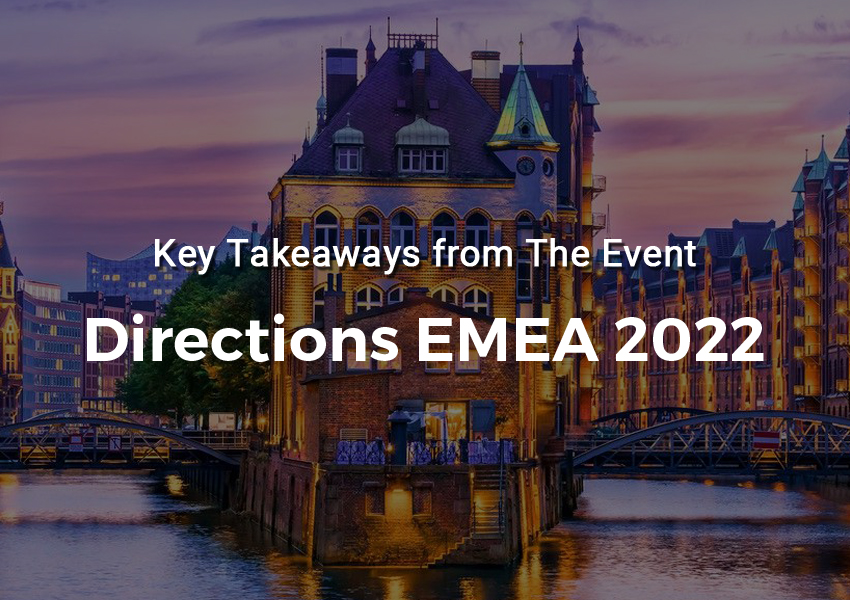 Directions 4 Partners is the largest independent community for Microsoft Dynamics 365 ERP and CRM channel partners. This event is geared toward small to midsized businesses (SMBs) and is organized by partners for partners.
Directions EMEA is a place where Dynamics Partners can interact with other partners and learn directly from Microsoft.
Partners can learn about the latest Dynamics Business Central and D365 Sales & Marketing product advancements, as well as strengthen relationships with other partners, ISVs, and Microsoft representatives at this event.
Over 200 keynote speakers from leading companies, MVPs, and Microsoft leaders attended the 15th edition of Directions EMEA in Hamburg, Germany on 9-11 November.
The Dynamics EMEA 2022 conference was comprehensive in its coverage of all aspects of Dynamics business, providing attendees with extensive knowledge and networking opportunities at all levels.
Among the main objectives of Directions EMEA 2022 was to equip attendees with a competitive advantage in the SMB market, allowing them to reinvent their business models so as to respond quickly to the digital transformation and customers' expectations.
Attendees gained access to the latest knowledge updates, including:
The update on the Roadmap for Dynamics Business Central
The Modern Client and best practices for developers incl. Visual Studio Code and AL
The upgrade of existing NAV customers to Dynamics 365 Business Central
Customer engagement apps: Dynamics 365 for Sales and Marketing
Technical and implementation issues of Microsoft Dynamics Business Central, and former NAV versions
ISV solutions and offerings, technical and marketing validation on AppSource
Strategies for successful marketing and sales of Dynamics Business Central
Business models for Dynamics 365 Partners, including Cloud Solution Provider and ISV Embed (Cloud) programs
The 15th edition of the conference focused more on Microsoft Power Platform and artificial intelligence. With the Power Platform, Partners have new opportunities to assist customers with their digital transformations. A number of in-depth sessions and workshops were dedicated to the Power Platform, such as Power Apps, Power Pages, Power Automate (Flow), and Power BI.
The integration of Business Central data with data collected outside of Business Central with AI helps customers see their business in a whole new light, and it is again a great opportunity for partners to engage with and continue to add value.
A high-level group of Microsoft speakers, MVPs, and domain experts from development, sales, and marketing, as well as leadership, shared their knowledge and insights in Hamburg! With over 3000 partners, it was the largest Directions gathering to date.
Microsoft hosted 85 breakout sessions, roundtables, and training sessions at Directions EMEA 2022 to demonstrate how Dynamics 365 Business Central, Dynamics 365 Sales, and Power Platform are driving new and exciting business opportunities.
A number of Microsoft executives presented in-person keynotes, including Mike Morton, Ryan Cunningham, Toby Bowers, and Monique Hayward.
Attendees got a sneak peek at new Business Central features and cool demos of the 2022 release wave 2 with Mike Morton (Vice President, SMB). The focus was on new ways to collaborate and share data between Business Central and Microsoft Teams, new tools for partners to manage scale in the cloud business, and the Business Central roadmap.
Besides Microsoft guidance and educational sessions, the organizing team provided opportunities for networking and discussion of the channel's future. The Women in Dynamics program, which was started last year, will keep advancing the conversation about getting more women into careers at Microsoft partner companies.
The event also featured a pre-conference workshop for Dynamics Partner Leaders to help them share in a constructive private environment and prepare for the future.
SMB is the fastest-growing segment of Microsoft's Business Applications portfolio, and Dynamics 365 Business Central is the fastest-growing product in the group, with "triple-digit" growth year over year. Addressing the Directions EMEA 2022 audience of nearly 3,000 in Hamburg this week, Microsoft GM Toby Bowers also stated that the SMB ERP's customer base has grown sixty percent in the last year.
Microsoft Industry Experts and Influencers delivered keynotes and shared invaluable insights. Elena Baeva delivered a session on "How to retain, motivate and empower the women in your business." Steven Renders spoke about "Why are Dataflows so interesting for Power BI and Business Central?" and Stefano Demiliani delivered a keynote on "Advanced and Proactive Monitoring of a Dynamics 365 Business Central Tenant".
At DynamicsSmartz, we have been keeping up with the latest developments at Directions EMEA 2022. The conference was a resounding success! We truly believe that partner synergy is critical to success and long-term growth, and look forward to more such partner events. To learn more about the takeaways from the event, drop us a line.