Construction365 vs. QuickBooks: Which is better?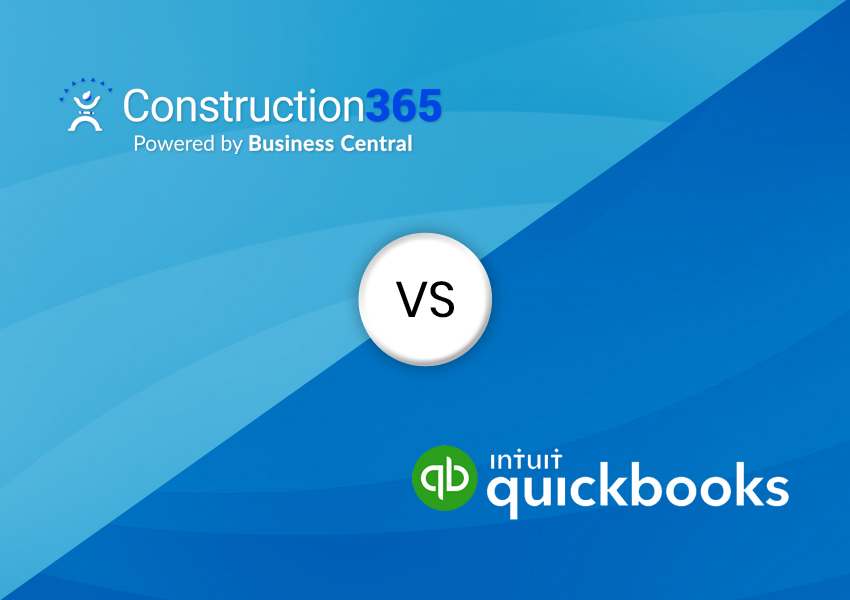 The construction industry must meet the urgent needs for new housing, commercial and government facilities, and public infrastructure. As a result of the pandemic, construction companies face increased customer expectations, high costs, and shortages of critical supplies.
By using the right business management technology, construction companies can run and grow their business more effectively and efficiently.
Globally, accounting software will be valued at $19.59 billion by 2026 at a CAGR of 8.5% over the forecast period 2021 – 2026. The primary catalyst of this change is the rise of cloud-based accounting technology solutions.
To streamline their operations, construction businesses should invest in fully integrated construction management software.
Selecting the best construction software for your business can be overwhelming. With so many alternatives available, weighing them all and sorting through their features to determine which will work best can quickly turn into a full-time job.
We have compared two popular software solutions to examine what each can offer.
Construction365
Construction365 is a fully scalable ERP solution powered by Microsoft Dynamics Business Central. Construction365 is a Financial ERP solution designed specifically for construction and project-based companies by DynamicsSmartz, a Microsoft Partner with over 20 years of experience.
The software has been developed for general contractors, real estate developers, remodelers, specialty contractors, roofing contractors, and those in the construction industry.
Construction365 is a cloud-based software with robust reporting capabilities, which integrates data and performs improved transactions. You can track labor and materials, review expenses and payrolls, calculate revenue with easy-to-follow charts, and analyze key components of a project.
Key Characteristics of Construction365
Construction365 enables you to transform the way your construction business operates. You can use it to scale your business and obtain meaningful insights to make better business decisions.
The following is a list of features and areas that Construction365 can assist you with:
Enables you to access documents to complete job quoting and proposals quickly.
Businesses can benefit from solid financial control thanks to the ability to monitor actual resources and materials.
Boost profitability and strengthens field control.
Processing certified payroll reports and assisting with subcontractor management.
QuickBooks
The QuickBooks accounting software is designed for small businesses in different industries, including retail, manufacturing, non-profits, and construction. Even though it is not designed specifically for construction professionals, it can assist small businesses with inventory management, tracking, and invoicing.
While QuickBooks helps enterprises find the data to solve business problems, seamless integration may be challenging due to the availability of many different versions and pricing plans. The software is marketed and developed by Intuit.
Key Characteristics of QuickBooks
Receive updates on your budgeting numbers, expenses, and cash flow.
Create and handle invoices.
The software is designed to track revenues and costs for small firms just starting out.
Comparison between Construction365 vs. QuickBooks
Platform
Unlike QuickBooks, Construction365 powered by Dynamics Business Central is built explicitly for contractors and is thus equipped to handle everything a contractor needs.
Small- and medium-sized businesses can benefit from QuickBooks' bookkeeping and document management features.
Construction firms of all sizes can benefit from Construction365 by saving time and simplifying operations. Moreover, it offers a more transparent pricing plan and robust analytical tools.
Construction365 and QuickBooks are both excellent tools for tracking information and keeping organized. However, Construction365 is a better fit for those in the construction business due to the unique challenges faced by the sector.
Security
The Construction365 software is certified and backed by Microsoft Dynamics Business Central with a cloud-based surety bond and processing system. Whereas, QuickBooks, developed by Intuit offers reasonable security and privacy for users.
Despite its security features, QuickBooks is a general accounting solution based on Secure Socket Layer (SSL) and RSA Security, Inc.
Construction365 is better positioned as a scalable construction ERP solution because it has strong capabilities and security backing from Microsoft.
What can Construction365 do for you?
Construction365 assists in increasing the profitability, management, and productivity of your business from the corporate headquarters to the job sites. Construction365 can help you with:
Precise job quoting and estimation based on job components or tasks. Once the quote has been approved, you can create reusable job templates with detailed planning lines, define the scope of work, and run the job in your construction software.
Master jobs, sub-jobs, change orders, and work orders can all be classified into a flexible, hierarchical job cost class structure. Cost categories for labor, supplies, machinery, burdened pay rates, and other factors can be established. You can define job duties in accordance with Construction Specifications Institute (CSI) division codes.
Contract and change order management for multiple, chargeable line items using percentages, units, or lump sum values. You can create, manage, and update contracts and change orders for client owners, general contractors, architects, and engineers.
To progress-bill clients and deliver project reports, use defined procedures and document formats created by the American Institute of Architects (AIA). Additionally, you can set up and monitor union types, prevailing pay, and job class codes using the system to assist with billing or business reporting, compliance, or workforce management.
All project components, including requirements, business regulations, operational conditions for commercial and government contracts, union jobs, prevailing pay, and requirements for experienced or more entry-level personnel and trades, are documented using a single, consolidated resource. Once you have all the necessary information, creating a new job only requires a few clicks.
Conclusion
We hope this blog has given you a better understanding of what each software solution can do for you and assist you in making the right decision.
If you work in the construction industry, Construction365 powered by Business Central is more likely to boost your efficiencies because it was designed with the construction industry in mind. If you're interested in learning more about Construction365, drop us a line.