Construction365 vs. Key2Act: A Detailed Comparison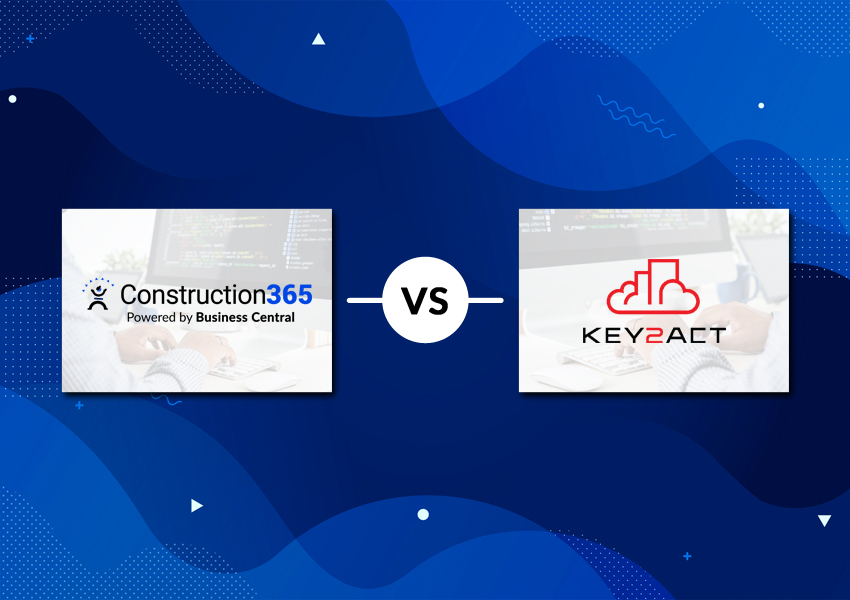 Construction industry trends in the past two decades have been shaped and accelerated by the introduction of technology. All construction firms have been driven closer to technology by the sudden outbreak of the pandemic.
Increasing financial burdens, delays, halts, and terminations have led construction firms to look for technology solutions that can help overcome unexpected circumstances and sustain operations.
Reports and studies indicate that the construction industry spends approximately more than $177 billion per year searching for project data, managing data, and improving communication. As a result, understanding how construction software can impact your bottom line is even more critical.
When selecting construction software for your business, there can be a lot to consider. Choosing the best option can quickly become a full-time job when so many options are available.
Here's a detailed comparison of two popular construction software solutions: Construction365, backed by Microsoft Dynamics Business Central, and Key2Act.
Key2Act
Key2Act offers solutions for field service management and construction management. Specialty trade companies can provide proactive service, boost profitability, improve operational efficiencies, and enhance customer retention with the help of Key2Act.
While its construction solutions assist businesses in managing jobs, projects, retention, forecasting, and change orders, Key2Act field service solutions include:
Work order and contract administration.
Bidding.
A mobile application for field resources.
Key2Act Signature is a comprehensive business management solution created specifically to meet the demands of specialty trade organizations. The Microsoft Dynamics GP-based Signature platform provides the precise financial data you need to assess profitability, manage cash flow, and boost sales. Signature includes the following stand-alone solutions:
Whether in the office or out in the field, Job Cost enables businesses to manage projects and jobs on schedule, within budget, and within scope. Users of Job Cost can manage estimates and projections, modification requests, and subcontractor relationships.
Signature Job Cost enables you to track and manage every phase of your jobs, from planning to completion. You can generate purchase orders, schedule resources, input cost activity, process vendor invoices, and invoice clients while keeping visibility throughout a job.
Service Management, which incorporates contract management, bidding, invoicing, and other features, is designed for companies who wish to manage maintenance and repair procedures more profitably.
Users can track the status, location, and usage of equipment through Equipment Management and access asset-level financials. Users of Equipment Management can register usage and measurement information, record equipment specifics, and schedule preventive maintenance.
Construction365
Construction365 is a robust Financial ERP solution created especially for construction companies. It has been a leader in construction for 20 years and is powered by Microsoft Dynamics Business Central.
The solution was created specifically for general contractors, real estate developers, remodelers, specialty contractors, and others working in the construction industry.
Construction365 is a cloud-based software that leverages integrated data, performs improved transaction processing, and has robust reporting features. It can examine crucial project elements like labor and supplies, maintain accounts, look over expenses and payrolls, and calculate revenue using easy-to-see charts.
Construction365 has the potential to revolutionize the way your construction company operates entirely. It can assist you in scaling your firm and provide valuable insights to help you make better business decisions.
Aside from that, it can help you manage financial risk analysis and streamline your business. It is an integrated software solution with exceptional project management features that can assist you in scaling your business and establishing economies of scale.
Construction365 makes your firm more profitable, organized, and productive, from the office to the job site. Here are a few instances of what it can achieve for your business:
Construction365's strong accounting capabilities enable construction companies to manage their financial affairs. Construction365 does financial risk analysis and avoids profit leakage by delivering valuable data to contractors. Construction managers can tighten project control, cut costs, and increase profitability.
Construction365 can help you save time as construction projects become more complex. As a robust construction accounting system with powerful reporting capabilities, it results in smoother operations. Our software increases productivity by automating work costing, intelligent transaction processing, certified payroll, and labor and resource management.
Estimating and job quotation accuracy based on job segments or tasks. You can make reusable job templates with extensive planning lines, describe the scope of work required to complete a proposed job, and run the job in your construction software as soon as the bid is approved.
Contract and change order management with numerous billable line items based on percentages, units, or lump sum values. Contracts and change orders can be created, managed, and updated for client owners, general contractors, architects, and engineers.
Conclusion
Construction365, with its simple-to-use yet intelligent interface, can handle scheduling, estimating, project management, and accounting, and has impressive bidding capabilities.
Although Key2Act is a good ERP package, Construction365, powered by Dynamics Business Central, provides the best comprehensive cloud software construction experience.
Construction365 has established itself as a robust and dependable construction project management software. Construction365 has proven to be the key to increased efficiency, from pre-sales tasks to assuring timely deliverables. If you'd like to learn more about Construction365, please get in touch with us.